If you've ever heard anything about Greece before, then you will know just how beautiful this country is. You are now invited to be charmed in person. This historic country is also known as the Hellenic Republic, it was here that democracy was created. Even the Olympic Games originated here, not to mention the unique ancient architecture that you will see all around. No matter where you go, you'll always find interesting, lovely locals, be stunned by the views, and make some lifelong memories.
Greece's Capital city is Athens, the heart of ancient Greece. It's the largest city in Greece, and it's one of the best historical cities in Europe. You can take a walk in the National Gardens, all the way to the Acropolis, from here you can still see the leftover relics of ancient Greece stretching all the way to the horizon.
The creation of Ancient Greece happened in 1100BC, and it was spread from Egypt to Afghanistan at its peak. This old culture still has its impacts on today's Greece due to the fact that values and rules were passed down through generations, and are still kept today. As a result of this, Greece has one of the oldest ruling systems in the world, and when it comes to ancient times, Greece's history speaks for itself. You should know how many movies and games were created upon ancient Greek stories. Gods, Troy, Spartans, and Ulysse's Odyssey, are just a few names to mention.
You might be thinking, why should I go to Greece? But in fact, you should ask, why not? When it comes to food, Greece has one of the tastiest cuisines in the world. Greece is one of the best producers of olives and its oil, which can be used in salads, cooking, and some hair products. You can try some local food like tzatziki, moussaka, and Souvlaki. Those names are odd, but the food tastes fantastic, and you can also have a drink, whether it's wine, beers, ouzo, or raki. And for dessert, you'd want to try yogurt with honey, or walnuts and loukoumades. Greeks are famous for their traditional yogurt which has amazed the whole world.
The people of Greece are well known for being generous, kind, and for their great hospitality. They like to invite others to their city, and they would be happy to make you their guest in their house. Greeks would often exchange gifts, and host sleepovers because these sorts of things make them feel proud and comfortable. With that kind of kindness, doubt you'd ever feel far from home.
Beaches can be beautiful when it comes to relaxing and getting a suntan. But if you like to go wild, Greece has the most relaxed beaches you can find in Europe. Those beaches are well organized, also packed with beach bars and taverns. This will ensure that you'll be having a good time with all the food you can eat and all the drinks you can drink. Their vacation packages include stunning accommodation and all-inclusive services at affordable backpacker prices.
Here, in this remarkable country, you can see history wherever you go. The ancient architecture is a must-see, especially for those who love history. A variety of great philosophers like Socrates or Aristotle were born here and dedicated their lives to inspiring the world around them.
You'll be stunned by Greece island's beauty, where there is so much to do: you can take a hike along the landscape, you can go rock climbing. Also, you have the option to kitesurf and dive. You can also use one of the yacht charter platforms in Greece and enjoy all that this country has to offer from the sea. There is always a relaxing scene to help you chill out, the white and blue houses, which are settled on the cliff of the volcano, and the relaxing view of the deep blue sea.
The nightlife in Greece is so lively and relaxed, you can find many places with clubs, where you might find some fancy bars and drink your favorite cocktails. If you want the real party, head to the island of Mykonos, you'll have the best party ever, and dance all night.
Some people are concerned about their safety, due to political issues going around Greece, but things have gotten better in the last few years. It became safer to have your holiday in Greece, so you have nothing to worry about. Islands like Crete, Rhodes, and Corfu are highly recommended for backpackers so that you will be able to experience some true Greek culture.
No one likes lousy weather obviously, but you don't have to worry about this here, as the climate of Greece is mostly delightful. The weather can be quite gentle, in both the winter and summer. If you want the best of it however be sure to go during either end of the summer season, so from April to June, and September to October.
Are you seriously still thinking if you should go? The food, drink, hospitality, and history make Greece a top destination! Not to mention the variety of lovely beaches and activities your can take pare in, all make it a must to add to your backpacker wishlist, it has a wild nightlife, and the weather is terrific.
So what are you waiting for?
Romania has a rich history and plenty of places to see. The people are friendly, and most of them have excellent English skills, but the fascinating thing about them, the idea that will drive you straight there is their traditional food. Your taste buds will be delighted with an explosion of flavors.
If you are curious to hear more about these traditional dishes, you will be happy to hear we have picked the top ten traditional foods in Romania, so you can add them to your list for your next trip to this beautiful country.
1. Cabbage Rolls
First of all, we need to say that most of the traditional Romanian food is challenging to digest, and it contains lots of various meats. This dish is the first one you must try when you get here. Usually, the minced pork meat gets mixed with rice and spices; then it's rolled into sour cabbage leaves. Then it will be boiled for hours in a special sauce that is usually a tomato juice which makes it simply delicious.
2. Grilled Minced Meat Rolls
Number two on our list, pork meat appears center stage again! Romanians call them "mici" or "mititei" which means "small ones" because they are only as long as one adult's finger. This food is created using a mixture of minced pork and cow, or pork and sheep, all mixed with spices and garlic; then they are grilled and eaten while hot with mustard or ketchup.
3. Beef Tripe Soup
When you hear the words beef tripe, you might not be so impressed. But you will put your preconceptions behind you after trying the Romanian Beef Tripe Soup aka Ciorba de Burta. This is the soup of a beef's stomach served with sour cream, vinegar, and a traditional garlic paste, also known as "mujdei".
4. Polenta with Cheese and Sour Cream
Polenta, locally known as "mamaliga" is probably the second food Romanians will serve foreigners traditionally. This food is often served after Cabbage rolls or even grilled minced meat rolls.
How to cook it? Put some cornflour in hot water with a dash of salt, and sometimes you can add a few drops of sunflower oil. Mix everything until it gets the consistency you like.
It is usually served with sheep cheese and some sour cream, and sometimes you can even add some eggs.
5. Papanasi
This food is a desert people will love. It is donuts served with sour cream and sweet cream. Some restaurants prepare it a little differently meaning the donut will contain sweet cow cheese and topped with jam or berries.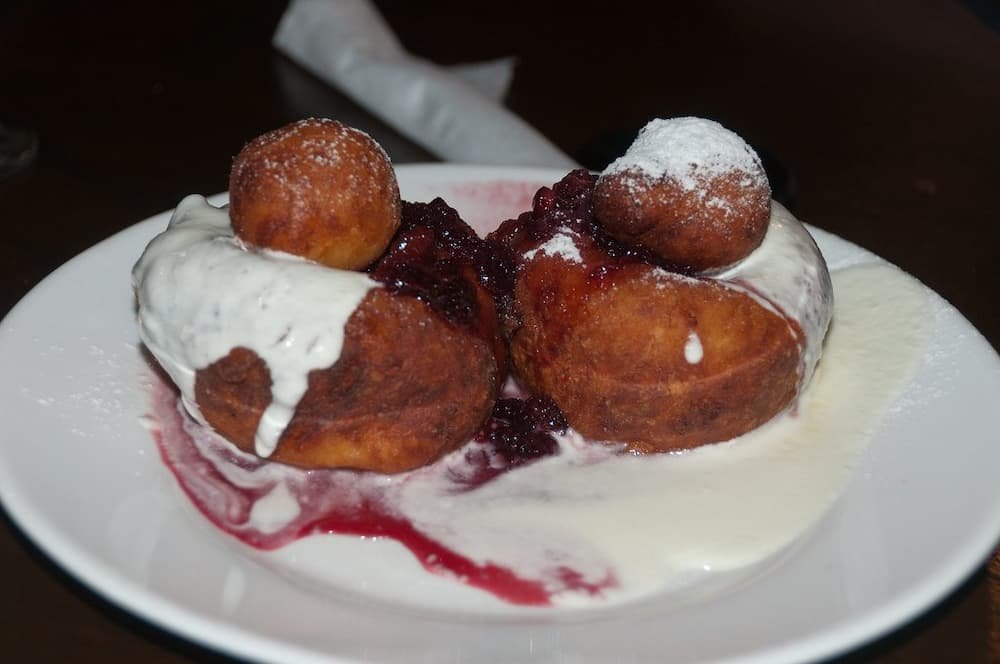 6. Soup from Radauti
This delicious soup is not for someone on a diet! Be aware it contains a lot of fat from the chicken meat, but it also contains many vegetables. You can usually serve it with sour cream, and you will love it!
Radauti is a city in Romania situated in the northeast region where all the incredible monasteries are. This soup is originally from here, but you can eat it all over Romania.
7. Greaves with Onions
Greaves is a pork product that is obtained by frying bits of bacon and fat, they are delicious and indulgent. Usually, they are served with large chunks of onions sprinkled with salt. This is an old traditional way of eating anything in Romania.
Lots of Romanian dishes are served with onions and salt.
8. Cozonac
Cozonac has no English translation, yet the closest one is sweetbread filled with a sweet walnut paste, whole nuts, or Turkish delight. Be aware this dessert is usually served during the Christmas and Easter holidays, but you can often find it during the rest of the year. Every supermarket sells it, but the real taste that will impress you is the homemade version.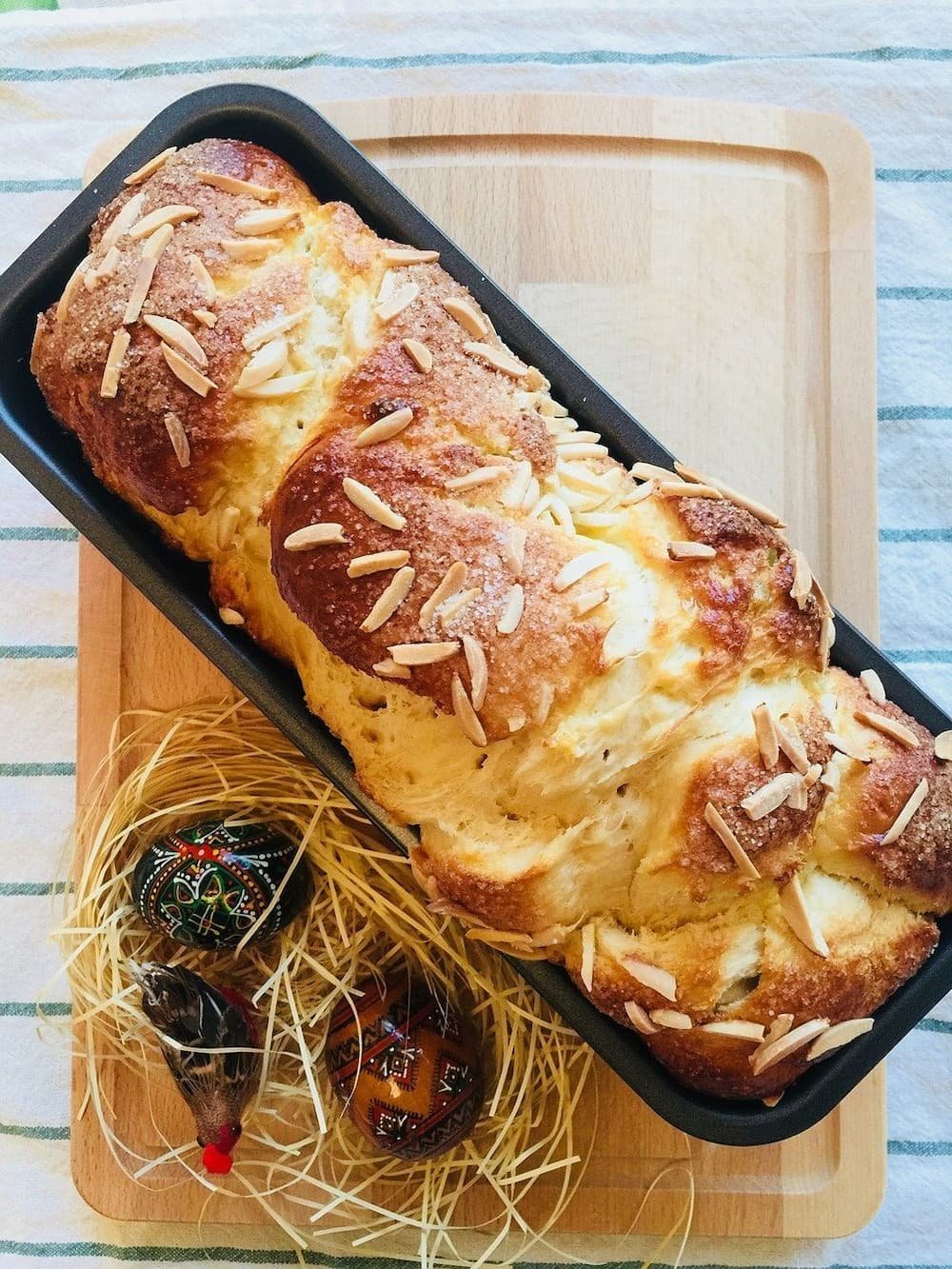 9. Beans with Hocks
This is another dish you can serve with big onions chunks. It's all about mixing beans with a big chunk of smoked pork hocks or any other type of smoked meat. The results are delicious and the smell…Don't mention it!
This dish is usually served during the winter when the temperatures are low, and this hot dish will warm you from the inside especially if you pair it with a traditional drink made of plums called plum brandy, in Romanian, it is called "țuica."
10. Sweet Dough Rolls
This dish is another dessert, but this one is only eaten once a year, every 9th of March. In Romania, there are two types of sweet dough rolls eaten in two different regions of the country. One in Moldavia, and another one in Muntenia, the Southern part of Romania.
The photo below presents the Moldavian version, which is way more significant. These 8-shaped pieces of sweet, sweet dough, are baked in the oven, and they are served with a honey and walnut paste topping.
Romanian traditional food is delicious, and you definitely will enjoy it. People who eat it once are so impressed by it that they return to Romania to eat it again and again!
You probably heard about Romania before. It is an Eastern European country located near Bulgaria, Serbia, Ukraine, Moldova, Hungary which you probably know better. This country has it all: seaside, mountains, hills, plains, rivers, volcanoes, abundant wildlife, and many cultural attractions. To help you save your time, we narrowed the information to the 10 best things to see during your time in this unknown fantastic country.
1. Beaches
Romania has no less than 15 seaside resorts at the Black Sea where you can spend a spectacular vacation. You will find various types of accommodation fitting every budget so you can enjoy the sandy beaches and clear blue water. The two most famous black sea resorts are Mamaia, the most expensive one and Vama Veche, this is the perfect place for your more alternative travelers, where hipsters and hippies mingle.
2. Mountains
The Carpathian Mountains, are spectacular, and you can enjoy the scenery by hiking. There are many hiking trails available for both beginners and experts, and you can enjoy the view of glacial lakes, waterfalls, and cloudy mountain tops.
3. Wildlife
According to EU standards, this country offers the most significant biodiversity in the bloc, so if you love birds and animals in general, this is where you have to spend a week. Brown bears, wolves, deer, chamois, amazing birds, this is what Romania has for you in several reservations.
4. Underground Ferris Wheel
Have you heard about Salina Turda? Well, it is a hidden salt lake where you can ride a Ferris wheel underground and enjoy the fresh, salty air. This place is a half-hour drive away from Cluj-Napoca and has a depth of 250 meters, not to talk about the amusement park that features 1,200 meters of thick salt layers.
5. UNESCO World Heritage Sites
Romania has 8 UNESCO world heritage sites where you can see the painted monasteries of Moldova, the fortified churches of Transylvania, the Dacian fortresses of the Orastie mountains, and the historical city of Sighisoara, and not forget about the spectacular water world in Danube Delta.
6. Unique Architecture
Romania has a large variety of architectural styles, and if you're a fan, then you will be delighted to see them all while discovering the ancient history and its fascinating past. Every city has an old town place where you can see the antique architectural style. You can explore mountain cities like Busteni, Brasov, Sibiu, or even Sighisoara, Cluj, Oradea, or Constanta where you can see a grand old casino situated on the cliff edge.
7. Incredible Castles
Romanian history is abundant in heroic fights, and war stories, so the castles were necessary. This is why they have so many. You can start with Peles Castle – one of the most beautiful architectural styles, Bran Castle – if Dracula's story is appealing to you, Corvin Castle – a Gothic structure that seems taken out from Game of Thrones episodes.
8. Picturesque Villages
If you want to experience genuine hospitality – the most critical value for Romanians, you should go to Romanian villages and enter in contact with its people. The traditional food will make you crave more, and the customs and traditions will fascinate you.
9. Festivals
During the festivals, Romania looks different and the party atmosphere is there. You can discover a new place and also meet like-minded people. You can go to Cluj-Napoca for music festivals like Untold and Electric Castle. In Bucharest, you can listen to classical music through the George Enescu Music Festival.
10. Nightlife
If you want to have a taste of lively nightlife, Bucharest is the place to visit. With plenty of bars, cafes, terraces, and nightclubs, the capital has everything for everyone.
Romania is a country of contrasts: old and new, citizen and foreigner, classical and modern. Here people are friendly and hospitable to everyone, especially foreigners, and the things you can see or do here don't stop at this list. Come and see for yourself!