For many of us, the opportunity to uproot our lives and establish a new one in a far-flung locale is now within reach.
The post-pandemic era has resulted in the complete rewriting of how employment works. Many large businesses now offer their employees the option of working remotely, and some countries even provide "digital nomad" visas for those who want to live and work in the EU but who are not citizens.
There are many reasons why people are quick to choose to work remotely from another country. In America, the cost of living is getting extremely high, especially compared to some smaller European cities. Plus, the creation of the digital nomad visa can't be overlooked. Let's take a look at these five fantastic cities in Europe. We hope that one of them becomes your future home, at least for a couple of months!
Zurich, Switzerland
Beautiful medieval architecture, top-tier cultural institutions, lakes, rivers, and mountains that demand to be explored make Switzerland's capital an ideal place to live.
Coworking places like DasProvisorium, which focuses on gastronomy and sustainability, and WestHive, located in the grungy, post-industrial Zuri-West neighborhood, are popular among Zurich's young, vibrant freelancing community.
Switzerland isn't exactly cheap, but if you want to be in a progressive, high-octane city with some of Europe's most creative and collaborative freelancers and digital nomads and yet be able to jump into the lake after work, then it's worth it.
Cologne, Germany
Since Cologne is Germany's fourth-largest city and a favorite among expatriates, it's no wonder it ranks well among the continent's top locations for becoming a digital nomad in Europe. Cologne is widely known for its worldwide events, such as the Cologne Carnival in November and Summer Jam Fest on the outskirts of Fühlinger See.
Zagreb, Croatia
Digital nomads on a tighter budget may find success in Zagreb, the capital of Croatia. Thanks to its affordable cost of living and high quality of life indicators like healthcare and internet connectivity, this place is perfect for ex-pats. Anyone working remotely who values affordability without sacrificing access to cultural activities and the outdoors will find Zagreb an ideal location.
Zagreb has fast WiFi, so you won't have difficulty keeping connected there. The rent is cheap, but make sure not to use Airbnb, as it's more expensive than the local providers.
In case of medical emergencies while abroad, it is recommended to get health insurance in advance. In case of medical emergencies while abroad, it is recommended to get health insurance in advance from out-of-pocket maximum vs deductible. Plus, most people understand English, but if you can learn some Croatian phrases, it would help immensely.
Zagreb is home to a wide range of attractions, from world-class museums and historical sites to delectable dining and lively nightlife.
Croatia has a well-connected public transportation system, and tourists can even use buses to get to nearby towns and cities. If you're looking for even more flexibility, consider using a bike-share program.
Malaga, Spain
For a variety of reasons, this city in southern Spain is considered one of Europe's best for digital nomads. The locals are pleasant and cheery, so the atmosphere is always wonderful. In addition to its low cost of living, this city also offers its residents a wealth of enjoyable post-work activities. The fantastic climate is another major plus.
Krakow, Poland
Krakow, which has been inhabited continuously since the 7th century and is now a major intellectual and cultural center, is also one of Poland's most significant economic centers. Krakow is a great place to do some remote work since it caters to both cultural vultures and party animals.
The Internet is really fast in Krakow, so you won't have any connectivity issues.
In comparison to other major European cities, Krakow's monthly cost of living is cheap, and it's often considered to be one of the most affordable places to live. The weather in Krakow is pleasant throughout the year, though winters can be quite cold.
Ljubljana, Slovenia
One of the most ideal European cities for remote workers is Slovenia's capital, Ljubljana.
Ljubljana has a coffee culture that rivals any in the world. The city is cheap since it is somewhat off the usual route and has a green area that accounts for over 75% of the metropolitan area. Therefore, if you're looking for a cozy little city to live, which is both/affordable and picturesque, Ljubljana should be on your radar.
If you're like most people out there who love spending time outdoors camping. It's a great way to run away from the usual hustle and bustle and enjoy the peace and quiet space. But what if there was an easy way to make your camping trips extra fun? You can do so by adding solar-powered devices to your gear, as you don't want to be stuck without power in the middle of the woods. To help you get started, here are six must-have solar-powered devices for your next camping trip.
1. Solar-Powered Charging Station
When you're out in the wilderness, away from any power source, it's crucial to have the means to keep your devices charged. That's where a solar-powered charging station comes in handy. This charger relies on solar panels to convert sunlight into electrical energy, which you can then use to charge your devices. Unlike traditional chargers, solar-powered chargers don't rely on a power outlet, making them an excellent option for camping trips or other situations when you don't have access to an outlet.
Solar-powered charging stations come in various sizes, so you can choose one that's right for your needs. When shopping for lightweight portable power stations, look for models with multiple USB ports that can charge larger devices, such as laptops. The market is flooded with options, so do your research and choose one that's high-quality and reliable.
2. Solar-Powered Flashlight or Lantern
Traditional flashlights might be inconvenient because of the constant requirement for batteries or charging. Solar-powered flashlights and lanterns address this issue by charging their internal batteries with solar panels. These devices are ideal for camping because they don't require extra parts (such as batteries) and can easily be charged during the day in preparation for nighttime use. Another benefit of solar-powered lights is that they often have multiple settings, such as low, medium, high, and even strobe or SOS signals in an emergency. As a result, they not only eliminate the need for spare batteries but also provide versatility in their operation.
3. Solar Cooler
There are plenty of exciting activities to engage in during the day while camping, but what about keeping your food and drinks cool during the hot summer months? Remember, electricity isn't always available when you're out in the woods. That's where a solar-powered cooler comes into play. These coolers use solar panels to power cooling fans, keeping your food and drinks nice and chilled without electricity. Some models even have the option to charge devices, making them a versatile addition to your camping essentials. So, next time you go on a camping trip, consider bringing along a solar cooler to keep all your snacks and beverages chilled.
4. Solar Shower
After a day of hiking or fishing under the scorching sun, nothing feels better than a warm shower. Unfortunately, many camp settings do not have access to hot water. But with a solar shower, you can efficiently heat water and enjoy a refreshing bath outdoors. Just hang the bag in direct sunlight for some time, and voila! You have yourself a hot shower without using any gas or electricity. These bags are also great for washing off sandy feet or dirty dishes.
5. Portable Speakers
They say that good music is food for the soul. Now that you're camping, does the lack of electricity mean you can no longer listen to music? Not anymore! With solar-powered portable speakers, you can have jam sessions in the great outdoors. These devices usually come equipped with a solar panel on top to charge the battery, and some options even have Bluetooth capability for wireless music streaming. The portability feature makes it easy to bring along on hikes or beach trips.
6. Solar Oven/Cooker
If you're an avid camper, you know that one of the essentials is to have gear that allows you to prepare healthy meals. After all, when you're out in the wilderness, you need all the energy you can get. One piece of gear that every camper should purchase is a solar oven or cooker. Solar cookers use the sun's power to cook food and are a great way to make healthy meals. With a solar cooker, you can bake, boil, or fry foods without fuel. Plus, solar cookers are environmentally friendly and easy to use. So, if you're looking for ways to make healthy meals while camping, pack your solar cooker with you.
Conclusion
Camping doesn't have to be a hassle when powering your devices. These six solar-powered products, from lights to charging stations, make outdoor adventures a breeze and environmentally friendly. So next time you plan your camping trip, add these items to your gear list. Happy camping!
Over the years, the number of people who have gone hiking has grown. Maybe it's the feeling of exhaustion people get after being isolated for a long time, or maybe it's just a desire to try something new.
In 2020, about 57.81 million people in the United States participated in hiking. That's a 14% increase from the previous year and a 56% increase from 10 years ago. Nevertheless, hiking and backpacking are becoming increasingly popular because of the health benefits they give.
One can become more physically fit as these activities help build muscles and promote bone density. They can also strengthen one's cardiovascular and respiratory systems. More than improving physical well-being, hiking, and backpacking are excellent for one's mental health.
Communing with nature gives a person a sense of connection and purpose. It can help boost one's mood, reduce stress, improve sleep, and inspire creativity. To help you begin your hiking and backpacking plans, here's a list of essentials to pack you didn't know you needed:
Journal
Maybe you're feeling so stressed with life's responsibilities that you forget to connect with your inner core or spirituality. While in the quietness of the woods, you can peacefully write down your plans.
You can also create a list of all the things you'd like to accomplish in the coming years. In addition, you can write down the things that bother you and make you anxious. This way, you can pour your thoughts down on paper and what your heart feels without any distractions.
Bring a journal and your trusted mechanical pencil with you the next time you go hiking to start your journey toward self-reflection and self-healing.
Solar Lights
At night, a more sustainable option than lighting a fire is to bring a solar light that you can recharge during the day when the sun is bright. This is also great for overcast days you didn't anticipate. The woods can be very dark even during daytime under the heavy canopy of trees. In addition, a solar light can be a helpful accessory that adds an extra layer of protection whenever you're hiking.
Portable Solar Charger
It would be best if you had your devices up and running, especially for emergencies. It would help if you had a solar charger so your devices won't run out of juice. A charger that doesn't need electricity but uses the heat of the sun to store power is something ingenious and a lifesaver for many hikers and campers.
Inflatable Mattress
A compact mattress you can inflate when you're ready to sleep at night would be a great camping companion. Having an inflatable mattress that's the size of a 20 oz bottle when not in use and a pump that you can pack inside your bag offers convenience for hikers. It can also give you the most comfortable sleep under the starry night skies.
Glow-in-the-Dark Rope
Glow-in-the-dark ropes have many uses. They illuminate the path at night, so campers don't trip and injure themselves. Moreover, if someone gets lost in the woods at night, these ropes make it easier to find and track them.
Meanwhile, glow-in-the-dark ropes were initially created for the marines and other hazardous industries. Over time, they made their way into the essential gears of many hiking and camping enthusiasts. Significantly, this tool potentially increases the safety of those who camp in the woods.
Portable French Press
Coffee on a wonderful dewy morning? To say that coffee is a must for campers is an understatement. Hikers and campers need their morning fuel for their breakfast and to pump some energy into their bloodstreams. A portable French press can provide an excellent cup of coffee to wake sleepy campers with its earthy aroma and bold flavors.
Just bring your ground coffee beans and pour some hot water into your French press. Wait for four minutes to finish the brew, and you'll be up and about in no time.
Conclusion
Getting away momentarily and spending some time in nature can do wonders for your mental and emotional well-being. However, don't forget to bring the essential things that can make your activity more worthwhile and meaningful.
Hiking can do wonders for your overall health. Once you've returned, you'll be able to express more of who you are to others you meet. Meanwhile, if it takes some quiet time to get your thoughts together, take advantage of the time you'll be saving for yourself.
Whether you're moving for work or leisure, transporting your car overseas takes a lot of planning. Shipping your car overseas can take anywhere between 30 to 40 days on average. The destination you're moving to and the shipping method you choose are the primary factors to consider.
You can either book a shipping container solo for the transit or share a container with other vehicles traveling to the same destination. Both methods affect the timeline for an international move. This is because auto transport companies often wait for the containers to fill up first.
Additionally, car shipping requires you to put together essential documents, such as:
A copy of your passport to check your identity.
Your car's ownership certificate and origin certificate
All bills and receipts related to the sale of the car
Specific declaration forms from the auto shipping company
Here's everything you need to know about how auto transport companies provide international shipping. The following article will help you estimate how much time it takes to transport a car overseas.
International Car Shipping by Plane
Shipping your car via airplane is the fastest way to transport a vehicle. You can send your vehicle straight to its destination by shipping it on a cargo plane.
Car owners looking for convenience prefer air transit because it ensures their vehicles receive the highest level of care. But air cargo is also not the most eco-friendly option either, releasing carbon dioxide ten times more than ships or trucks. As a response to such environmental concerns, many aviation companies are looking for alternative, sustainable options for air travel. This plan includes using sustainable air-fuel and aircraft design to improve efficiency during travel.
When calculating the cost of air travel, moving your car from one state to the other in the U.S. is cheaper compared to international shipping. You can request the auto transport agency to send you a quote and a list of services they're willing to offer. Once you know the cost, you can compare it with other auto shipping companies in your area.
International Car Shipping by Sea
Another option you can consider is shipping the car by sea. This method is cheaper but slower compared to air freight. This type of auto shipping depends on the selected route. For instance, if you were shipping your car from the U.S. to New Zealand, the approximate time would be around 45 to 60 days.
For the most accurate assessment, you should connect with the auto transport company. When opting for international sea freight, decide on the method of transportation.
Roll on Roll off Shipping
Referred to as "car carriers", this form of shipping focuses on automobile transport. It is one of the cheapest ways to move your car overseas. The vessel contains ramps or inclined to cut cargo damage during loading and unloading. The design of the vessel is for carrying wheeled cargoes (from two to four-wheelers) of every weight and size.
Container Shipping
This form of shipping loads your vehicle into an enclosed container. Whether you're shipping a single vehicle or many, container-carrying vessels are safe, reliable, and all the more convenient. This type of shipping allows you to pack your car with personal items and get those shipped alongside your vehicle.
For instance, a standard 20-foot container can accommodate one or two mid-sized vehicles. Shipping charges in this case are higher compared to roll-on and roll-off shipping. With the car secured in a container, it remains safe against debris, bad weather, and other logistical issues that can arise during a long haul.
Cost of Shipping Your Car Overseas-Factors to Consider
International vehicle transport requires you to plan and fix a budget first. Sometimes, the cost of transporting your vehicle can amount to the same as the cost of buying a new car. If not, the basic factors that affect the shipping price are:
Distance from your home to the nearest port: Depending on your location, your car will first need to reach the sea or air terminal. This can cost you a few hundred dollars or more, based on the vehicle's size and model and your mode of shipping.
Destination charges for pickup and drop-Once your vehicle arrives at the destination port, it is navigated through customs. You'll need professional help from an agent to get this done. You can expect to pay another $500 for this service.
Overseas taxes and other charges: Shipping your car overseas comes with its fair share of expenses, including customs fees. It is the total percentage of the item's market value. Other charges that may apply are sales tax and processing fees, although it is best to consult your auto shipping agency for these charges.
International car insurance coverage: Consider buying auto coverage for an international haul. This type of insurance can protect your car from accidental damage when it's shipped by air or on open water. You can also check whether your auto transport agency offers marine insurance as an add-on service or option.
The type of auto transport company you hire-The total expense for shipping your car overseas can be anywhere between $2,000 to $5,000 on average. This is the base amount you can estimate, but only the auto transport company can offer you a suitable quote.
Bottom Line
Depending on the destination, your auto transport agency will first map out the most convenient route for shipping. They will oversee the handling and crunching of the overheads of logistical processes.
In the end, choose the method that benefits your time and budget. As a recommendation, using container shipping is the best way to ship your vehicle overseas since it's fast, safe, and completely reliable.
What is it like living on a sailboat during a global pandemic? This is never a question I never thought I would be able to answer until the year 2020 came, and everything changed. Outside Watch, is the story of Jennifer(my wife) and I, going from being two airline pilots to full-time sailors. We no longer spend most of our time at FL410, but instead at sea level.
We will spend this new, scary, and exciting chapter of our lives exploring the world by sea. I have been making videos for several years and want to document our journey by video as we take on this new challenge. My wife and I also have a website with a blog and cruising guide.
If you enjoy our vlog and blog and are planning to visit any of the locations we have been to or want some wanderlust, you can see where we anchored, provisioned, wined, and dined. This is going to be a work in progress as we visit more locations.
Outside Watch episode #1 shows how our lives changed so rapidly and how now our days are filled with sailing, swimming, drinking, diving, dining, and boat work. We completed a few upgrades on Skylark including solar panels and davits, celebrated our 8thwedding anniversary with a 'fancy Italian' onboard theme night and discovered some of the clearest water we have experienced in Thailand!
Want to know more about Chris and Jen and their adventures? Read more in our interview below and connect with them on their Youtube channel or blog.
Jennifer and I are 30 and 28 respectively, so we didn't think we would have such an opportunity thrown at us so young. We have been so focused on growing an airline career since we began flying lessons at 15 and flying for airlines at 18. Along with flying, traveling is our number one passion, and we traveled all around the world, jet-setting to nearly 100 countries and all seven continents. Together we challenged ourselves to climb mountains, paraglide, scuba dive, and charter sailboats in exotic locations.
The excitement of the fast-paced lifestyle and splitting ourselves between multiple hobbies and countries began to taper off. We craved a new challenge. We decided a sailboat would offer a new style of travel that appealed to us in so many ways. With our own sailboat, we would be able to visit places inaccessible during short charters and force us to slow down our travel pace. We would also learn many new skills along the way and grow through the experiences. After a few years of dreaming, saving, and searching for the ideal boat for us, we purchased Skylark.
When we bought Skylark in October 2019, we were First Officers on the Boeing 787. We were planning to commute to Skylark and travel around the world on our days off, leaving her at marinas while we worked. Then Covid-19 happened. Our plans for sailing part-time while working quickly turned into 100% sailing and 0% working.
We have found all of these travel restrictions to make travel more difficult but not impossible. We have had to change our plans many times to comply with the restrictions, but are looking forward to the excitement of cruising that includes visiting new places, meeting new friends, and living in the moment. Let's go!
The digital age is an age of convenience and this is quite true of international money transfers as well. Gone are the days when you needed to physically visit a bank to make a transfer. These days you can do it online from right where you are, be it over the internet or using your smartphone.
There are several advantages that money transfer companies can offer over traditional banks. In this article, we'll take a look at how travelers and digital nomads can benefit from using modern transfer companies:
Good exchange rates
Online international money transfer companies like Transferwise can leverage the live exchange rate when compared with banks that use traditional methods. They can use a variety of tools that can pre-decide the minimum and maximum exchange rate and allow one to go for a preferred rate rather than accept what is offered. You are thus insured against exchange rate fluctuation to quite an extent.
No hidden fees
Unlike banks, online money transfer companies like WorldRemit don't surprise their customers with hidden fees, the way that banks do. WorldRemit fees for making an international money transfer, for example, will be typically lower than a bank.
More currency pairs
Money transfer companies typically provide a far wider choice of currency pairs than banks. That means you can easily transfer money in the currency of your choice to the destination of your choice. That frees up people to transfer money wherever they want without having to follow any convoluted exchange mechanism.
24×7 Transfers
Unlike banks you can transfer money 24×7 by way of an online transfer, providing you with not only tremendous flexibility, but also leverage with regard to the exchange rates. That gives you a lot more control over your international money transfers than you would get with a bank.
Better tracking of your transfer
Online international money transfers can be easily tracked. The status of your transaction is visible to you right through all the stages. The online international transfer facility is available round the clock enabling you to transfer when you want, yet know exactly what the status of your transaction is.
Customer service
The customer service offered by international money transfer providers is way better than what banks have to offer. This is because they use modern technology to keep themselves up to date with what their customers want. These companies have committed teams to address all issues solely dedicated to transferring money online. They can be easily reached over the phone, live messenger or email.
This is an altogether different experience from what banks offer with their confusing and rule-bound approach to customer service. Given a choice, anybody would like to deal with people who are fair, transparent and approachable as most online international money transfer companies are.
It's the way of the future
With the world digitizing and the financial technology sector leading the charge, online money transfer has already become the norm, rather than the exception. The digitally connected world is a world of efficiency, speed, and lower costs. With technology advancing at an exponential rate the speed, convenience and safety of international money transfers will be improving while the cost of the transfers will continually fall.
The great thing about digital technology is that it is not impacted by the weather, epidemics, or any kind of exigency. Besides, it allows travelers and digital nomads to fulfill their transactional needs at any point, in any timezone. The ability to make money transfers via your smartphone is a wonderful example of what technology can achieve.
Travelers around the globe can take advantage of modern transfer services in various ways. Using online providers will drastically reduce the costs, and lower the transfer times and any receiver can obtain their money using a smartphone, reducing the need of finding a bank in an unknown location. Alternatively, digital nomads exploring the world but keeping their businesses running can fulfill their business needs at any time in any timezone. Many providers offer business transactions to facilitate any business needs.
There are several outstanding global online money transfer companies that one can choose from. These include brands like TransferWise, WorldRemit, TransferGo, Azimo, CurrencyFair, Money Gram, InstaReM, PayPal, Zoom, OFX and many many more. If you are someone who needs to frequently transfer money internationally, you are spoiled for choice, when it comes to some outstanding companies lining up to serve you. It makes eminent sense for you to make the most of it.
Wagner and Liany Nogueira are a Brazilian couple who moved halfway across the world to live in Bhutan! Both of them are well educated with Wagner holding a Ph.D. in Meteorology and Liany working as a pharmacist.
Since the second half of 2017, they gave up their jobs in Brazil to start a new life in Bhutan. They've been living there for over 8 months and plan to remain for the next 5 years.
Wagner became a school teacher and Liany became a tour assistant in the land of the thunder dragon. They have started to travel around Bhutan and begun exploring the many great things Bhutan has to offer. Funnily enough, they are one of the very few foreigners who can really call Bhutan their permanent home.
Want to know more about Wagner & Liany and their adventures? Read more in our interview below and connect with them on their Facebook page or blog Mochilão a Dois.
Our Interview with Wagner & Liany
BT: You left everything to live in Bhutan, which we think is awesome! Why Bhutan? What attracted you there?
Wagner & Liany: With the surge of social media, it is becoming very difficult to find some mystery in the world. Bhutan is one of the places left where places remain untouched and unvisited up to this day. It made our life very difficult, but in retrospect, it was really nice to be unable to find a lot of information about the country in order to make our decision. We came to a country not knowing much about it, apart from that it is very closed off from the outside world, we would live in the Himalayas and I would be a teacher. Everything else, we discovered when we arrived. What attracted me to Bhutan the most was just how difficult it is to come here. It is a very expensive country to visit, they are still very reluctant to hire westerners to work here, as we might interfere with the local culture a little too much. If you have been given the opportunity to come to one of the most remote places on Earth, the difficult thing is not to say yes, but to say no!
BT: Bhutan is a relatively remote destination, off the beaten path, if you will. Why do you think our backpacking community should be giving it a look when planning their next trip?
Wagner & Liany: Bhutan is, indeed, a place off the beaten track. It receives around 150 thousand tourists per year, which helps keep the country's wilderness unexplored and pristine. Nevertheless, this is changing very fast. It is like a trip to Cuba. If you went to Cuba 10 years ago, you'd see an unexplored country, still very much set in its ways. If you travel to Cuba now, seeing how often it is appearing in social media, it is losing its charm to make way for uncontrolled tourism, as friends have shared with me.
In order to maintain its identity and attempt to keep the country as wild as possible, it is expensive to come here. The country charges a daily fee of US$250 per day (US$200 off-season), from which US$63 goes directly to the maintenance of national parks and reforestation. This fee covers everything: 3-star accommodation, food, driver, and a guide (the guide is non-negotiable).
Our backpacking community should be looking into coming to Bhutan because its "wildness" will not last much longer. In the next 10 years, you will not see the real Bhutan anymore, unfortunately. Come, and come soon! The investment is big, but the rewards are huge!
BT: What did you find the most challenging about moving your life to a new country? Any tips for dealing with challenges, for those backpackers also looking to make a major move?
Wagner & Liany: Bhutan is the fourth country I [Wagner] have lived in. I have lived in Brazil, Ireland, and England in the past.
Moving is never easy. Saying "bye" at the airport, either if you are leaving or someone is leaving, is never easy. Making a big move has many rewards, but it has many drawbacks too. The most important thing is to be aware and mindful that it will not be easy. It will be difficult as hell, particularly in the beginning and, the older you are, the more difficult it is. You will miss friends' weddings, family funerals, the birth of new family members, graduations, etc, but you will also gain fantastic new friends, acquire a new language, experience different cultures, explore the country and its surroundings, and have many wonderful unexpected experiences.
One example: I teach students who are not financially privileged. They could not buy you a gift for a special occasion, or just to make you feel better. I build a greenhouse outside my wooden shack so that I could have some food that does not grow at 3200m above sea level.
Not too long ago, my uncle passed away in Brazil and, as you can imagine, we were unable to attend his funeral. I did not attend work for a couple of days. Knowing about this, some of my students turned up at my house with bags of soil that they dug themselves so that it would help me with my greenhouse. They walked 1km to my house with bags of soil on their backs, so that it would make me feel better. Guess what? It did! You will become a collection of stories like this when you get out of your comfort zone and throw yourself into the world.
Does it outweigh everything you'll miss? It depends on who you are! Will you regret it? Perhaps! But from my experiences, it is better to regret having done something than wonder for the rest of your life what could have been. This becomes much easier when you have an understanding and supportive partner.
BT: What have you learned about each other from this move? Any thoughts on the positive and not-so-positive sides of traveling with a partner?
Wagner & Liany: The dynamics of a relationship changes after you get married. We were in a long-distance relationship for some time. After we married, soon after we moved to Bhutan. Interference from family is drastically diminished, so we have to rely on each other for everything. We spend a lot of time together and we have to learn to live in a very small space. There is no place in our house where we do not see each other or hear each other. We are as isolated as the age of information allows us to be. This has been a fantastic experience, as we have to learn and adapt very quickly to our "common way".
We have traveled by ourselves in the past. I [Wagner] have visited 47 countries. Most of my trips were done on my own, mostly around Europe and South America. Liany has also traveled by herself. The most positive thing is to know that it is not because we are married that our solo traveler's life is dead. This would not work for us. Our holidays do not coincide all the time, so we have the freedom to explore the world on our own, should we need to. This has not happened a lot lately, but we have very similar travel styles. We like to camp, and hike, we mostly stay in shared dorms in hostels and we have no problem with it. It is difficult to find a travel companion with almost exact similar tastes as you, but we are as close as it gets.
Traveling with a partner, in our case, barely changed the dynamics from our solo backpacker days. Another positive is that we can share the responsibilities of planning our trips, but Liany usually does a lot more, I must confess. The not-so-positive is that, as well as our tastes, match, they do not always do.
Compromises have to be made as for destinations, which volcanoes to hike up, our top destinations do not always match. As we are living in Bhutan, that reduces our options and so, we decided to explore Asian countries during our time here. We always plan 2-3 different destinations, budget, weigh the pros and cons of each place and come to an agreement. None of us get exactly what we want, but we are always happy with the final decision. While traveling, sometimes when one wants to rest, the other does not, when one wants to hire a bike, the other wants to walk. Partners are not always in sync, but that is a fact of life, and we have to deal with it as well as we can.
If you've ever visited another country you no doubt know that powering your devices can be a challenge. Unfortunately, there is no universally adopted power configuration, meaning that you'll definitely need to invest in a power adapter at some point.
With so many options available, how do you make sure you're choosing the right one? Today, we are reviewing the Passport Pro, a new travel adapter by Zendure.
Whenever I travel I'm always faced with the problem of figuring out what power is being used in the country or countries I'm visiting. I tend to take quite a few devices these days that require regular charging including a laptop, phone, camera, drone, power bank, GoPro, and electric shaver.
I have a few different travel adapters that I use, mostly cheap ones that are very limited and take up a lot of space yet power only a single device at a time. The Passport Pro's multiple USB ports allow me to charge nearly all my devices at the same time which is great.
Some of the main issues I've found with these types of devices are that the pins can be loose in the socket and the weight of the adapter can often pull out from the wall. The Passport Pro has a slim design that definitely goes a long way toward solving this problem.
Technical Specifications
Dimensions:
68mm x 49mm x 66mm
Weight:
195g
AC Input/Output:
100-250V/AC 50/60Hz 10A Max (1000W/100V or 2500V/250V)
USB Ports:
3 standard ports and 1 USB-C port
Colors:
Black, White
Price:
$35 USD
Features
Compact and lightweight universal power adapter with US, UK, EU, and AU plugs
3 poles for grounded safety
Resettable fuse for power surges
Passport Pro can accept type A, B, C, E, F, G, I, J, N, and O pin configurations which makes it useable in over 200 countries (see image below)
A separate detachable Europe adapter which is great for those deeper plug types
Charge 5 devices simultaneously (4 USB + 1 AC outlet)
Up to 70% faster charging than other power adapters
Convenient positioning of the ports below the plug to avoid lateral weight distribution
3 slider buttons make it easy to switch between the different plug types
The baby-proof safety shield makes it difficult for kids to stick something in the socket and potentially get shocked
What Could be Improved?
My first gripe is something that unfortunately cannot be avoided due to the nature of the device but I really wish there was some way to make these power adapters even smaller (or for the world to adopt a central pin configuration). This is one of the sleeker adapters I've found, yet it is still like carrying a small block in your pack which is never fun.
While the Passport Pro can be used in over 200 countries, I found it to be lacking a couple of important pin configurations. The ungrounded 2 pin plug is still somewhat common in older hotels and homes in the United States and also Australia though this is a safety issue. Zendure has chosen a safety-first stance which I appreciate.
Final Say
With a wonderful form factor, this is perfect for powering multiple devices during your travels. Just be prepared to pay a little more due to the fast charging and safety this device provides.
Grab yours on Kickstarter
Make sure you read until the end for a special promotional discount!
When you're traveling for stretches at a time, parts of your travels can seem like a blur. Whether it's being overwhelmed by the countless number of temples in Japan, or eating way too much sauerkraut in Germany, too much of anything can feel monotonous.
This is why staying at hostels can be a bright part of any journey. You get to meet fellow backpackers, share experiences, and hopefully stay friends long after you've met. It all boils down to having a really personal, fun, and unforgettable experience.
Let's build a hostel
Ruamoko Hostel came from the simple idea of bringing together people from all walks of life, who leave with a rucksack full of memories. After traveling around Southeast Asia, Matt came up with the idea to build a hostel.
While most people would have stopped there, he posted his idea on Facebook and was joined by fellow backpacker Andy. They decided to build Ruamoko (who is the god of earthquakes, volcanoes, and seasons in Maori mythology) in Nicaragua. It's not too far from their home countries (Matt's originally from Canada, Andy from California), and it's in a beautiful part of the country, Popoyo – an up-and-coming town well-known for its gorgeous beaches.
After successfully raising $22,500 through a crowdfunding campaign on IndieGoGo the work began.
Location, location, location
Located in Playa Santana, one of the beaches in the area, you can walk to the beach from the hostel in about 5 minutes – perfect to go for a surf, go horse-riding, or simply watch the sunset with a cocktail in hand.
Ready for launch
We arrived at Ruamoko within a month of the hostel's grand opening, which was cool because we were seeing parts of the hostel coming together. There were four eight-person dorms, which conveniently have two bathrooms inside. The bottom bunks also have mosquito nets around them – which we found essential because Nicaragua definitely gets its fair share of these when the sun goes down!
Not that you'd be spending much time in your room besides sleeping. As a boutique hostel, Ruamoko is centered all-around having a community vibe. Right in the center is its signature pool (with a funky logo at the bottom). The bar/reception area is right next to it, where you can grab surfboards for rent (Andy offers surfing lessons), or hang out with other guests over a drink.
A community vibe
Once it gets to nightfall most guests are back in the hostel. In keeping with the community vibe, dinner is served for everyone around the same time (breakfast/lunch available too), which really helps for people to get to know each other. The food was really fresh, creative, and delicious – you can expect salads, sushi, and whatever is available from the local market that day. They even have a truck that passes by every day selling fruit and vegetables!
Peter, who basically dropped everything in his home country of Slovenia to join Matt and Andy to build the hostel, now is at Ruamoko and one night made a delicious "I-just-invented-this" meal that everyone raved about.
Party time
After that, it's party time – there's a solid sound system that blasts out tunes and even some decks on hand. Even though we were there not long after the official opening, there were already quite a few guests, from countries including England, Ireland, Canada, Sweden, and others. Some had met Andy or Matt from previous travels, while others had heard about it while looking for an inexpensive place to stay by the beach. Getting to relax and chat with everyone in a small group at night – including sharing drinks and laughs with Matt, Andy and Peter – was a lot of fun.
Ruamoko Hostel is brand new, so there are still plans to add private rooms, and finish up some of the fencing (hilariously a cow apparently came bounding in one night to take a nibble from a plant), and add a few more finishing touches. But the essence of Ruamoko Hostel – to create a warm and welcoming home-away-from-home atmosphere – is vividly apparent. It was really exciting to see the hard work put in by the guys running Ruamoko, and we're excited to see what's next.
SPECIAL OFFER
STAY 3 NIGHTS, PAY FOR 2
Stay 3 nights and pay for 2 at Ruamoko Hostel is valid only for direct bookings through the Ruamoko website. You must mention Backpacker Travel when arriving at the hostel to be eligible for the promotional discount.
If you're like me, whenever I'm at home and steeped in my usual routine, I cannot start my day without a cup of delicious coffee.
As the world's most addictive drug, a trip to Nicaragua naturally included a visit to Cafe Las Flores, which has been cultivating coffee for three generations. Situated along the slopes of Mombacho Volcano (we got there from Granada), Cafe Las Flores has been recognized by the Rainforest Alliance Certification for its sustainable and organic practices.
Cafe Las Flores offers tours that include a walkthrough of the coffee production process, which we kicked off by strolling through the plantation to pick up the few coffee cherries that were still available on the trees. Since we were there in December, we were nearing the end of the harvest season, but there were still a few lingering cherries to plop into our basket.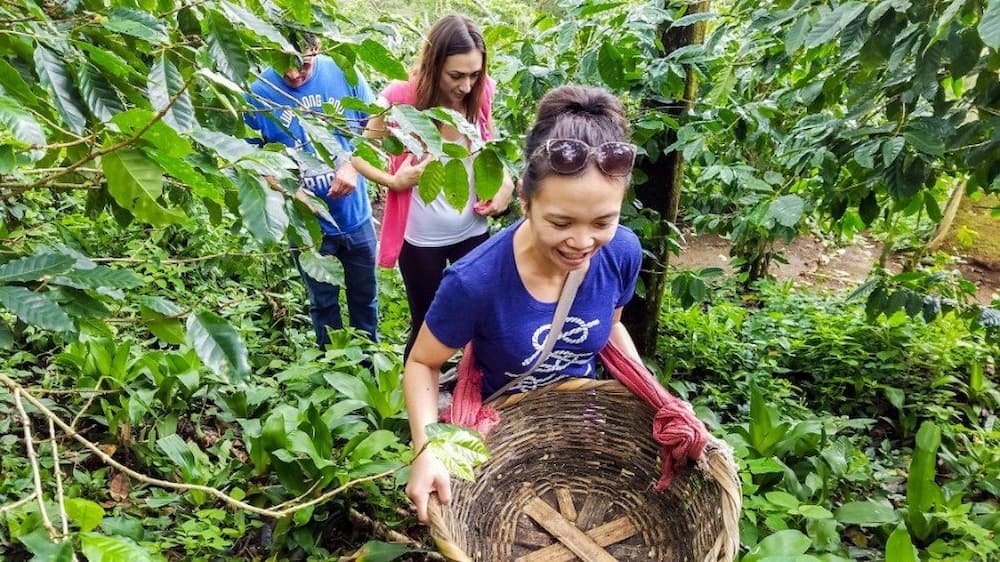 The terrain of the volcano slopes was also filled with a ton of fascinating wildlife – from tiny insects, reptiles, birds, and apparently, even deer! We were also able to spot quite a few termite mounds affixed to trees and sampled a bit of local protein along the way. It tasted woody, though not particularly crunchy.
After picking the cherries and sorting them, we checked out the next step, which is separating the skin and pulp from the bean before laying them out in the sun to dry in wide expanses. They are then milled further, removing the husk of the coffee cherry. Who knew that every coffee cherry has three layers?
Cafe Las Flores meticulously sorts through its coffee, with the lesser grade beans sold to other suppliers to make instant coffee. For the roasting, turns out that light roast beans have more caffeine in them, but it's all a matter of preference on which roast you like best.
After the coffee tour, we strapped into harnesses and helmets to go ziplining across the treetops along Mombacho.
What better way to relax than with a cup of coffee or two? There are food options there as well as different espresso, lattes, and flavored coffee drinks (iced and hot). Being there before Christmas, we tried out a couple of holiday-themed lattes as well as more traditional hot drinks. And with that, we'd completed the final step of our coffee tour – from seed to cup.
Cafe Las Flores is a short drive from the picturesque town of Granada and well worth a visit on your trip!
If you're interested in more info about coffee but can't make it to Nicaragua, check out this article on the best beans for cold brew.