Travel can be one of the most amazing experiences in life, but packing and keeping all things in order throughout the trip can be very challenging. I always try to pack my things neatly before every trip, but after only a couple of days, everything turns into a complete mess.
I have to rifle through my bag to get something every single time and this process can be so frustrating. Having the proper gear can help you get rid of this unhappy scenario and using packing cubes may be the solution.
The Idesort Packing Cubes are luggage organizers available in several colors and are functionally every bit good. They are ultra-light, durable, zip smoothly when overstuffed, and open all the way, making packing & unpacking a breeze.
The set offers 8 cubes in 4 sizes (large, medium, small and slim) and 2 colors with a label on different packing cubes to help you keep things separate and easily identifiable. These different-sized cubes are great options for all circumstances and are perfect for suitcases and backpacks. I tried to squeeze in more and was pleasantly surprised about the mesh top's elasticity. Plus its durable nylon fabric and solid easy-pull zippers make it possible to stuff them full without worrying about breakage. The large mesh panel allows for clear visibility without unpacking the travel bags to locate what you need.
These packing cubes are helpful not just for travel but also for closet organization or other space-saving purposes at the office or home.
Wrinkle-Free Luggage Organizer System
I also got a 5 set of travel packing cubes with a garment folder. The 17″ garment folder is perfect for business trips as it keeps your formal shirts and dresses nice and wrinkle-free. A plastic plate with folding tips printed on it is included inside and a secret pocket where you can put your tie, handkerchief, and other kinds of travel stuff. It's very convenient to use and can hold a lot of luggage as well.
Technical Specifications
Fabric:
Rip-stop Nylon
Colors:
Black, Blue, Grey, Green, Rose
Dimensions:
Large: 17.3″x 12.5″x 4.5″
Medium: 14.9″x 10.6″x 3.9″
Small: 12.9″x 8.6″x 2.95″
Slim: 11″x 6.7″x 3.9″
Garment Folder: 17″
Features
More Packing Choices – 8 Luggage organizers in different sizes and colors with labels on different Packing cubes
Durable ultra-light rip-stop nylon fabric with easy-carry handles
2-way easy-pull zippers that zip smoothly even when overstuffed
A breathable mesh top makes it easy to quickly locate your items and keep your clothes stay fresh & odor-free
Garment folder – keeps your formal shirts and dresses nice and wrinkle-free. With the useful carry handle.
Lifetime Warranty
What Could be Improved?
The only drawback would be the thin sides that can't stand up on their own, which makes them slightly difficult to pack. It's nice that these packing cubes are water-resistant, however, there is a mesh screen so they are not entirely waterproof.
Final Say
Overall, the Idesort Packing cubes do deliver their promise of affordability, durability, and functionality. They are a great solution for messy packers like myself. Not only do they help you pack and unpack your luggage neatly, they also help you fit more things, making life so much easier. A definitely must-have travel accessory.
Grab yours on Amazon
If you've ever visited another country you no doubt know that powering your devices can be a challenge. Unfortunately, there is no universally adopted power configuration, meaning that you'll definitely need to invest in a power adapter at some point.
With so many options available, how do you make sure you're choosing the right one? Today, we are reviewing the Passport Pro, a new travel adapter by Zendure.
Whenever I travel I'm always faced with the problem of figuring out what power is being used in the country or countries I'm visiting. I tend to take quite a few devices these days that require regular charging including a laptop, phone, camera, drone, power bank, GoPro, and electric shaver.
I have a few different travel adapters that I use, mostly cheap ones that are very limited and take up a lot of space yet power only a single device at a time. The Passport Pro's multiple USB ports allow me to charge nearly all my devices at the same time which is great.
Some of the main issues I've found with these types of devices are that the pins can be loose in the socket and the weight of the adapter can often pull out from the wall. The Passport Pro has a slim design that definitely goes a long way toward solving this problem.
Technical Specifications
Dimensions:
68mm x 49mm x 66mm
Weight:
195g
AC Input/Output:
100-250V/AC 50/60Hz 10A Max (1000W/100V or 2500V/250V)
USB Ports:
3 standard ports and 1 USB-C port
Colors:
Black, White
Price:
$35 USD
Features
Compact and lightweight universal power adapter with US, UK, EU, and AU plugs
3 poles for grounded safety
Resettable fuse for power surges
Passport Pro can accept type A, B, C, E, F, G, I, J, N, and O pin configurations which makes it useable in over 200 countries (see image below)
A separate detachable Europe adapter which is great for those deeper plug types
Charge 5 devices simultaneously (4 USB + 1 AC outlet)
Up to 70% faster charging than other power adapters
Convenient positioning of the ports below the plug to avoid lateral weight distribution
3 slider buttons make it easy to switch between the different plug types
The baby-proof safety shield makes it difficult for kids to stick something in the socket and potentially get shocked
What Could be Improved?
My first gripe is something that unfortunately cannot be avoided due to the nature of the device but I really wish there was some way to make these power adapters even smaller (or for the world to adopt a central pin configuration). This is one of the sleeker adapters I've found, yet it is still like carrying a small block in your pack which is never fun.
While the Passport Pro can be used in over 200 countries, I found it to be lacking a couple of important pin configurations. The ungrounded 2 pin plug is still somewhat common in older hotels and homes in the United States and also Australia though this is a safety issue. Zendure has chosen a safety-first stance which I appreciate.
Final Say
With a wonderful form factor, this is perfect for powering multiple devices during your travels. Just be prepared to pay a little more due to the fast charging and safety this device provides.
Grab yours on Kickstarter
I'm all about action and adventure; you name it, we love to go hiking, biking, and climbing. It's important to stay hydrated during these types of activities but I'm personally not a huge fan of carrying a water bottle and prefer a hydration system instead.
Here is my open and honest review.
I tested the Crave Outdoors Hydration Pack by putting it through its paces on a local run. Even though the bladder is BPA-free, I would certainly suggest washing it out prior to use to avoid the plastic taste you get with new products. After washing the bladder I found it to be very easy to fill up under our bathroom sink.
It did take a fair amount of fiddling around to get the straps perfectly positioned, but once done, it was quite comfortable and I really liked how light it felt, even with the full bladder weight. At least you should only need to make the adjustments one time.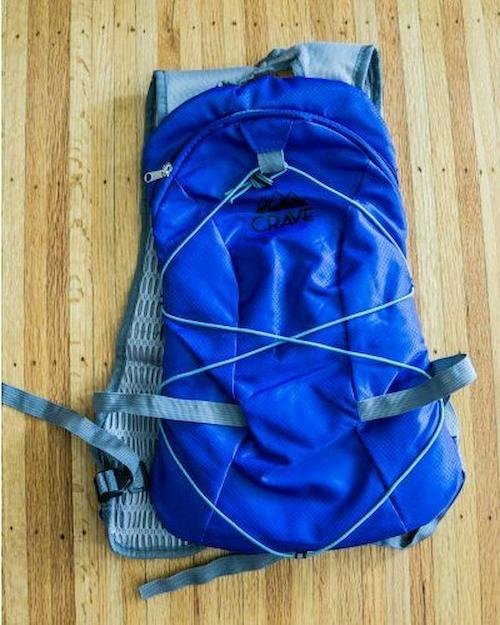 Features
Multi-use: great for hiking, cycling, festivals, and general travel
1.5 liter BPA free hydration bladder
Water-resistant outer material – important so your dry goods don't get wet if you get stuck in a light rain shower
No-questions-asked Money Back Guarantee
Multi-point adjustable rip nylon straps
External netting to store a jacket or flip flops
Large opening for easy filling
Storage
There are a few pockets incorporated into the shoulder straps where you can store a small snack, like a health bar or an energy shot along with your keys and a place to keep some cash or a credit card.
As you can see, my first-generation Moto X fits (very snug). If you have an iPhone or later model android, you are out of luck and will need to keep it in the main compartment.
Technical Specifications
Material
Waterproof 600D/PVC polyester
Capacity/Volume
1.5 liters of water in hydration bag + approx 2 liters of additional internal capacity
Weight
454g (16oz) with an empty bladder
Dimensions
43.2cm x 5.1cm x 25.4cm (17″ x 2″ x 10″)
Colors Available
Blue, Red, Green
Number of Pockets
4 in the front, 2 inside pack (includes bladder pocket)
What Could be Improved?
Due to the setup of the straps, it is hard to get a perfectly snug fit on your back. The strap buckles are also difficult to adjust and could be replaced with a much simpler system. It would also be better if there were two sizes available (perhaps a child and adult version).
The front-facing pockets need to be able to accommodate a five-inch or bigger phone. Currently, only a four-inch phone will fit. It would also be nice to have a small, zip-up pocket inside the main compartment to store valuables such as a wallet.
Final Say
This is a great buy if you are looking for a decent hydration pack for under $50. If they can make some of the small improvements mentioned it will be an even better buy!
Grab yours on Amazon
Packing is one of those tasks we both love and loath. We love it 'cause it has a direct relationship with the excitement of an upcoming trip, yet we hate having to 'tetris' our clothes and belongings into our backpacks, only to remove and repack at every stop.
Well, loath no more! I recently got to test out Eagle Creek's packing cubes, and they were a godsend. Here's why…
I got to test two different versions of their packing cubes. The first was the Eagle Creek 'Pack-it' Specter Compression Cube Set (as shown on the left), and the second was the regular Eagle Creek 'Pack-it' Specter Set (as shown on the right).
The only real difference between the two was that the compression set contained a medium and large cube, each of which had an additional zipper that allowed the cube to be expanded (see image below). The regular set contained a small, medium, and large cube. The small cube proved to be the perfect size to fit all my toiletries.
Better organization in your pack
One of my pet peeves is having to find specific items at a moment's notice in my backpack, especially when I am away on an extended trip. The huge benefit of packing cubes is segregation. You can separate your underwear in one cube, your t-shirts in the other, and toiletries in another. This makes finding things a whole lot easier and provides a barrier should something spill in your pack.
Better organization means more room
By rolling your clothes and compressing them in the cube, you end up making more space in your pack. It's a little like those vacuum-sealed bags (without the vacuuming).
They're durable and lightweight
Both types of cubes are made with a very durable, lightweight nylon. You really don't want any additional weight when packing and I definitely didn't feel any difference by using the cubes.
Features
Compression zipper for even more space savings
Ultra-light water repellent silnylon ripstop
Quick grab handle
Packing cubes are great for t-shirts, pants, gym clothes, undergarments, and socks
Technical Specifications
Fabric:
Silnylon Ripstop
Capacity:
3 liters to 13.5 liters (expanded)
Weight:
45 grams to 63 grams
Size:
14 x 10 x 4cm to 36 x 25 x 10cm
What Could be Improved?
There are not a lot of areas to go wrong with a product like this but one feature I would like to see changed is the zipper. As you can see in the photo (right), the zipper stops on one side.
This is most certainly not a deal-breaker, but it would be quite a lot easier to load items if the zipper opened the whole way.
While the nylon material used seems strong, I did catch it in the zipper on a couple of occasions which could potentially result in a small tear.
Final Say
While a little on the expensive side, these packing cubes are quality and worth the investment if you are looking to travel and with a limited lifetime warranty you can't go wrong.
Grab yours on Amazon
On my last trip, I got to test out the Outdoor Products Amphibian Weather Defense Pack, a waterproof daypack purpose-built for outdoor adventures. The pack held up great even though it was tossed around the back of our trailer at times.
At first, I was concerned that there would not be much room but I was surprised at how much stuff I could actually fit in the main compartment. The big downfall was that this meant I spent a lot of time looking for an item that was buried at the bottom.
Overall the pack was very comfortable, even in high temperatures where I would have expected my back to sweat more. This is a great choice for rock climbers and canyoners who will be out in the elements and want to keep their gear dry.
What I was able to fit in the pack
Even though the pack only has a single storage compartment, I managed to pack quite a lot into it (enough for my 7 day trip to Yosemite).
Here is the full list of items that it fit:
Small quick-dry towel
Energy bars
6 x t-shirts
Toiletries kit
5 x pairs of underwear
2 x pair socks
Bandana
Flip flops
Lightweight rain jacket
GoPro Hero 2 Camera
Canon EOS 500D Camera
Scrubba wash kit
Note: I wore the shoes, hat, and sunglasses.
Technical Specifications
Fabric:
420 Denier fabric with TPU coating
Capacity/Volume:
20 liters
Weight:
687g (24.25oz)
Dimensions:
58.5cm x 24cm x 19cm (23″ x 9.5″ x 7.5″)
Colors Available:
Blue, Red, Black
Waterproof:
Yes – welded seams and watertight, roll-top seal
Features
Welded seams and a roll-up top seal to ensure no water enters the pack, even with submersion.
The main compartment is large enough to store a change of clothes, snacks, and other essential items.
A mesh pocket on the front could be used for any waterproof items that need to be easily accessed eg. house keys.
The top carry handle is sturdy and feels well balanced when carrying the pack.
The padded shoulder straps are comfortable and position the pack high on your back.
The waterproofed material is durable enough to withstand bumps when climbing or canyoning.
What Could be Improved?
The pack is basically one big container, so don't expect to be using the other pockets too much. It would be nice to have some form of organization in the main compartment. Perhaps some pull-out sections like with the laptop compartment on the Outdoor Products Power Pack Glide 2.0. I found it a little annoying trying to find items at the bottom of the pack.
Additional gear loops would be great so you could hang your water bottle or other items that didn't need to be inside the pack. There is currently no way of carrying a water bottle other than inside the main compartment.
Final Say
If you need a basic durable waterproof pack this is an excellent choice. Just be sure to use packing cubes or similar to organize your gear.
Grab yours on Amazon
If you're like me, travel can be a drain on the system. You see, I'm a very light sleeper. It really doesn't take much to wake me from my slumber – a little street noise, a few people talking in the next room, that couple having sex down the hall – or worst of all the guy in my dorm snoring at the top of his lungs.
A couple of months ago while reading a travel article I came across these funky earplugs that looked like they had teeny tiny speakers in them. Of course, I was immediately intrigued and searched their website to learn more.
Designed by Doppler Labs, DUBS Acoustic Filters are a new breed of earplugs that use a sophisticated filtration system to reduce sound pressure at different frequencies. In simple terms, they turn down the volume while still allowing the sound through.
The main use case is for festivals or concerts where you really want to be able to hear the music clearly and not just receive a hot mess of noise. If you go to lots of loud concerts you should be taking steps to protect your hearing – period. DUBS are designed to even out the frequency curve while providing 12 dB of noise reduction so that the final product sounds natural.
So how did they fare in travel-related situations? I was lucky enough to be sent a pair to test out on my recent trip. Here are the results:
First of all, the packaging looks great. They fit neatly into a little carry case that you can pop into your pocket.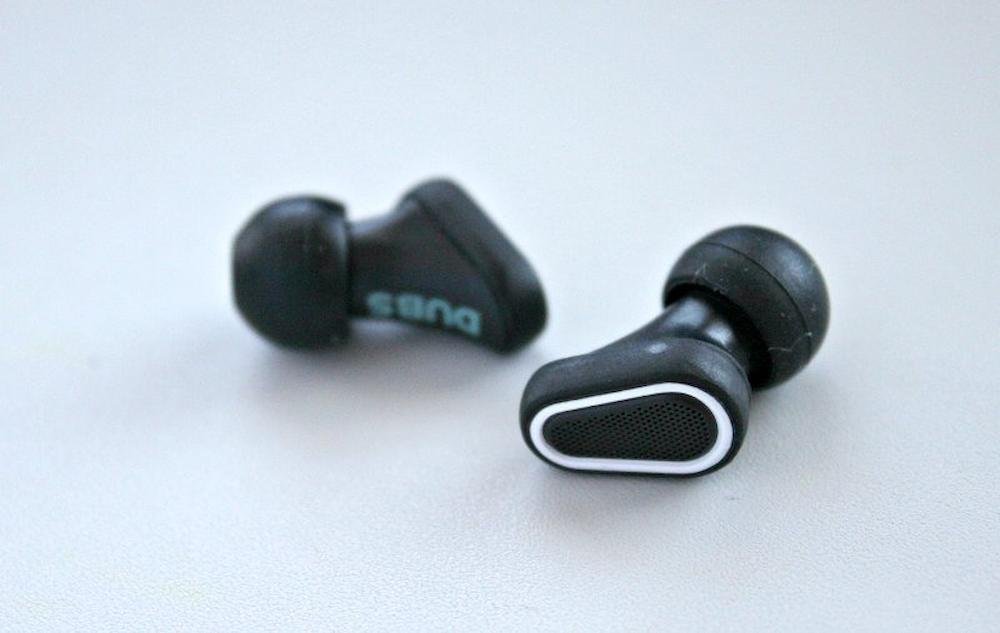 During a flight
Don't get me wrong, I wasn't expecting a set of earplugs to produce the same level of noise reduction as an expensive pair of noise-canceling headphones, so I was pleasantly surprised to find a decent amount of ambient noise reduction with the DUBS.
The ambient or white noise you are subject to while flying is something that many people overlook. As soon as you try a pair of noise-canceling headphones you will realize just how loud it really is on a plane.
The best example was when I wanted to watch a movie. The flat exterior surface of the DUBS allowed me to comfortably wear the headphones provided by the airline. This combination worked great, blocking most of the outside noise while letting me hear through the headphones clearly.
For sleeping
This is where I was hoping for a miracle but the reality is, there is still a way to go before I will be drifting peacefully off in a dorm room (I doubt this will ever be the case). To be fair, the company doesn't make any claims that the product is suitable for light sleepers.
One of the big pluses for me when comparing a pair of DUBS to a standard pair of disposable earplugs was that it allowed some of the noise to come through. There is nothing worse than feeling like you can hear every bodily function when you are wearing earplugs at night. In fact, I dare say it is just as detrimental to my sleep as not wearing them.
Final Say
Though they look great, DUBs still have some room to improve before travelers should look to replace their disposable earplugs on the road.
Grab yours on Amazon
UPDATE: We were contacted by a representative of Doppler Labs and it seems that we were wearing the earplugs slightly wrong which could have affected the results of our tests. The following image shows the correct use.
Doppler Labs would like to point out the following – DUBS were designed to filter and reduce volume, not to eliminate noise. For example, a pair of DUBS will effectively protect a user's hearing on an airplane by reducing the damaging decibel level of the jet engines, while still allowing the user to engage in conversations with the passengers around him or her. They are not designed or created to eliminate noise for someone that is sleeping.
For all you digital nomads out there, this is your perfect daypack! The Outdoor Products Power Pack Glide 2.0 daypack offers the perfect combination of storage, access, and comfort for all of your important items during your travels.
Frequent fliers will especially love the detachable laptop sleeve for those pesky airport scans and there is ample room to store all of your camera and electronic equipment.
Technical Specifications
Fabric:
High-density polyester twill.
Capacity/Volume:
18 liters
Weight:
1.5kg (2 lbs. 5 oz)
Dimensions:
45cm x 31cm x 17cm (17.7″ x 12″ x 6.5″)
Colors Available:
Pewter, Military Olive, Black
Laptop Compartment:
Yes – removable fits 15″ laptop sleeve
Features
The pull-out laptop sleeve fits a 15-inch laptop computer and is easily accessible within its own "quick access" zip compartment. The sleeve connects via dual quick-release buckles and slides out for fast and easy airport screening. No more fumbling about when security asks you to remove your laptop. (design meets TSA screening requirements)
The main compartment is large enough to store a change of clothes along with your DSLR camera and lenses.
A hidden compartment located in the rear of the pack is perfect for storing important documents such as passports and plane tickets.
Inside there are numerous slots, zips, neoprene, and mesh pockets to separate your electronics and camera gear. Especially good for keeping keys from scratching lenses or phone screens.
Includes fleece-lined sunglasses pocket, zip stash and stretch mesh side pockets which are big enough for a 600ml bottle of water (though nothing larger).
Very comfortable to carry. The top carry strap has a soft-grip textured handle and the padded shoulder straps sit nicely on your shoulders while evenly distributing the pack's weight.
The back panels have ample padding, allowing a good amount of airflow to keep your back from getting too sweaty.
The Power Pack Glide 2.0 is built with rugged polyester twill fabric for long-lasting durability
What Could be Improved?
My only negative was that I wish it was a little lighter, given the durable materials used combined with the vast array of compartments, this would be a difficult challenge.
In addition, it would have been awesome to include the option of a removable divider for the main compartment. This way all you photographers could section off your DSLR camera and lenses better.
Final Say
I was totally surprised at how much stuff I could jam into this pack without losing any comfort. This is now my "go to" carry-on bag and is perfect for short trips.
Grab yours on Amazon
If you ever decide to make your way over to Europe for a bit of backpacking and camping, the Quechua brand sold through the Decathlon chain of stores can be a surprisingly cheap alternative. A case in point is the Arpenaz 2. This budget 2-person tent turns out to be a lot better than one would expect for the price of £ 25 GBP.
Falling into the category of a standalone tent with collapsing fiberglass poles that cross and fit onto corner metal rings for setup, the first thing you notice is that the material does not feel skimped on. The resilient plastic bottom is topped with a standard mesh top with one zip entranceway, but the cover flysheet that easily fits over the top does a pretty good job at keeping out the condensation of the morning and fairly heavy rainfall.
Being a simple construction, the tent packs up quickly, and the storage case is of a size that lets you get it back in after the first unpacking, unlike some other brands that never seem to squeeze back in unless factory folded.
Technical Specifications
Dimensions:
120 cm wide by 205 cm in length. Max. headroom: 110 cm.
Weight:
2.4 kg
Cylindrical Storage Case:
16 cm diameter / 57 cm long
Colors:
Green or Blue
Warranty:
2 years
Price:
£ 25 GBP
Features
Sleeps 2 people
Wind resistant design
Water-resistant outer material – good for heavy downpours
Double skin
Pitching poles
Lightweight material makes it easy to carry on long hikes
What Could be Improved?
The only gripe could really be that the flysheet does not go out too far from the entranceway, meaning you have to bring all your gear in with you and can't leave those smelly backpacker boots sheltered outside to air out overnight. As for the space inside, there is more than enough room for yourself and all you carry, though two people inside will get crowded, especially, as mentioned before, that you have no extended external fly to keep your kit protected outside the tent on a rainy night.
If you're looking for the best canopy tents for wind, here is our best resource.
Final Say
Though it may be a fraction of a centimeter too long and just a hair heavier than you would care to haul around for an extended time, the low price, ruggedness, and quality sure make up for it.
Grab yours on Amazon
The Osprey Axis is a lightweight daypack that comes in a range of vibrant colors to help you stand out from the crowd, whether on the trails or in the city.
Smart functionality and superior comfort have partnered together to create the Axis backpack by Osprey. The main compartment has a padded laptop sleeve that fits most standard 15.4″ laptops and it includes a separate document sleeve for secure organization.
The stretchy interior woven pocket holds up to three MP3 players for when you are out and about. It features a mesh over-slotted EVA foam harness with a mesh back panel for excellent comfort and breathability. There is an Ear Bud Routing system which easily routes your earbuds through the top of the pack so wires won't get tangled.
Dual side zip pockets can hold your water bottles and a light attachment will accommodate most blinker lights. Convenient key clip located in top slash pocket.
Osprey will repair for any reason, free of charge, any damage or defect in their product − whether it was purchased in 1974 or yesterday. If they are unable to perform a functional repair on your pack, Osprey will happily replace it.
Technical Specifications
Fabric:
210D nylon double ripstop, 420D nylon pack cloth.
Capacity/Volume:
18 liters.
Weight:
0.64kg (1 lb. 8 oz)
Dimensions:
46cm x 29cm x 22cm (18″ x 11″ x 9″)
Colors Available:
Snappy Green, Juicy Orange, Prince Purple, Black
Laptop Compartment Dimensions:
36.3cm x 24.9cm x 3.3cm (14.3″ x 9.8″ x 1.3″)
What Could be Improved?
The shoulder straps often find a way to lengthen without assistance. Perhaps a better locking system would work well in this case.
The side pockets could be a little larger to accommodate wider water bottles too.
Final Say
Overall this is a fantastic daypack for the price. You can't go wrong with Ospreys' lifetime warranty. I also love the idea of a bright orange pack for greater visibility on hikes.