The East African island of Mauritius is a melting pot of different cultures and customs that come together to create a truly unique way of life, which is best discovered up close. A more authentic and immersive island experience awaits you beyond the world-class beaches and luxury hotels; read on to discover how you can enjoy the cultural delights of Mauritius.
Savor the food
What better way to truly immerse yourself in a new culture than by testing out the local fare? Mauritian cuisine has been infused with so many different international flavors throughout history, with various dishes celebrating different aspects of the island's heritage. You'll notice particularly strong Asian and European influences, but the locals also like to champion native African flavors, too.
There are so many different ways to enjoy an authentic taste of Mauritian cuisine. If you're out and about, keep an eye out for the street food vendors serving local dishes to go. These convenient spots will introduce you to the traditional flavors of the island, and are also an excellent option if you're looking for cheap eats to fuel your adventures. Or, if you want to really live like a local, visit one of the markets and pick up some ingredients to recreate your own Mauritian dishes. However you choose to enjoy the wonderful food on offer, we're sure you won't be disappointed.
Uncover historic architecture
It's not just the cuisine that's drawn influences from the different countries to have settled on the island throughout history. Granted, Mauritius is probably best known for the natural elements that make up its alluring landscape, from the world-class beaches to the viridescent valleys. But the island's architecture has an important story to tell, and if you want to know more about the culture and history here, exploring some of the historical hotspots is a great place to start.
From the British-built Martello Tower that was used in defense against French invasion to the museum at Beau Plan Sugar Mill, each spot uncovers a different aspect of the island's fascinating past. If you can peel yourself off of your beach towel for an afternoon, the historic buildings across the island are well worth a visit.
Converse with the locals
Mauritian people have a reputation for being extremely friendly and welcoming to international visitors, and spending some time mixing with the locals is a great way to learn more about island life. The markets are a wonderful place to meet people and find out about the local culture through the medium of food and crafts. Or, consider signing up for a guided tour where you will not only get a local expert's perspective on the sights, but it's also an easy way to meet new people along the way.
As it is anywhere in the world, it will always be appreciated by the locals if you try to converse with them in the local language. There are a range of dialects spoken across the island including Mauritian Creole, French and English. Even keeping a few phrases handy can go a long way to helping you integrate into the local culture and interact with the people who live there.
While the enchanting city of Marrakech has long been a magnet for tourists, Morocco is so much more than this single destination. Beyond the bustling markets and opulent palaces, the country offers a medley of lesser-visited gems that open a window into North Africa's rich culture, history, and landscapes. This guide invites you to explore Morocco's quieter but equally spellbinding locales, pulling you away from well-trodden paths to uncover the country's authentic beauty.
The Allure of Chefchaouen
Sure, you've likely seen the Instagram-worthy photos of Chefchaouen, also known as the Blue City. Nestled in the Rif Mountains, this charming town offers cobblestone streets and buildings awash in varying shades of blue. Despite its rising fame, Chefchaouen remains a tranquil refuge. Artisans showcase handcrafted goods, and outdoor cafes provide scenic backdrops for a Moroccan mint tea experience. To make visiting Morocco easier, especially lesser-known gems like Chefchaouen, learn more about an e-visa to handle all your travel documentation needs ahead of time.
A Hidden Oasis: Merzouga
Journey southeast toward the Sahara Desert, and you'll find Merzouga. This charming town offers camel treks and magnificent sunsets, transforming the sky into warm hues. Post-adventure, unwind in a Bedouin camp. You can indulge in traditional Berber cuisine there and marvel at the unspoiled night sky, glittering with countless stars.
Fez: A Journey Back in Time
Fez, often overshadowed by Marrakech, is a city steeped in history. The old Medina is a labyrinthine world that transports you back through the centuries. Artisans still craft leather goods using age-old techniques, filling shops with the rich scent of dyed hides. Only leave with visiting Al-Quarawiyyin, considered the world's oldest existing university, and the intricately designed Bou Inania Madrasa, an architectural marvel.
Hiking in the High Atlas Mountains
The High Atlas Mountains are a hiker's paradise. The extensive range offers trails that meander through small Berber villages, past gushing waterfalls, and lush valleys. It's an experience that promises both adventure and cultural immersion. Toubkal National Park, a particular highlight, hosts Jebel Toubkal, North Africa's tallest peak, offering daring trekkers a challenging but rewarding climb.
Agadir: The Coastal Gem
Agadir may not boast the historical allure that other Moroccan cities do, but it certainly compensates with its beautiful beaches. This contemporary, easygoing metropolis is a magnet for aquatic adventures like wave-riding, powerboating, and sky-gliding over the ocean. Its coastal walkway is sprinkled with coffee shops and chic stores, offering a perfect setting for a leisurely walk, especially during the golden hours of sunset over the water.
Essaouira: A Fusion of Cultures
Essaouira is not just another coastal city; it's a melting pot of cultural influences. The city has something for everyone, from Portuguese forts to French-designed buildings and a predominantly Berber populace. Its narrow alleys are a haven for artists, and the galleries that line them feature incredible local art. Remember to indulge in the city's fresh seafood, as Essaouira is renowned for its delicious oceanic fare.
The Sacred City: Moulay Idriss
Moulay Idriss is a significant pilgrimage site for Muslims but also serves as a serene escape for non-religious tourists. Its narrow streets wind uphill, leading to vantage points that offer sweeping views of the surrounding landscapes. A short distance away, the Roman ruins of Volubilis offer yet another layer of history, making Moulay Idriss an ideal spot for those seeking spiritual and historical depth.
Taroudant: The Mini Marrakech
Taroudant may not be as well-known as Marrakech, but it offers a similar architectural style and bustling market culture. Wander through its local souks to discover handmade crafts, textiles, and aromatic spices. Like Marrakech, it's a great place to haggle for souvenirs. The town is also home to several beautiful riads—traditional Moroccan houses with interior gardens—where you can unwind after a day of exploration.
The Rugged Beauty of Dades Valley
Dades Valley is a scenic treasure that only sometimes makes it to the typical tourist itinerary but is worth every minute of your visit. The valley is renowned for its incredible rock formations, often called "monkey fingers," and its road of a thousand kasbahs. It's a paradise for photographers, who can capture the landscape's warm, contrasting colors—especially at sunrise and sunset. Additionally, the valley offers numerous trekking opportunities, allowing you to immerse yourself in the natural splendor while encountering local Berber communities along the way.
Asilah: A Canvas of Color
This small town on Morocco's Atlantic coast is full of color and creativity. Asilah's Medina is a living canvas with vibrant murals and street art. Beyond its artistic allure, Asilah offers secluded beaches to relax and soak up the sun. The town's Portuguese fortifications provide a historical backdrop, making Asilah a compelling blend of culture, history, and natural beauty. A walk along the sea walls at sunset offers tranquility as the sky turns shades of pink and orange over the blue Atlantic.
Morocco's appeal goes far beyond the well-known streets and marketplaces of Marrakech. Whether it's the historical gravitas of Fez, the sublime beaches of Agadir, or the untamed beauty of the High Atlas Mountains, Morocco offers a rich palette of experiences to satisfy all kinds of travelers. These lesser-known destinations beckon with their unique charm, creating a textured tapestry of Morocco's offerings. So, diverge from the usual path and plan your Moroccan adventure today.
Sundarban is a place that holds mysteries and secrets waiting to be explored. Beyond the classic tales of the renowned mangrove forests, enigmatic tribal culture, and abundant wildlife, Sundarbans offers a world beyond these familiar aspects. It is a land that narrates the story of every rustling leaf, every twisting waterway, and every hidden conclave. Sundarbans has got a plethora of stories to tell.
It is a land where the ordinary fades into the background, making extraordinary the new reality. If you're ready to step out of your comfort zone and explore a land of thrill and magic, Sundarbans is the place for your next escapade.
What Makes Sundarban a Perfect Addition to Your Bucket List?
Let's run you through the incredible, wild adventures Sundarban has to offer that go beyond the epic tales about the mangroves, tribal vibes, and thrilling wildlife.
Sundarban's Nocturnal Enchantment
After the sun sets in Sundarbans, a world of thrilling adventures unfolds. As it starts to get dark in these alluring meadows, the nocturnal wild animals start coming out. Imagine taking a night safari that allows you to see a different reality. A chance to explore the hidden secrets of nature, where creatures that usually go unnoticed come out into the spotlight.
Get ready to spot owls, bats, and civets coming out of their daytime hideouts, ready to thrive in the cover of the night. Relish the natural nocturnal symphony of rustling leaves, chirping insects, and distant creatures. It is truly an invitation to experience the world in a different light. It's an elusive doorway to a world for the wildlife fanatic waiting to explore the mystifying secrets of this magic land.
The Dance of Fireflies
Imagine a land where the fireflies light up the night resembling a thousand twinkling stars, each creating a show that seems absolutely magical. It's Sundarbans for you! Those tiny luminous insects transform the mangrove forest into a canvas of dream and magic. When those fireflies take to the air, creating different patterns of light, imagine being surrounded by them as they continue to create their little world of constellations. Witnessing this surreal display of fireflies weaving their way through the greenery is an absolute delight to the eyes. In a technology-dominated world, there exists a land where these creatures thrive, creating their own astonishing show every single day.
Exploring the Mysteries of Sundarbans
Sundarbans is beyond its natural beauty. It has more to offer than what meets the eye. There exist pathways that will lead you to the heart of ancient mysteries. Old walls and broken structures that are older than ancient times. These ruins are quiet, but they have stories to tell about the people who built them and the things they did, connecting you with the past and making you wonder about the people who lived there before you. That's what Sundarbans do to you. It takes you to a world you didn't know existed. It allows you to contemplate the passage of time, the rise and fall of civilization, and live through the stories that have left their mark on the land. Sundarbans is not just a picturesque paradise, it is a living storehouse of narratives waiting to be discovered.
Into the Wild Waters
Find yourself surrounded by thrilling water adventures that make your heart race and widen your smile. In Sundarbans, you can't escape the water. Everywhere you go, it's waiting for you to jump in. Sailing on a boat through narrow waterways, twisting and turning like a roller coaster. Sounds fun, right? You can book a Sundarban Package Tour and experience the thrill of every drop of water that touches your skin as the boat splashes through the waves. Don't forget to grab a pair of binoculars, though. Watch out for the incredible variety of birds that call this place home. Spot crocodiles and playful dolphins sunbathing by the shore or leaping out of the waves. The list is endless! If you fancy some hands-on adventure, you can grab a kayak and glide past the mangroves, feeling the tranquillity around you as you paddle through the hidden waterways.
Wrapping Up
Sundarbans is not just a place; it is an invitation to connect with nature, history, and the very essence of adventure. From the thrill of water adventures to the enchantment of nocturnal mysteries to the tales of the long gone past, Sundarbans welcomes you with open arms. You will find yourself at the crossroads of discovery and wonder. This place offers magic, history, adventure, and thrill. You name it, Sundarban has it waiting for you. It's an ultimate adventure playground with awesomeness written all over it. Take the plunge and get ready to make some epic memories because, in Sundarbans, the adventure never hits a pause.
If you've been dreaming of a grand European adventure, look no further! The Euro Extravaganza with Eurail Passes is your passport to traverse the mesmerizing beauty of the European continent. Travel the enchanting landscapes of Europe, savor the delectable cuisine, and immerse yourself in diverse cultures with Eurail Passes: The Ultimate European Adventure!
This comprehensive travel guide will whisk you away on a journey through history, art, architecture, and gastronomy, all while uncovering the secrets of different European cultures. So, let's hop on board the Eurail train and begin this unforgettable expedition!
Why Choose Eurail Passes?
The Freedom to Roam
With Eurail Passes, you have the freedom to explore Europe at your own pace. Say goodbye to fixed itineraries and hello to spontaneous discoveries. Whether you want to wander through the romantic streets of Paris, witness the breathtaking Northern Lights in Norway, or indulge in the vibrant nightlife of Berlin, Eurail Passes allow you to roam effortlessly across multiple countries, making your Euro Extravaganza a memorable and personal experience.
Convenience and Comfort
Traveling through Europe can be a hassle, especially when dealing with various currencies and language barriers. However, with Eurail Passes, you can wave goodbye to these worries. Simply present your pass, board the train, and you're on your way to your next destination. Moreover, the trains are well-equipped with modern amenities, ensuring a comfortable journey, so you arrive at each city feeling refreshed and ready to explore.
Cost-Effective
For those aiming to visit multiple destinations, Eurail Passes are a cost-effective solution. Instead of purchasing individual tickets for each leg of your journey, a Eurail Pass offers you unlimited travel within a specific time frame. This means more savings to spend on delightful experiences, delightful cuisine, and cherished souvenirs.
The Allure of European Culture
Art and History
Europe is a treasure trove of art and history, with its majestic castles, awe-inspiring cathedrals, and world-renowned museums. Dive into the Renaissance wonders of Italy, stand in awe of the ancient ruins in Greece, or admire the splendid architecture of Spain. Eurail Passes provide you with the flexibility to explore these cultural gems, enriching your understanding of European heritage.
Diverse Cuisine
One cannot talk about Europe without mentioning its culinary delights. Each country boasts a unique culinary heritage, and with Eurail Passes, you have the opportunity to savor an array of gastronomic wonders. From the delectable pasta dishes in Italy to the mouthwatering pastries in Austria, and the delectable tapas in Spain, your taste buds are in for a treat on this Euro Extravaganza.
Festivals and Traditions
Experience the liveliness of European festivals and traditions that showcase the spirit of each culture. Attend the colorful Carnival in Venice, witness the stunning fireworks of Bastille Day in France, or be part of the Oktoberfest celebrations in Germany. With Eurail Passes, you can immerse yourself in the vibrancy of these events, making your journey even more unforgettable.
Planning Your Euro Extravaganza
Choosing the Right Pass
Eurail offers a variety of passes to suit different travel needs. The Global Pass allows you to explore up to 33 European countries, making it perfect for those seeking extensive travel. If you have a specific region in mind, such as Scandinavia or the Balkans, there are Regional Passes available too. Moreover, if you're a solo adventurer or traveling with family and friends, Eurail has passes catering to individual and group travelers.
Creating Your Itinerary
The beauty of the Euro Extravaganza lies in the flexibility it offers. Before embarking on your journey, outline the destinations you wish to visit and the experiences you want to indulge in. Whether you're interested in exploring iconic cities or venturing off the beaten path to hidden gems, Eurail Passes grant you the freedom to design an itinerary that aligns perfectly with your travel aspirations.
Embracing Spontaneity
While having an itinerary is helpful, leaving room for spontaneity can lead to unforgettable experiences. As you travel from one destination to another, you may come across charming towns, picturesque landscapes, or intriguing festivals that weren't initially on your radar. Embrace these serendipitous moments and allow yourself to be immersed in the unexpected wonders of Europe.
Tips for a Smooth Euro Extravaganza
Plan Ahead for Popular Destinations
For well-known tourist hotspots, it's advisable to plan your visit ahead of time, especially during peak seasons. While Eurail Passes provide flexibility, some attractions may require reservations. Booking in advance ensures a seamless experience, allowing you to fully enjoy the sights without worrying about long queues.
Embrace Local Customs
As you delve into different cultures, take the time to understand and respect local customs and traditions. Learning a few basic phrases in the local language can go a long way in creating meaningful connections with the locals. Additionally, try regional dishes and partake in local customs to truly immerse yourself in the authentic European experience.
Pack Smartly
Traveling by train offers convenience, but it's essential to pack smartly. Make sure to bring comfortable clothing and suitable footwear for exploring each city on foot. Also, remember to carry a small daypack for essentials like water, snacks, and a camera to capture the breathtaking landscapes and memorable moments.
Conclusion
Embark on a Euro Extravaganza like no other with Eurail Passes, where you'll discover the captivating cultures, delectable cuisines, and historical marvels that make Europe a timeless destination. Whether you're a history enthusiast, a food lover, or an adventurer at heart, this journey will leave you with cherished memories and a profound appreciation for the richness of European diversity. So, don't wait any longer – book your Eurail Passes, and let the Euro Extravaganza begin!
For many people, the idea of going to the theatre may not hold much appeal and the thought of sitting through a play or musical might fill them with boredom or even dread! However, even if you're not particularly enamored with the theatre, there are still a variety of compelling reasons to visit Broadway.
With its rich history, vibrant atmosphere, and diverse range of performances, Broadway offers an experience that goes beyond the stage. And the best part? You can even find Broadway tickets at low prices, making them accessible to everyone.
A Cultural Phenomenon
Broadway is synonymous with the performing arts and has become a cultural phenomenon that attracts millions of visitors each year. It is a hub for creativity, talent, and artistic expression. The famous stretch of theatres in New York City's Theater District offers a variety of shows, ranging from classic plays to cutting-edge productions. Whether you're a fan of musicals, dramas, or comedies, there's something for everyone on Broadway.
Whether you're someone who travels the world for a living and is looking for something new to experience or you're on the holiday of a lifetime to NYC, a trip to Broadway is an absolute must for any visitor.
Immerse Yourself in History
Broadway's history spans over a century, and stepping foot on its hallowed ground is like entering a time capsule of theatrical excellence. Many of the theatres have been standing since the early 20th century, and each one has its own story to tell. From the majestic architecture to the backstage secrets, exploring the theatres themselves can be a fascinating experience. You can also find plaques and landmarks that commemorate the legendary performances and actors who have graced the stages of Broadway throughout history.
Unparalleled Talent
One of the main draws of Broadway is the exceptional talent on display. Whether it's the powerful vocals of a seasoned Broadway veteran or the incredible dancing skills of an ensemble cast, the performances are nothing short of awe-inspiring. The actors, musicians, and crew members pour their hearts and souls into their craft, delivering performances that leave audiences spellbound. Watching a live performance allows you to witness the raw talent and dedication that goes into creating a Broadway show.
Beyond the Stage
Broadway is not just about the shows themselves; it offers a complete entertainment experience. The Theater District is brimming with energy, with bustling streets, iconic marquees, and vibrant nightlife. From pre-show dinners at trendy restaurants to post-show drinks at stylish bars, the area surrounding Broadway is a haven for foodies and socialites alike. There are also numerous shops selling Broadway memorabilia, allowing you to take a piece of the magic home with you.
A Night to Remember
Attending a Broadway show is more than just a night out; it's an experience that lingers in your memory long after the final curtain call. The combination of live performances, captivating storytelling, and the palpable energy of the audience creates an atmosphere unlike any other.
Whether you've been moved to tears by a poignant moment or find yourself laughing uncontrollably at a comedic scene, the emotions evoked during a Broadway show are unparalleled. It's a chance to escape from reality and immerse yourself in a world of imagination and creativity.
In conclusion, even if you're not initially enamored with the theatre, visiting Broadway offers an array of reasons to give it a chance. From its rich history and unparalleled talent to the vibrant atmosphere and accessible ticket options, Broadway provides an experience that goes beyond the stage. So why not step into the magical world of Broadway, and let yourself be captivated by the wonders that await you?
Australia, the glorious land down under, is a vast and diverse country that offers a unique and unforgettable experience to anyone who visits. From its stunning natural landscapes to its vibrant cities, friendly people, and exotic wildlife, Australia is a travel destination that certainly has something for everyone.
Indeed, if you haven't paid a visit to the spectacular 'Straya', you are most definitely missing out on an experience of a lifetime.
Today, we share 7 reasons why visiting Australia should be on your bucket list, so read on to find out more!
1. A Melting Pot of Multicultural Major Cities
Australia's major cities, including Sydney, Melbourne, Brisbane, and Perth, are vibrant and cosmopolitan with plenty to offer visitors. Each city has its own unique character, with a diverse range of restaurants, cafes, bars, and cultural events.
Sydney, in particular, is famous for its iconic and world-famous Opera House and Harbour Bridge, while Melbourne is known for its world-class coffee, art, and fashion scene. Don't just stop there, though. Surfer's Paradise in Queensland is famous for its beautiful long sandy beaches, surfing culture, and high-rise skyline boasting many luxury accommodations like the Novotel Surfers Paradise. As for Perth, this isolated city center on Australia's western coast offers visitors an eclectic mix of stunning beaches, amazing natural scenery and a vibrant arts and culture scene.
2. An Abundance of Natural Wonders
It is no secret that Australia is home to a huge number of natural wonders. From the Great Barrier Reef and Uluru (also known as Ayers Rock), to the Twelve Apostles and the Pinnacles Desert, there is no shortage of breathtaking sights to see. These destinations are perfect for sightseeing, and are guaranteed to leave visitors in awe.
Some other popular tourist spots that every traveler should definitely add to their itinerary include the Kimberley region, a rugged and remote region in Western Australia that is renowned for its stunning gorges and waterfalls, and the Blue Mountains in Sydney.
3. Exotic & Unique Wildlife
Due to its isolation from other continents, Australia is home to a unique and diverse range of wildlife that is not found anywhere else in the world. Some of Australia's most well-known animals include the ever-iconic kangaroos, wallabies, koalas, echidnas, wombats, Tasmanian devils, and a wide variety of snakes, lizards, and birds that are endemic to Australia and nowhere else. Australia is also (surprisingly) home to several species of penguins, including the famous fairy penguins of Phillip Island in Victoria, which come ashore at dusk each day to return to their burrows.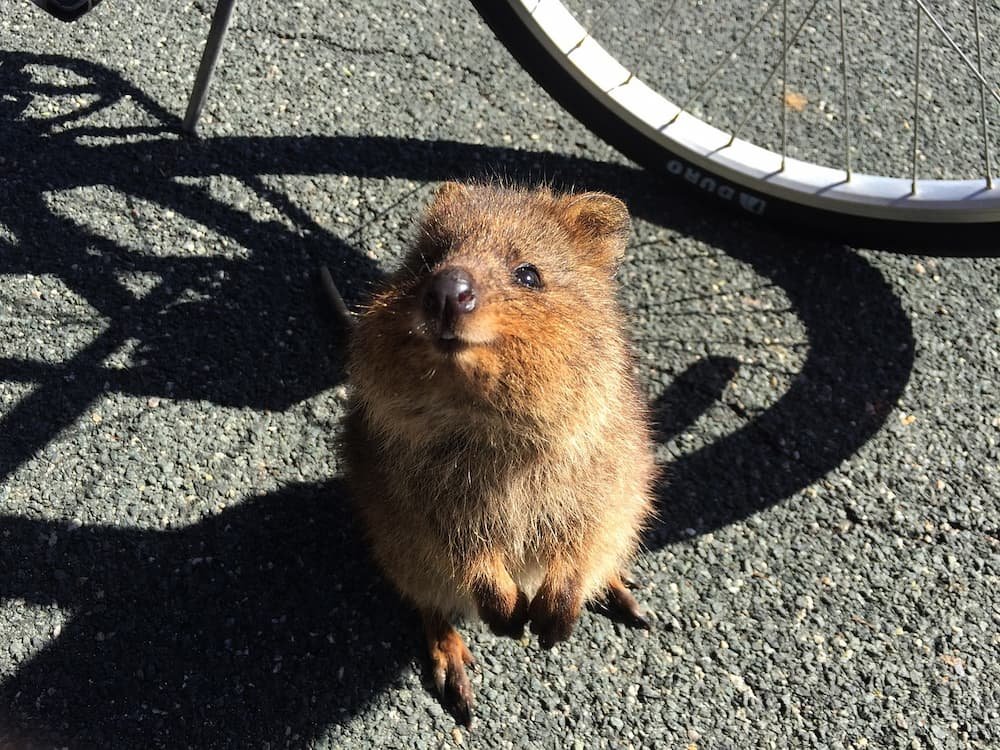 For those who are looking to get up close and personal with Aussie wildlife, there is no shortage of national parks, sanctuaries, and zoos to visit during your travels. While we're on the topic of wildlife, we can't forget to give special mention to the amazing Quokka — aka the happiest animal on earth. These small marsupials are only found on two offshore islands (Rottnest Island and Bald Island) and a number of mainland sites in southwest Western Australia, ranging from just south of Perth to the Hunter River. You literally won't find these incredible creatures anywhere else on the planet (except for the Saitama Children's Zoo in Higashi-Matsuyama), and if that is not enough of a reason to visit Australia, we don't know what is.
4. Breathtaking Beaches Galore
With over 37,000 km of coastline, Australia is world-renowned for its abundance of stunning beaches that attract millions of visitors each year. Some of the most famous Australian beaches include Bondi Beach and Manly Beach in Sydney, Surfers Paradise on the Gold Coast, and Cable Beach in Western Australia.
Many of these beaches offer crystal-clear waters, heavenly soft sand, and stunning coastal scenery, making them ideal for activities such as swimming, sunbathing, and water sports such as surfing, snorkeling, and scuba diving. In addition to these world-famous beaches, there are also many hidden gems to discover, such as secluded coves and remote stretches of coastline that offer a more peaceful and secluded experience for those who are looking to avoid tourist season crowds.
5. Rich in History & Culture
Australia has a rich cultural and historical heritage, with a mix of indigenous and colonial influences. Indigenous Australians have a cultural heritage that dates back tens of thousands of years and includes art, music, storytelling, and ceremonial practices for cooking, hunting, and land conservation that continue to be passed down through generations.
There are numerous places to visit if you are looking to learn more about aboriginal culture and Australia's early history, with Kakadu in the Northern Territory leading the pack. In major cities such as Sydney and Melbourne, there are also a wide number of exhibitions and museums dedicated to sharing the country's incredibly rich Indigenous culture and heritage with international travelers and domestic visitors alike.
6. A Bustling Food & Wine Scene
If you're a foodie, Australia certainly will not disappoint. The land down under features a diverse and bustling food and wine scene, with influences from various cultures around the world. Whether you're on the lookout for fresh seafood, a hearty steak, world-class coffee or even a sumptuous vegan meal, there are plenty of options to choose from thanks to the country's distinctive food culture that is gaining recognition around the world.
Aside from amazing food, Australia is also home to some of the world's most popular and impressive wine regions, such as the Barossa Valley, Margaret River and Hunter Valley, just to name a few. Regardless of whichever Australian state you travel to, you'll be sure to find some picture-perfect vineyards and even breweries that produce award-winning wines, beers, and spirits that are guaranteed to satisfy the connoisseur in you.
7. Home to the Friendliest People in the World
As you've probably already heard, Australia is well known for its friendly, easy-going and laid-back people. Aussies are often referred to as some of the friendliest folks in the world thanks to their positive attitude, good nature, and openness to different cultures, traditions, and people. In fact, Melbourne has even achieved the top spot on William Russell's ranking of the friendliest cities in the world. Aussies are incredibly welcoming to visitors and willing to strike up a conversation with strangers, so don't be surprised if you catch a "How's it going?" from a complete stranger. It's just the Australian way of life, and we guarantee you'll feel right at home almost instantly!
And there you have it — just 7 of the many reasons visiting Australia should be on every traveler's bucket list. From its stunning natural wonders to its diverse culture and friendly locals, Australia offers an unforgettable experience that will leave a lasting impression.
Have you visited Australia before? What are some of the top destinations that you recommend visiting? Be sure to leave your thoughts in the comments section below!
Discover the captivating duo of the Caribbean islands and the breathtaking scenery that comes bundled with it. St. Kitts and Nevis is filled with pristine beaches, an inviting and warm atmosphere, and tropical gems that will provide you with an unforgettable escape from your daily routine.
Whether you crave adventure or relaxation, get ready to embark on the trip of a lifetime filled with idyllic sceneries and life-changing moments.
In this article, we will explore the benefits of traveling to this Caribbean destination and its array of advantages for travelers seeking adventure and cultural experiences.
Why You Should Visit St. Kitts and Nevis
St. Kitts and Nevis should be next on the list mainly due to its natural beauty, rich history and culture, luxury resorts, authentic Caribbean cuisine, and endless opportunities for serenity and relaxation.
This Caribbean paradise also offers dual citizenship to many foreign investors. So, suppose you're interested in pursuing a second passport and having a plan B. In that case, you can reach out to authorized agencies like NTL Trust and become familiar with the application process.
Let's dive deeper into the benefits that this paradise on Earth has to offer.
Rich History
St. Kitts has a fascinating history and a vibrant culture influenced by its colonial past. Explore historical sites such as Brimstone Hill Fortress National Park, a UNESCO World Heritage Site, or visit the capital city of Basseterre, where colonial architecture and museums showcase the island's heritage.
A Palette of Natural Landscapes
St. Kitts boasts stunning natural landscapes, including lush rainforests, pristine beaches, and majestic mountains. Whether you're hiking through the rainforest, relaxing on the beach, or exploring volcanic formations, the island's natural beauty is sure to captivate you.
If you ever find yourself wandering on some of the islands on St. Kitts, make sure to indulge in the beauty of the colorful coral reefs and plan a visit to some of the majestic mountains. This beautiful country offers lush forests filled with hidden gems and unique flora and fauna.
With its moderate weather, warm summers, and cool winters, St. Kitts and Nevis captivates tourists from all around the world.
Plethora of Outdoor and Water Activities
One of the most captivating things for tourists is the plethora of outdoor and water activities. This island boasts sandy beaches, with calm, turquoise waters and a perfect setting for fun and relaxation.
Whether you want to go swimming, sunbathing, or just indulge in various water sports like kayaking, snorkeling, and paddleboarding, the island is the perfect place for it. And if you're an adventure enthusiast, St. Kitts has plenty to offer. From hiking and zip-lining through the rainforest to snorkeling or diving in crystal-clear waters, there are numerous outdoor activities to keep you entertained. You can also take a scenic train ride around the island to enjoy breathtaking views.
Delicious and Unique Cuisine
Caribbean cuisine is among the most delicious in the world. Food lovers will have the opportunity to indulge in this cuisine while staying in St. Kitts. Some of the local dishes include:
Ackee and Saltfish - it's a savory dish combining tropical fruit ackee and salted codfish. It's cooked in a unique manner, where the fish is mixed with butter, onions, peppers, and spices and served with fried plantains and dumplings
Coconut dumplings - these are made from grated coconut mixed with sugar, spices, and flour. It is often served with stews and seafood
Pelau - it's an overall Caribbean dish known for its combination of meat, rice, and pigeon peas cooked in soy sauce, spices, and caramelized sugar
Green banana and saltfish - this dish is similar to the saltfish and dumpling dish. However, it features a codfish cooked with green bananas. First, the bananas are boiled and then cooked with the flaked fish, giving them a unique flavor and texture
You Can Explore Remote Locations
St. Kitts is part of the dual-island nation of St. Kitts and Nevis, which means you can easily explore both islands during your visit. Nevis offers its own charm with beautiful beaches, historic plantations, and a quieter atmosphere, providing additional options for exploration.
Here is only a handful of recommendations to consider when choosing which islands to visit on your next island-hopping tour:
Saba - it's a bit further from St. Kitts. However, it's worth every mile of the journey. It's also known as the "Unspoiled Queen of the Caribbean" and is renowned for its diving spots and natural beauty
St. Kitts - you should begin your journey here. It's the charming capital of Basseterre, where you can visit UNESCO sites and enjoy stunning panoramic views
Nevis - another island that must be on your list. It's a smaller and more tranquil island that will charm you with its capital, Charlestown, and its picturesque streets in Georgian style.
Hopefully, we have helped you to learn more about the benefits of traveling to St. Kitts and Nevis. Now it's time to plan your trip to this marvelous Caribbean paradise and enjoy a life-enriching experience.
Las Vegas is a city of magic and wonder, where you can experience the best entertainment, dining and nightlife. From the iconic Strip to the surrounding red rock canyons, there's something for everyone in this exciting destination.
You can start your adventure by exploring the world-famous Las Vegas Strip. Here you'll find some of the most iconic casinos and resorts in the world, as well as amazing shows and attractions.
Take a stroll down Fremont Street to experience classic Vegas vibes with live music and street performers. Or take a ride on the High Roller Observation Wheel for breathtaking views of the city skyline.
You can also visit one of the many museums or art galleries to learn about the local culture and history. Or if you prefer spending time outdoors, take a day trip out to Red Rock Canyon. You can explore the beautiful desert landscape and hopefully see some interesting wildlife on some of the many hiking and off-roading trails nearby.
5 Smart Tips for Staying on a Budget in Las Vegas
While Las Vegas is known for its luxurious lifestyle, that doesn't mean you have to break the bank to enjoy it. Here are five smart tips for staying on a budget in Las Vegas.
Take advantage of free attractions. There are plenty of free attractions in Las Vegas, such as the Bellagio Fountains and the Fremont Street Experience. Taking advantage of these can help you save money while still enjoying the city.
Look for discounts and coupons. Many hotels offer discounts and coupons that can make staying at your dream hotel an affordable option by taking advantage of any deals that may be available.
Eat at buffets or fast food restaurants. Eating out in Las Vegas can be expensive, but there are plenty of buffets and fast food restaurants that offer affordable meals without sacrificing quality or taste.
Stay off the Strip if possible. Staying off the Strip can help you save money on accommodations since hotels located away from the main tourist areas tend to be chapter than those located in the heart of Las Vegas.
Avoid gambling too much (or at all). Gambling is one of the biggest draws in Las Vegas, but it can also be one of the quickest ways to lose your money if you're not careful. If you want to stay on a budget, try avoiding gambling altogether or limit yourself to small bets only when playing games like slots or blackjack.
Exploring the Great Outdoors Near Las Vegas
Las Vegas may be known for its bright lights and bustling casinos, but it's also home to some of the most beautiful outdoor scenery in the country. Whether you're looking for a short day hike or an overnight backpacking trip, there are plenty of trails to explore near Las Vegas.
Red Rock Canyon National Conservation Area is one of the most popular hiking destinations in the area, with over 30 miles of trails ranging from easy to difficult. The Calico Basin Trail is a great option for beginners, offering stunning views of the canyon walls and surrounding desert landscape.
For more experienced hikers, the Bridge Mountain Trail offers a challenging climb up to an incredible viewpoint overlooking the city. If you're looking for something a bit more remote, head out to Valley of Fire State Park. This park features over 40 miles of trails that wind through red sandstone formations and ancient petroglyphs.
No matter what kind of adventure you're looking for, there are plenty of opportunities to explore the great outdoors near Las Vegas.
Off-Roading: 4x4 Adventures on Red Rock Trails
In addition to hiking, off-roading is a great way to explore the outdoors and take in some of the most beautiful landscapes surrounding Sin City.
But before you hit the trails, it's important to make sure that your 4x4 vehicle is properly equipped for off-roading. Make sure that your tires are inflated to the right pressure and that they have enough tread for good traction on different surfaces. Check all of your fluids, including oil, coolant, brake fluid, and transmission fluid.
Make sure that all of your lights are working properly and that you have a spare tire in case of an emergency. It's also important to bring along a first aid kit, a fire extinguisher, and other safety equipment such as tow straps or recovery gear.
Once you're ready to hit the trails, be aware of any potential hazards such as deep water crossings or steep inclines. Be mindful of other vehicles on the trail and always drive with caution. And lastly, don't forget to enjoy yourself! Off-roading can be an incredibly fun experience if done safely and responsibly.
Camping: Pitch a Tent and Sleep Under the Stars
If you'd rather pitch a tent and sleep under the stars than stay in one of Vegas' top luxury hotels, you are in luck as the outdoor areas near Las Vegas are a great place for camping. You can escape the busy city and find a campground nearby. But before you head out, make sure to check the weather forecast and plan accordingly.
You should also bring enough supplies for your trip, such as food, water, clothing, sleeping bags and other essentials. Additionally, be sure to bring a first aid kit in case of any emergencies. Once you've set up camp, take some time to explore the area and enjoy all that Nevada has to offer.
Wildlife Viewing & Bird Watching in Nevada's Desert Oases
As the home to some of the most beautiful desert oases in the world, Nevada is a great destination for wildlife viewing and bird watching. The best time to visit these oases is during the spring and fall months when temperatures are milder and there is more water available for wildlife.
During these times, you can expect to see a variety of birds such as ducks, geese, herons, egrets, hawks, owls and many other species. You may also spot mammals like coyotes, foxes, jackrabbits, ground squirrels and even bighorn sheep
To make the most out of your wildlife viewing experience in Nevada's desert oases, it's important to come prepared with binoculars or a spotting scope so that you can get a better view of the animals from afar.
Additionally, be sure to bring plenty of water and snacks as well as sunscreen and hats for protection from the sun. Lastly, be sure to stay on designated trails so that you don't disturb any of the wildlife or damage their habitats.
With so much to do and see in Las Vegas, it's no wonder why it's one of America's top tourist destinations.
There's no denying that Italy is a dream destination for wine lovers. With a rich history of winemaking dating back to the Roman Empire, Italy boasts a plethora of world-class wine regions, each with its unique offerings. Whether you're a casual wine enthusiast or a seasoned connoisseur, embarking on a wine tour through Italy promises to be an unforgettable experience. In this post, we'll explore five of Italy's best wine regions, from the rolling hills of Tuscany to the sun-soaked shores of Sicily.
Tuscany
Tuscany is undoubtedly one of Italy's most famous wine regions, known for its picturesque landscapes and world-renowned wines. The region is home to several celebrated wine-producing areas, including Chianti, Montalcino, and Montepulciano, making it ideal for any Italy vacation packages.
Here, you'll find the classic Italian red wine, Chianti, made primarily from the Sangiovese grape, as well as the prestigious Brunello di Montalcino and Vino Nobile di Montepulciano. Tuscany is also famous for its "Super Tuscan" wines, which are blends of native Italian grapes and international grape varieties like Cabernet Sauvignon and Merlot.
Piedmont
Located in the northwest corner of Italy, Piedmont is another prominent wine region, well-known for its full-bodied red wines and sophisticated white wines. The region is famous for its Barolo and Barbaresco wines, made from the Nebbiolo grape, which are often considered Italy's finest reds.
Piedmont also produces excellent white wines, such as Gavi and Arneis, made from the Cortese and Arneis grapes, respectively. Additionally, don't miss out on the region's famous sparkling wine, Asti Spumante, made from the Moscato grape.
Veneto
In the northeastern part of Italy, you'll find the Veneto region, which offers a diverse selection of wines, from bold reds to crisp whites and delightful sparkling wines. Amarone della Valpolicella, a rich and powerful red wine made from partially dried grapes, is a must-try for red wine aficionados.
For white wine lovers, the Soave and Pinot Grigio wines from Veneto are excellent choices.
And of course, no visit to Veneto is complete without sipping on the region's most famous bubbly, Prosecco, made from the Glera grape.
Emilia-Romagna
Emilia-Romagna, situated in northern Italy, is best known for its food (think Parmigiano-Reggiano and Prosciutto di Parma), but it also produces unique and delicious wines.
Lambrusco, a slightly fizzy red wine, is the region's most famous offering, made from the grape variety of the same name. Emilia-Romagna also produces white wines, such as Pignoletto and Albana.
Umbria
Located in central Italy, Umbria is often overshadowed by its more famous neighbor, Tuscany. However, this small region has a lot to offer, particularly its crisp and refreshing white wines.
Orvieto, made from a blend of Grechetto and Trebbiano grapes, is the most popular white wine in the region.
Umbria also produces red wines, such as Sagrantino di Montefalco, made from the indigenous Sagrantino grape.
Sicily
Sicily, the largest island in the Mediterranean, has a diverse and ancient wine history. The island's warm climate and fertile soil make it an ideal place for grape cultivation. Nero d'Avola, a native grape variety, is the star of Sicilian red wines, producing bold and fruity flavors. Sicily is also known for its sweet dessert wine, Marsala, and its white wines, such as Grillo and Catarratto.
Conclusion
In conclusion, Italy's enchanting wine regions provide a delightful journey for oenophiles and casual wine enthusiasts alike. From the rolling hills of Tuscany to the sun-kissed shores of Sicily, each region brings its unique terroir, grape varieties, and time-honored winemaking traditions to the table. As we've delved into Italy's finest wine regions, it's evident that the country's passion for viticulture and diverse landscapes contribute to the exceptional quality and variety of its wines. Be it the bold Chianti of Tuscany, the elegant Barolo of Piedmont, or the refreshing Prosecco of Veneto, there is a wine to satisfy every palate.
Located in the southeast area and region of New South Wales, Jindabyne is a renowned mountainous town along the shores of the mesmerizing Lake Jindabyne. The place lies at the edge or bottom of the Snowy Mountains, offering tourists and visitors a picturesque view and scene.
Jindabyne proves a suitable location for travel in both summer and winter owing to the numerous activities and sports in which tourists can engage and participate. It entails skiing, hiking, fishing, mountain biking, and other fun pursuits. In this article, let's discuss the various appealing and exciting things a traveler can do in Jindabyne.
Winter Activities
Snow activities
The Snowy Mountains of Jindabyne provide the perfect place to enjoy various snow activities. The season for enjoyment commences in June and continues till October. The time between July to September proves the peak period for snow lovers.
During winter, Jindabyne becomes a bustling spot for all snow activities. Firstly, the place offers the sports of snowboarding and skiing. The location houses four popular ski resorts. They are namely Perisher, Selwyn, Thredbo, and Charlotte's Pass.
They are effortlessly accessible from the mountainous town via various means. In addition to that, the resorts remain open for almost all age groups. Interested individuals can try skiing and snowboarding on different expertise levels, the easiest being a trail for beginners.
Besides that, snowshoeing and cross-country skiing are fun ways of getting off the mountain slopes. Numerous trails from Perisher and Thredbo exist for this purpose. They lead the participants into natural isolation and the wilderness, where they can tour the Kosciuszko National Park.
On top of that, Jindabyne offers mesmerizing backcountry tours. Travelers can enjoy the awe-inspiring scenery and landscape at specific places such as Watsons Crags, Sentinal, and Schlink Pass. The view of the snow-covered areas can leave people impressed and captivated.
Summer Activities to Do in Jindabyne
1. Water Sports
Jindabyne remains highly reputed for the numerous water sports it offers to people of varying age groups. The town becomes exceptionally lively in summer, opening events and summer activities for all.
Travelers can avail of and participate in a broad range and category of activities in Lake Jindabyne. A few sports are available there including power boating, windsurfing, kayaking, sailing, canoeing, water skiing, and swimming.
People can bring their equipment or rent them at a fixed rate to enjoy the activities. Generally, all water sports in Jindabyne ensue under controlled and supervised conditions to ensure the safety and enjoyment of the participants.
2. Hiking
Jindabyne offers numerous hiking trails for people of all age groups. Generally, the tracks can get considered from a difficulty grade of 1 to 5. The former requires no hiking or bushwalking experience whatsoever, thanks to the plain trails that offer no arduousness in walking.
In addition, such paths are suitable for people who use wheelchairs. On the other hand, the grade 5 tracks are for experienced hikers having specialized emergency first aid and navigation skills.
Irrespective of the difficulty, everyone can enjoy hiking in Jindabyne. They can also appreciate the mesmerizing scenic beauty while partaking in the fun activity.
3. Mountain Biking
Mountain biking is an exceedingly popular sport of Jindabyne, primarily in spring and autumn, owing to its top-class trails. The area has more than 70km worth of bike tracks that offer their due share to each difficulty level. The biking trails cater to diverse skill levels irrespective of a person's expertise in the activity.
The most famous biking trail in Jindabyne is the Thredbo Diggings Full Loop. It is 9.66 km long, offering a suitable track for intermediates and beginners. On the other hand, the 767 m trail of She'll Be Apples is highly challenging and appropriate solely for experts.
4. Fishing
Lake Jindabyne is renowned for its pristine snow-fed waters. The Thredbo, Eucumbene, and Snowy Rivers offer popular tourist spots for the exhilarating sport of fishing. Lake Jindabyne provides year-round excitement and a chance to win a trophy catch in its peak season, irrespective of the participant's fishing expertise.
In winter, the fish stay close to the water's edges as it remains cool. Hence, the people do not cast far despite the chosen fishing method. However, trolling is preferred in summer because the fishes prefer cooler and darker waters. It is when the skill level of the participants comes to light.
Where to Eat in Jindabyne
1. Snowy Mountain Cookies
As the name suggests, Snowy Mountain Cookies is an exceedingly reputed dessert shop in Jindabyne, specializing in making delicious cookies and sweet food items. The store is an expert in baking top-quality and delectable gourmet foods that people of varying ages can enjoy. It is especially famous for the excellent taste of its desserts. They can leave locals and tourists wanting more.
Snowy Mountain Cookies is famous for its health-friendly products. They do not add artificial flavors, additives, or colors to their food items. On top of that, they make preservative-free products. The store uses solely natural and quality ingredients.
2. Cafe Darya
Café Darya is an authentic Persian restaurant, operating for over 20 years in Jindabyne. The store presents a distinctive eating experience for people who have not tried the dishes before. The restaurant allows tourists to indulge in a warm ambiance and exotic flavors after a long day of touring.
Café Darya offers numerous traditional and delectable Persian dishes, each retaining its rich history and culture. The store uses various spices and ingredients to bring out the rich taste of the food items. On top of that, the store workers cater to the customers' needs, leaving them with a pleasant experience.
Where to stay in Jindabyne
Alpine Country Holidays
Alpine Country Holidays is a renowned accommodation in Jindabyne. The family business has been operating for over 12 years, providing guests with more than a bed and roof. Instead, the lodging wishes to offer a pleasant and comfortable experience.
Alpine Country Holidays offers customers complimentary breakfast and parking services. In addition, the accommodation has a spa center where the patrons can relax. The rooms are of top quality with all requirements present in them. Besides that, Alpine Country Holidays provides excellent room service. On top of that, they have a customer-friendly staff who are ready to help at any time.