Whether you're looking to take a trip from Montreal to New York, Paris to London, or planning to trek along the Andes in South America, taking the bus is one of the easiest and most convenient ways to get around. With buses becoming a more prominent and comfortable alternative, riding a coach-style bus is not what it used to be!
Not only do travelers save on waiting time (think airport terminals), but hopping on a bus will also save you money and leave you with peace of mind. There is nothing more comforting for a traveler – especially for a backpacker – than being able to kick back and relax while getting from one city to the next.
So, why should you choose bus travel over the train or a plane?
1. Benefits of Taking the Bus
Taking a bus has many added benefits to both you and the environment. Here are some of the main perks for why you should consider taking a bus.
An eco-friendly option
Buses have the smallest carbon footprint of all motorized modes of transportation. In fact, one bus can replace about 30 cars!
It's cheap
A plane ticket can set you back – especially during peak season. Did you know that a bus ticket can cost as little as $1?
The convenience
You won't need to wait hours to board and there's no need to take a shuttle to reach your destination. Unlike airport terminals, most bus stations are located directly in the city center.
Comfort
WiFi, power outlets, individual television screens, ample legroom, reclining seats, on-board attendants serving you food and drinks – the list goes on!
Taking the bus is not what it used to be and services are now at par with those you find on planes and trains.
The scenic route
Taking the bus is more picturesque and adventurous than other modes of transport. It will allow you to see places you wouldn't otherwise see on a plane or train. Not to mention, it's the best way to meet the locals and see how they live. Panoramic views of the English Channel as you ride from London to mainland Europe or the opportunity to admire active volcanoes from Lima to Arequipa await you!
Flexibility
Buses are generally more lenient with what you can and cannot bring along with you in your luggage and carry-on. If you're unsure, it's best to check with your bus company beforehand just in case.
At times, it's the only way to get from point A to B
In some regions, it's one of the only ways to get around. Brazil, for example, is a country where trains are scarce, therefore the bus is heavily relied on.
2. Drawbacks
You'll spend more time on the road.
If you're planning a long journey, some buses may not have WiFi, washroom facilities, or onboard snacks.
Locating an intercity bus can differ from country to country. At times, finding the right one may seem overwhelming due to language barriers, as well as unclear schedules and terminal information.
3. How to Find a Bus
Websites like Busbud help eliminate these issues, along with many others that bus travelers may encounter, by displaying bus schedules in your own language and currency.
Alternative companies like Wanderu, which operate in North America only, and GoEuro (Europe) offer similar services.
4. Bus Travel Necessities
Before storing your pack in the cargo compartment and getting on the bus, you will want to make sure you have access to these items for a more comfortable journey:
Blanket & pillow
Sweater or scarf
Bus-friendly snacks (fruits, nuts, sandwiches) & drinks
Motion/altitude sickness medication
Comfortable footwear
Earphones & music
Earplugs & sleeping mask for overnight trips
Games, books, notebook & pen
Plugs & adaptors for electronics
Tissues & sanitizing wipes (They will come in handy for less than desirable bathroom stops!)
Spare change (Practical for bathrooms, truck stops, buying local crafts, and tipping.)
Passport and important travel documents
5. Before Getting on the Bus
Now that you're ready to board the bus, make sure you have everything you need:
Get there early to anticipate any travel situations or changes out of your control.
Have a copy of your ticket on you – this may seem obvious, but some buses require hard copies, while an e-ticket is enough for other trips. If you aren't sure, research your bus company beforehand.
Are you a student? It's worth checking if you're eligible for a student discount. Reduced fares may also apply for adults under 25 and seniors over 60. Many companies also have special promotions around the holidays.
Keep your passport and important travel documents handy and within reach so border controls are a breeze.
Pack a sweater or small blanket. At times, the air conditioning is cranked up high – especially in warm countries.
6. On the Bus
Choose a seat near the middle of the bus for a more comfortable ride – especially if you're prone to motion sickness.
Check if everything works (power outlet, seat recliner) before the bus ride begins.
Ask when your next truck stop is so you can plan food & bathroom breaks. Remember that in some parts of the world, bathrooms aren't free so keep your spare change. This is also a good time to befriend travelers or chat with your bus driver – you'd be surprised how much they know!
Don't forget to thank your driver at the end of your trip!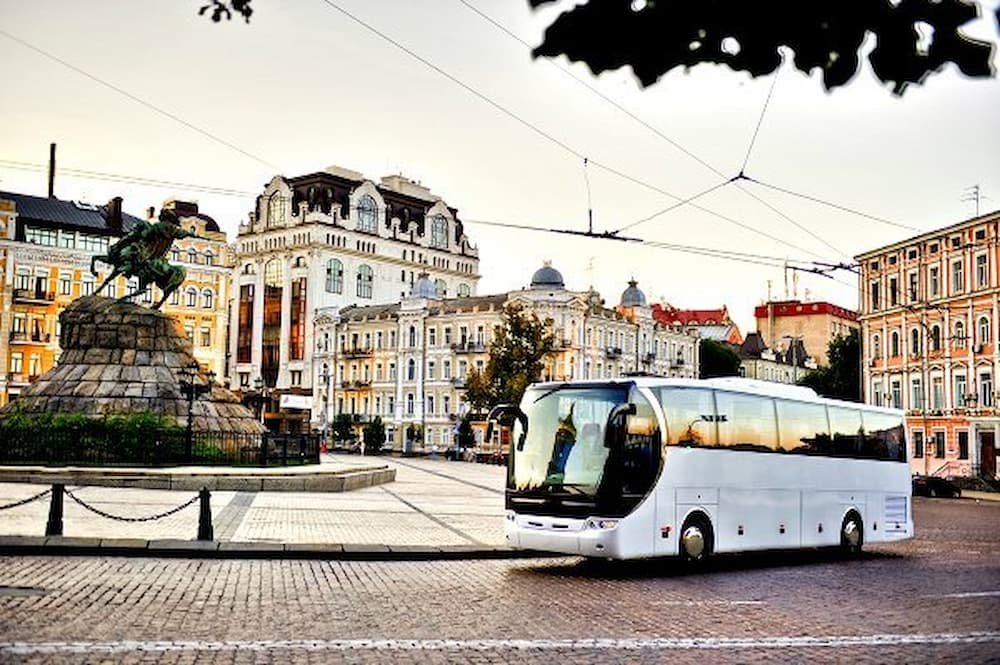 7. Bus Travel in Different Parts of the World
Bus travel can be your best friend or your worst enemy in different parts of the world. it is important to have an idea of who goes where. That's why we have done our best to outline the key companies in each region below.
Taking the bus in North America
Though most people will tend to fly in North America, there are most certainly well-connected bus routes on both a city and interstate level.
Key companies: Greyhound (US + Canada), Orléans Express (Canada), Megabus (US), ADO(Mexico)
Fun fact: Intercity bus travel is the most popular mode of transport among travelers in North America.
Taking the bus in South America
You might be surprised to learn that a large continent such as South America does not have a very good flight network. With huge distances between destinations, buses have become the "go-to" choice for backpackers.
Key companies: Pullman Bus (Chile), Cruz del Sur (Peru), Flecha Bus (Argentina)
Fun fact: Because trips are normally longer and can last throughout the night, South America has a host of sleeper buses with seats that turn into beds!
Taking the bus in Europe
With so many tourist destinations in a relatively small area, buses are a great way to hop around Europe.
Key companies: Eurolines (EU), Megabus (the UK, Germany, Spain, France, Netherlands, Belgium), National Express (EU), Student Agency (all of central Europe)
Fun fact: If you're traveling within the European Union (Schengen Area), you can go from one country to the next without having to pass through a border, making for a quicker, hassle-free voyage.
Taking the bus in Africa
Bus travel in Africa can range from luxury coaches in South Africa to crammed local buses in Ethiopia where you might share your seat with a whole family!
Key companies: Intercape (South Africa), Greyhound (South Africa), CTM (Morocco)
Fun fact: In some parts of Africa, locals are known for selling their handmade crafts and regional dishes to bus passengers. At times, you won't even need to leave the bus as they will sell their goods to you through the window!
Taking the bus in Asia
In a continent with population overflow, you would think all buses are packed to the rim. Surprisingly, there are many luxury coaches throughout Asia where you have WiFi and reclining seats to stretch your legs.
Key companies: Kuo-Kuang Motor – King Bus (Taiwan), Transport Co. (Thailand), Kwoon Chung Trans-Island (HK-South China)
Fun fact: Eager to begin taking in the popular culture? Some buses play Asian soap operas and music videos during the ride, making for some interesting television.
Taking the bus in Australia and New Zealand
Along the well-trodden East Coast of Australia, there are regular interstate buses to take you where you need to go.
Key companies: Intercity (New Zealand), Greyhound (Australia)
Fun fact: Some buses in Australia offer hop-on, hop-off services – especially for backpackers.
8. City Versus Intercity Buses
Taking an intercity bus differs from your local city bus. Confused about which is which? An intercity bus simply takes you from one city to the next with fewer stops and pickups/dropoffs, while a local bus is the typical city bus that takes you to work in the morning.
Did you know that city buses differ from place to place? In some countries, you could be on the bus alongside chickens, while in others, you'll find yourself smack in the middle of rush hour surrounded by suits and ties!
So not only is hopping on a city bus a good way to save money, but it's the best way to get a sense of your destination's culture. Not to mention, it's great for meeting the locals who have insider city tips!
9. Other Helpful Resources
Websites
Here are a couple of helpful apps worth checking out:
Busbud App
Megabus USA App (Includes a bus tracker)
Apps
Here are some additional website resources worth checking out:
Busbud (Worldwide)
Bus and Coach Travel
Bustripping (US)
Expedia (India)
GoEuro (UK, Germany)
Wanderu (US)