You have finally bought your dream dirt bike and are excited to finally take your bike to the Motocross track. We get it.
However, it's not enough to be excited; you also need to know the right things to do on the track to steer clear of injuries. Before you attempt to go on the track, there are some skills we recommend you should master. These skills will make your experience a great one and keep you safe.
If you're a beginner and looking for skills to master in dirt riding, no worries! We will guide you into what you need to know and expect before showing up at the track!
Getting Control of Your Bike
Controlling your bike is the first thing you should know. You should be able to balance yourself and ride straight if you happen to ride a dirtbike outside the track. If you can teach yourself to do that, riding on the tracks won't be a big deal for you.
Also, being all over the place on the race track won't do good for you and your fellow riders. Instabilities can cause riders to crash as they try not to run into you. So, it is vital to have "spatial awareness" to see what or who is around you.
Turning Skills
Dirt bike tracks are different from other riding environments because of how the ground is formed and its obstacles. These obstacles & ruts can be difficult to see, especially when turning.
So, it is important to be ready for them if you do encounter one. You need to keep your eyes on the track and follow the path of the rut. Remember that you'll lose momentum if you hit the brakes suddenly.
So, maintain the right speed and be extra vigilant at the turns to keep your bike running!
Bonus tip:
It would be a mistake to ride a dirt bike without protective gear. It will save your trip to the hospital and help you focus on the ride. Motocross boots, a full-face helmet, gloves, goggles, and chest protector are some examples of protective gear you can't leave behind.
Getting Comfy with the Clutch
Before you even get on the track, knowing how your bike's clutch and gear work is important. The clutch is not usually required for downshifting while on the track. When you enter a turn, downshifting can interrupt the momentum and flow.
You also need to feel the brake to assist you in turning. For that, you can try and test your brakes against different speeds.
It's all about getting in the right gear at just the right moment. However, you will only achieve that with practice.
Bonus tip:
We recommend that you go to the track as a spectator before taking on any riding. You can learn from other riders what you should do and avoid making the same mistakes.
Controlling Your Speed
Keep in mind that there are many other riders on the track, and they are all riding at different speeds. You should be comfortable riding at higher than your cruising speed to avoid showing up last on the finish line.
You can practice riding outside the tracks, like on a desert trail or in an open area. You may feel slower when you first ride the track, but that's normal. With practice, your cruising speed will increase too.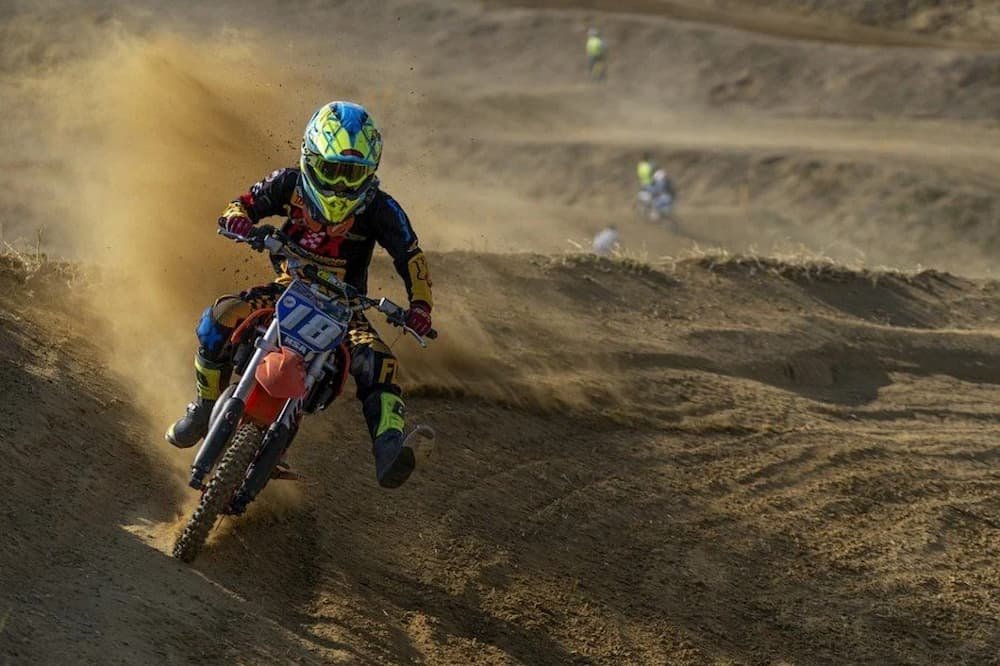 Time for the Big Ride
If you have followed the steps mentioned above, you are probably ready for the ride!
It's important to weigh all the factors before making a decision while riding a dirt bike. Keep in mind that there are many tracks that you can start on. Simply pick the one you are most comfortable riding. Once you have the required skills, you can make any track your home.
So, go take part in your big ride and do not forget the tips mentioned above!