A reusable water bottle is essential for travel – whether it's for a short hiking trip, a long-haul flight, or something in between. Today, many airports allow travelers to fill up their water bottles at refill stations after clearing customs, helping them stay hydrated while reducing single-use plastics.
There's a huge range of reusable water bottles in the market, coming in all sizes, weights, materials, and colors. We tried several stainless steel water bottles from Super Sparrow to see how they stacked up.
Tritan Sports Water Bottle / Transparent
This water bottle can hold a generous 51 ounces (oz) / 1500 milliliters (ml), perfect for quenching the most insatiable of thirsts. While the material is not stainless steel, it is made from a 100% toxin-free, US-imported Tritan Co-polyester plastic, that is free from harmful BPA chemicals. The transparent design is very useful to see how much water you've consumed, and how much water you need to refill.
The pinhole above the main opening allows air to escape ensuring a steady flow with the typically bubble release that you get from most water bottles.
Technical Specs:
BPA-free Tritan Copolyester
Made with shatterproof Eastman Tritan™
Colors:
12 different colors, including black, blue, dark red, forest green, grey, lime, and pink
Dimensions:
Features:
100% leak-proof and dirt-proof
One-handed drinking with no lids to remove
Carry strap
Reflective frosted casing
What Could Be Improved?
While the bottle has hand grips for where you would hold the bottle to drink it, the grips are designed on the other side. What this means is if you use the grips, you're holding it in at a 90-degree angle to then drink from the nozzle. It's a minor feature flaw, but it means that the grips go unused.
Something else to be conscious of is the small pinhole above the main opening. If you don't have this lined up so it's vertically above when you take a sip it will leak water on you.
USE PROMO CODE GETBACKPACKING
Get a 15% Discount
Floral, Ultra-Light Stainless Steel Water Bottle with Straw Lid
Holding 25oz / 750ml, this bottle is perfect for a quick day trip. The water bottle comes with 2 straws that you can stick underneath the lid to sip from, but you can also do without this and still easily sip without these straws. This series has a ton of fun patterns – I was drawn to the cheerful pineapple yellow design – and there are also bright and colorful birds, flowers, and fruit style options. This is a great lightweight yet robust water bottle that is easy to carry around.
Technical Specs:
Made of 18/10 food-grade stainless steel
100% BPA/BPS free, which is fully resistant to oxidation and taste
Double-walled with airtight, vacuum-seal insulation technology
Keeps beverages cold for up to 24 hours, or hot for up to 12 hours
25% lighter than other Super Sparrow standard mouth bottles
Colors:
10 different patterns, including birds, crane, hibiscus, oleander, pomegranate, protea, and violet
Dimensions:
Features:
Includes 2 straws (optional use – can also drink from the straw lid without putting the straws inside)
What Could Be Improved?
So far, so good! I personally am used to the wide mouth versus the straw design for drinking water bottles, so it would be great if Super Sparrow could also extend the pattern design series to its wide mouth options for those who prefer this.
USE PROMO CODE GETBACKPACKING
Get a 15% Discount
Insulated Stainless Steel Water Bottle
This bottle holds 25oz/750ml, a good option for a day trip. Available in a range of solid colors, this bottle, like the ultra-light stainless steel water bottle above, comes with two straws that you can stick under the sport cap to quickly drink from without removing the cap. The main difference with this bottle is that it is perfect for anyone who can't decide whether they want a sport cap (drinking from a straw), or a loop cap (twisting the lid open to drink).
Rather than stick to only one option, why not do both? This is also the perfect bottle combination for someone who wants to carry hot and cold fluids.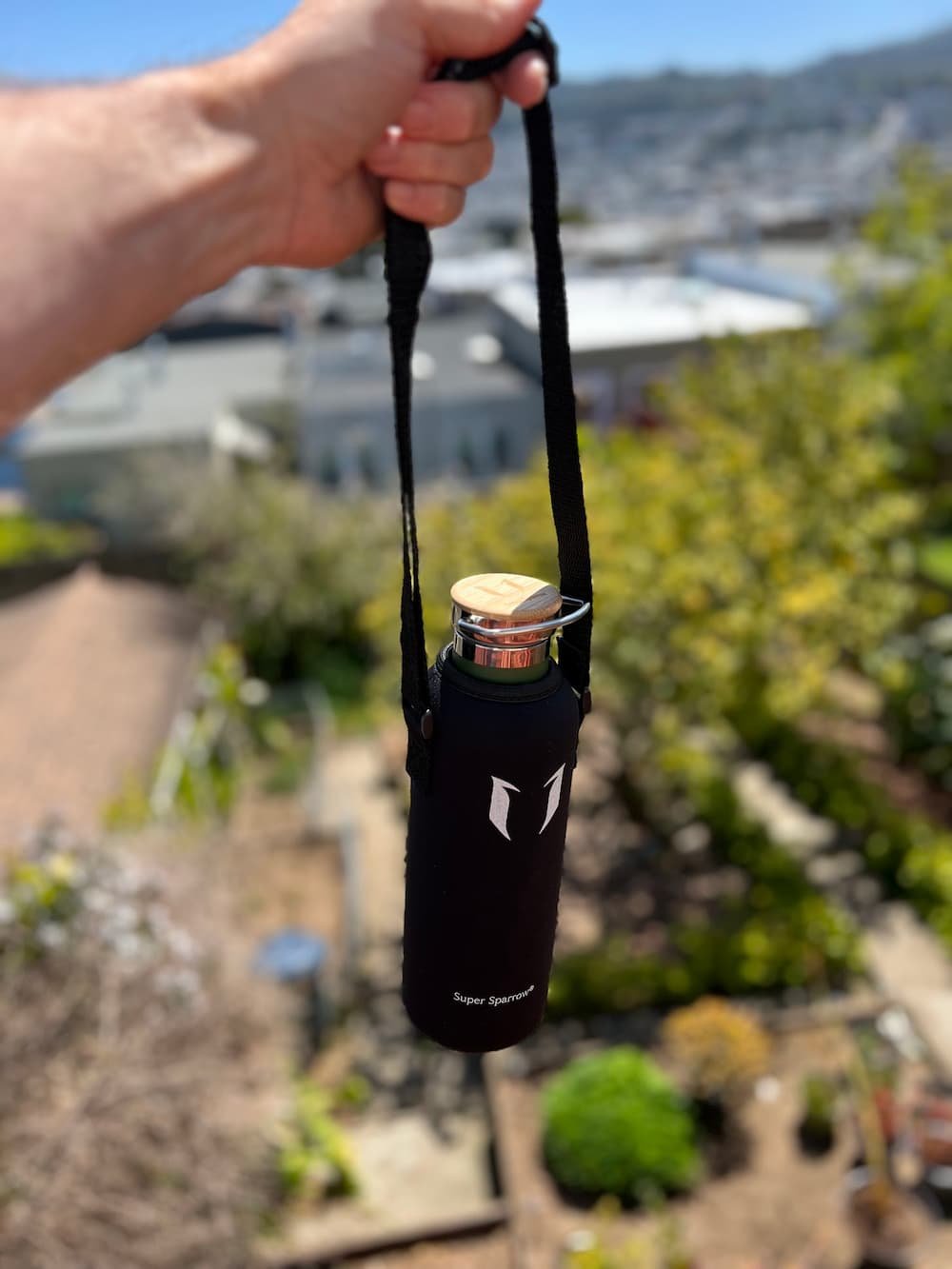 Technical Specs:
Made from rust-resistant 304 food-grade stainless steel
BPA and phthalate-free
Double-walled with airtight, vacuum-seal insulation technology
Keeps beverages cold for up to 24 hours, or hot liquid warm for up to 12 hours
Colors:
20 solid colors, including apple green, black, cobalt, grey, lava, lemon, lilac purple, mango, sage, and stainless steel
Dimensions:
Features:
2 interchangeable caps – 1) A sport cap to deliver a high flow rate to make it easy to drink without removing the cap, and 2) A loop cap with a super secure carabiner for securing to bags for outdoor use
2 straws that can be connected to the sport cap
Additional sling bag available for European orders
What Could Be Improved?
No complaints so far! The dual cap options are a welcome inclusion so you can choose which to use, depending on your activity. The immense range of colors only means that you could spend a lot of time weighing up your options ahead of purchase… Am I more a "lavender" or a "jade" color water bottle person?
USE PROMO CODE GETBACKPACKING
Get a 15% Discount
Final Say
Reusable water bottles have become increasingly popular not only as a more eco-friendly option, but as a more cost-effective and convenient must-have while traveling. Super Sparrow is a fantastic option as its bottles don't contain Bisphenol A (BPA), a chemical compound that can be found in many everyday products such as shatterproof windows and eyewear, which has also been linked to a range of health issues.
As long-time reusable water bottle drinkers, we found that the water in these bottles seemed to taste better, and hope that these bottles will continue to hold up over a long period of time. We also really liked the extensive options they have – there are standard mouth, wide mouth, straw top, and mugs and tumblers, with sizes ranging from 12oz/350ml to 51oz/1500ml – which should satisfy everyone's thirst.