Maui is an island located in Hawaii and it is like a tropical paradise. If you think a trip to Maui is just beaches and lazy pool parties, let me tell you this is not the case. Sure, the beach is a big part of the trip to Maui, but there is a lot more to see and experience on this beautiful island. From the lovely culture and the best Maui luau to absolutely breathtaking natural sights, it's totally worth visiting.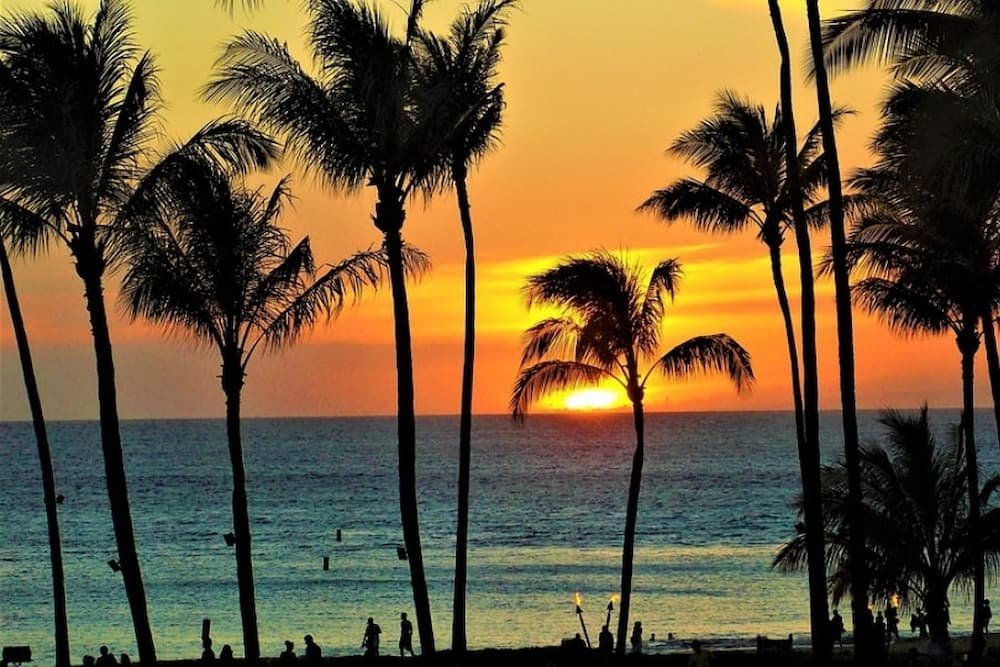 When I first visited Hawaii, I wasn't all that hyped. I thought it'll just be beaches and parties. But I'm glad my friends dragged me along because not only did I absolutely fall in love with the tropical culture there, but the islands of Maui and Kauai are just awesome. I suggest you plan your dream trip to Hawaii now and start by looking for the cheapest flights going to Hawaii and enjoy an awesome weekend there.
1. Visit the Beaches
Beaches are a major part of Maui and no vacation is complete without a visit to the beautiful sandy land with the cool water waves splashing gently. Even though there are plenty of awesome beaches in Maui, I personally think South Maui is home to some of the very best. There are many activities you can do at any one of the amazing beaches.
2. Go Snorkeling
One of the best ways to hang out with cute turtles and fish is to go snorkeling around Maui. Even though you can do it in a lot of locations because it's beautiful no matter what, one of the best places is called Turtle Town, which is home to a lot of turtles that are endangered. And if you wish to see the beautiful corals of Maui then Coral Gardens is the place to be.
3. Take a Submarine tour
If you want to see the underwater wonders more closely then go for this interesting tour. You'll get to go down at least a hundred feet and see the colorful coral reefs and marine life. This wonderful tour is a safe and easy way to say hi to the fish. In fact, there is a chance that you may see a shark or even a whale!
4. Go Surfing or Stand-up Paddle Boarding
A visit to the beach is more thrilling with a water-based sport. In fact, surfing is the most classic thing to do in Hawaii. The North Shore and Honolulu are two of the best places to catch the waves but they can be dangerous for beginners.
5. Discover the culture
The Hawaiian culture is very tropical-inspired and definitely worth learning more about.
6. Try the local food
I personally believe that the best way to explore a place's culture is to indulge in its traditional food. One of the most favorite treats was flavored shaved ice. It was so simple yet so delicious. Yes, pineapples are important ingredients but trust me they taste great when cooked with meat using the Hawaiian technique.
7. Bailey House Museum
If you're a history buff then this is a must-see place for you. It features Hawaiian art and history, including the Pre-European era artifacts. Really worth a visit since you can see a very accurate replica of the 19th-century Hawaiian home.
8. Old Lahaina Luau
To really experience the Hawaiian culture, you need to join in this three-hour-long. You even get to see awesome hula dancing and sample authentic traditional food. Learning something new while having fun is the right way to enjoy yourself here.
9. Discover the beauty
Maui is no doubt a very breath-taking place and it'll be a shame to not discover the more naturally awesome side of it. Of course, there are many activities available too. So while you're marveling at the natural wonders, you can have a fun time too.
10. Helicopter Tour
To get an amazing aerial view of this island, including of the places you can't normally get to easily, take a helicopter tour. In fact, if you're feeling exceptionally brave then you can take this tour with the doors off. There are many kinds of tours available that'll show you the panoramic view of whichever place you're most interested in.
11. Ali'i Kula Lavender Farm
This huge farm is home to at least 55,000 lavender plants and even though it is not a native plant, it still thrives in the unique and suitable climate conditions. It is also a wonderful garden and yes, you can totally buy Lavender products from here. Some activities include treasure hunts and an awesome gourmet picnic.
12. Road to Hana
This legendary stretch of road is quite popular among tourists. If you're wondering why the answer is that it's the best way to view the beautiful rainforests and waterfalls in Maui. Whether you take a tour on a bus or drive yourself at your own pace, the views make this the best place for a relaxing journey. But if you want to learn the history and myths attached to it then I suggest the guided tour.
13. Iao Valley
Since we're focusing on natural beauty, this place definitely gets a spot on the list. It is home to some really iconic landmarks like the Iao Needle, which is a huge rock that is covered with a green carpet of vegetation. Basically, this place is every hiker's dream. It also has significance in history as it was the site for the Battle of Kepaniwai, which changed the whole history of Hawaii.
14. Dragon's Teeth
A unique natural formation on the West side of Maui, it was caused because of the harsh winds and the molten lave combining together and making the rocks bend upwards, looking like dragon's teeth. A great spot to catch sight of turtles and whales. Just be respectful of the lawn next to it as it is the Honokahua burial ground.
15. Ono Farms
One of the largest farms for tropical fruit in Hawaii, these are responsible for the majority of Maui's fruits, chocolate, and coffee. If you take the tour here, you can see them get prepared and taste test as well.
16. Wai'anapanapa State Park
This beach-based park is home to black sad with lush green trees in the background. It's generally a great place if you wish to relax. Common activities include camping, fishing, and even hiking. You can visit here via the iconic road to Hana. However, most people just visit here for a little while but it is possible to stay longer. In fact, the park offers camping amenities and campsites for a real adventure. Exploring the waterfalls and the jungle near it is pretty fun if you ask me.
17. Pipiwai Trail
This two-mile-long trail lets you see waterfalls before taking you into a thriving bamboo forest. The hike ends with a spectacular view of the most beautiful waterfall in Hawaii, Waimoku Falls. The bamboos here are dense enough that they block the sun so the whole place has a unique atmosphere. Another perfect place for hikers as it gives you a great hiking experience with spectacular views.
18. The Seven Sacred Pools
Located in Ohe'o, these are a series of waterfalls that are eventually connected to the Maui south-east coast and surrounded by lush green rainforest. In fact, these pools are considered one of the wonders of the world. The problem with them is that things can get dangerous and slippery here so sometimes they're closed off. Bad weather also causes them to close down so check online before you visit here. But trust me, they are so beautiful it's like swimming in a wonderful dream.