To attract visitors, wildlife parks invest in preserving and rehabilitating native ecosystems. In turn, the tourists and visitors who explore wildlife locations contribute significantly to protecting and enhancing animal conditions by paying for the tour.
Having the opportunity to witness a wild animal up close is a beautiful way to appreciate nature. It's a fantastic way to unwind, learn more about the place, and be inspired to go on adventures. There are many wildlife observation sites worldwide, and we've selected the greatest ones to highlight in this article.
1. Sumatran Jungle
Sumatra has fantastic natural wonders, beautiful beaches, and fascinating indigenous communities. North Sumatra is the most popular destination on the island, with visitors flocking there to see Lake Toba and forest hikes in Bukit Lawang.
Fascinating animals like the sun bear, clouded leopard, proboscis monkey, and flying fox bat, as well as endangered species like the Sumatran rhino, Sumatran tiger, and Bornean elephant, call the jungles of Sumatra home. In addition, there are about 15,000 identified plant species in the area, with many more yet to be discovered.
2. Yellowstone National Park
Yellowstone has breathtaking scenery, exciting outdoor adventure, and wildlife encounters making it the ideal destination for those ready to travel and connect with nature.
The park is sometimes referred to as "America's Serengeti" because of the diversity of species found there. The park is home to 67 mammals, including moose, elk, bison, wolves, bears, and almost 300 bird species.
West Yellowstone Airfield (WYS) in Montana is the nearest airport to Yellowstone National Park. If you want a bird's-eye view of the park, reserve the best seats on a plane and get your camera ready before landing.
3. Kalahari Desert
The annual rainfall in the Kalahari Desert supports a diverse range of mammals, reptiles, birds, and amphibians. The Kalahari is an exceptionally magnificent and fascinating place, with great chances to see animals in the wild. You won't find unique scenery or a more diverse collection of animals anywhere else on the planet.
For the best chance of seeing cheetahs in Africa, head to the Kalahari desert. The Kalahari's open landscapes make it easy to spot other predators like the black leopard, lion, and highly endangered African wild dog.
4. Canaima National Park
Canaima National Park may be best known for the flat-topped mountain formations called 'tepuis' that span around 65% of the park's area. But, more than this, Canaima National Park also features a wide variety of spectacular and unique wildlife and plants.
There are hundreds of different kinds of birds to observe. Hawks, macaws, and hummingbirds are a few examples. You can also encounter large mammals like giant otters and anteaters there.
5. Okavango Delta
Botswana's Okavango Delta is the largest inland delta in the world. Unlike most deltas, which empty into the ocean, the Okavango River floods the savanna and forms a distinctive, ever-evolving inland delta.
It is one of the most extensive freshwater wetlands in southern Africa. Over 1,000 plant species, 130 animal species, more than 480 bird species, and countless reptile and fish species can be found here.
6. Masai Mara National Reserve
The Masai Mara is a beautiful collection of untamed and rough landscapes, friendly and helpful locals, and a fantastic variety of big and small animals. Every year from July to October, the Masai Mara plays host to an estimated 1.5 million wildebeests as they make their way across the globe to participate in the legendary Great Migration.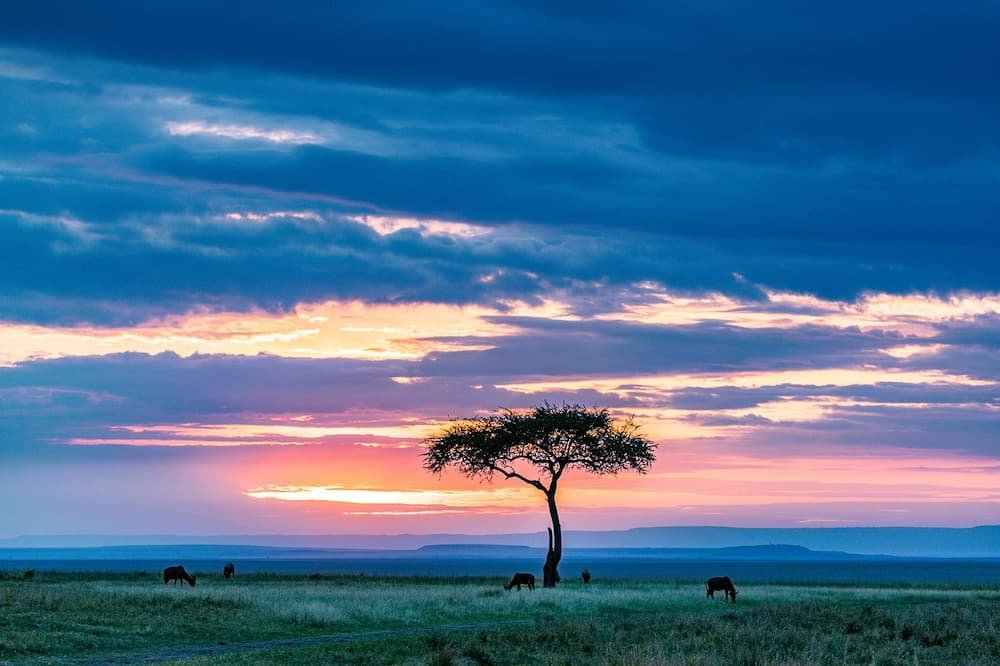 7. Galapagos Islands
The volcanic islands of the Galápagos are located 600 miles off the coast of Ecuador. The site features plant and animal species that can't be found anywhere else. The archipelago is home to 56 species, 27 unique to the Galápagos.
Galapagos hawks, Darwin's finches, frigatebirds, albatrosses, gulls, boobies, pelicans, and iguanas are notable birds found on the islands.
8. Bay of Islands
With its tranquil, sandy beaches, rich marine life, and verdant native forest, the Bay of Islands is a favorite vacation spot for locals and foreign tourists. But, more than that, the Bay of Islands is a sanctuary for New Zealand's native animals because of its subtropical climate and clean, protected waters.
Wild dolphins and migrating whales can often be seen in the Bay of Islands throughout the year, making it one of the most fantastic spots in New Zealand to see these animals.
9. Shark Bay
There is a wide variety of things to do in Shark Bay, from lounging on the beach and taking a dip in the water to hiking through the national park and learning about the local culture and history.
If you're into animals, you'll be impressed with Shark Bay. Some of the world's rarest creatures call Shark Bay home, making it an important site for wildlife preservation efforts. There are over 10,000 dugongs in Shark Bay. In addition, it is the best spot in the world to witness stromatolites. The Monkey Mia wild dolphin encounter is also world-renowned.
Final Thoughts
The most appealing reason to travel to the locations mentioned here is the chance to see different kinds of creatures in the wild. This gives us a better understanding of how species interact within their respective ecosystems and how they are affected by both the environment and human activities.