For sailors, there is truly nothing better than being out on the open water with the wind at your back. A sailing holiday provides the ultimate freedom to explore exciting and unique places across the globe.
Do you live for blue waters and white sails? Our bucket list of sailing destinations is sure to get you planning your next adventure. Take your pick from calm seas, exotic wildlife, and hidden beaches, or follow the trails of famous explorers.
1. Zanzibar, Tanzania
Zanzibar is often referred to as the spice islands. This archipelago, just off the East African coastline, is a premier destination for sailing. A vacation here serves adventure and relaxation in equal doses.
Choose from options for single-day sailing trips or spend an entire week island hopping the sapphire waters. We would definitely recommend taking a sunset cruise in a traditional dhow.
There is plenty to do in and out of the water. Take a tour to Prison Island to see giant sea turtles or swim with Whale sharks off Mafia Island. Browse markets and taste local dishes in Stone town, a melting pot of culture.
2. San Diego, USA – Sea of Cortez, Mexico
For a trip closer to home, you can rent a boat in San Diego and explore the Channel Islands to the north. These 8 islands in the Santa Barbara Channel are an ideal yachting getaway. They offer great weather, watersports, and plenty of accommodation options.
Feeling adventurous? Sail from Marina Del Ray 800 miles along the Baja Peninsula. It takes around 6 days beside a stark desert landscape to reach Mexico's Sea of Cortez.
The Sea of Cortez is a sailor's paradise. There are good anchorages, colorful coastal towns, and deserted islands. Fisherman will find some of the best game fishing here.
3. Greek Islands, Mediterranean
People all over the world dream of sailing on Greece's sparkling blue waters. But visiting all of the 2000+ islands would take more than a lifetime. A great way to experience several of the Greek Islands is through an unforgettable Mediterranean cruise. Through a Mediterranean cruise, not only will you be able to relax and unwind with the beautiful surroundings of the Greek Islands, but you'll have the opportunity to hop off and explore a different one each day. And no matter which islands you explore during your cruise, you're bound to have the holiday of a lifetime.
Summer winds are strong around Mykonos, Ios, and Santorini Crater (to the east). This region is better for experienced sailors. To the west, The Ionian islands experience light breezes and ensure easy-going sailing.
There is plenty to do on the Greek Islands. Tour an olive farm or wander the streets of the many charming villages. Skopelos, where Mamma Mia was filmed, is particularly popular. The warm climate and calm seas are ideal for watersports like swimming, kayaking, and jet skiing.
4. The Whitsundays, Australia
The Whitsundays is a chain of 74 islands between Queensland's coast and the Great Barrier Reef. Whitehaven Beach is famous worldwide for its bleached sands. The reefs here are underwater Edens, teeming with tropical fish.
Airlie Bay is often referred to at the Gateway to the Whitsundays. From here you can launch your own boat for a few blissful days of sailing.
If you have limited time, you can get a taste of Whitsundays with overnight trips. Many former racing yachts. offer these shorter excursions around the islands.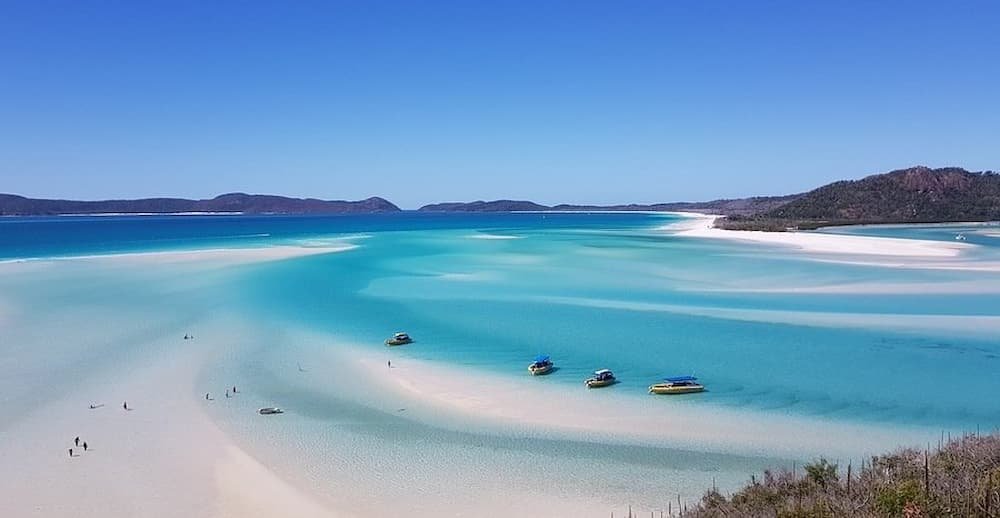 5. The Galapagos Islands, Ecuador
The biodiversity-rich Galapagos islands are famous for inspiring Darwin's theory of evolution. Most of the area is a marine reserve and experiences ongoing volcanic activity. Usually, visitors fly in but you can sail all the way from Ecuador.
Large cruise ships are not allowed in these waters. You can book catamaran tours from the anchorages at Puerto Ayora and Baquerizo Moreno. Active holidaymakers will love surfing, kayaking, paddle boarding, and diving around these islands.
A trip here is your chance to see wildlife that is found nowhere else on earth. Ancient giant tortoises roam the land and marine iguanas graze below the water surface.
6. Southern Georgia, Southern Ocean
South Georgia is a wonderland of glaciers and fjords. The icy waters offer a completely unique experience well off the beaten tourist track. You can sail the 750 nautical miles or book a 2-day charter from the Falkland Islands.
This area is best known for Ernest Shackleton's doomed exploration of the Arctic. Weather conditions are harsh and should only be attempted by well-seasoned sailors.
You can still see the island's long-abandoned whaling stations. Now protected, Humpbacks, southern rights, and sperm whales are frequently spotted offshore. This pristine area is home to thousands of seals, penguins, and sea birds.