Are you tired of the hustle and bustle of busy Greek life and want to find somewhere a bit quieter to go? Do you want to know which Greek islands are perfect for a quiet holiday?
The Greek Islands are one of the most popular tourist destinations in the world. With over 6,000 islands to choose from it's hard to know which are less traveled. This blog post is designed to help you find your perfect island getaway.
We cover some of our favorite lesser-known islands and provide a little information about what they have to offer for travelers looking for an adventure as well as trying to escape the crowds. Here are a few of the best islands that are best for a quiet holiday.
If you're considering a quiet holiday on the Greek Islands, you'll definitely want to explore the hidden gems and peaceful coves that the islands have to offer. To make the most of your experience, consider booking a boat through Sailo.com. This user-friendly platform connects travelers with a wide variety of boats and local captains, allowing you to create your own personalized island-hopping adventure. By renting a boat through Sailo, you'll have the freedom to discover secluded beaches and charming villages at your own pace, making your Greek Island getaway truly unforgettable.
Nisyros
Nisyros is one of the smaller Dodecanese islands, located in the Aegean Sea between Kos and Rhodes. Despite its small size, Nisyros offers plenty of interesting things to do, making it a popular tourist destination. The island's volcano is a major attraction, and visitors can also enjoy hiking and swimming on Nisyros' beautiful beaches. There are also several restaurants and cafes where you can enjoy traditional Greek cuisine.
Nisyros is the definition of a hidden gem. This small, unassuming island in Greece is one of the most beautiful places on earth. With pristine beaches, stunning cliffs, and rolling hills, it's easy to see why Nisyros is a favorite destination for those looking for peace. Getting it is very easy via a ferry service like Let's Ferry which allows you to book a ticket online in a few clicks. If you're looking for an escape from the hustle and bustle of everyday life, Nisyros is the place for you.
Kastellorizo
When it comes to visiting Greece for your vacation many people choose to go to the most popular places and the places that are riddled with tourists. However, for some, this is something that they just don't enjoy, and they would rather be in a place that is more remote and has less tourist action around.
The first Greek island that we have on our list if you are looking for a quiet Greek holiday away from all the tourism is Kastellorizo. This island is by far one of the most remote islands belonging to Greece and has hardly any tourist attractions.
It is located just opposite the Turkish coastline and it's a great place to go if you want to see some of the most spectacular views with some of the most incredible neoclassical architecture. Here you can find a medieval castle that was built by Knights, stroll along with a cobblestone fishing village, and more
Lipsi
Next up, we have the island of Lipsi. This island is one of the most peaceful islands around and is a great place if you are looking to relax and recharge after working for months and months and months.
Here on this island, you'll find some incredible and noteworthy beaches that are crystal clear and a sea that is great for swimming in. Here you can also see delicately decorated churches along the hillsides of the island if you want to do a bit more exploring and learn more about the history that you can find here.
Talk about this island, how many visitors it gets, how busy it is, what attractions there are, what beaches there are, what activities there are, the best places to stay, etc and give some history about it.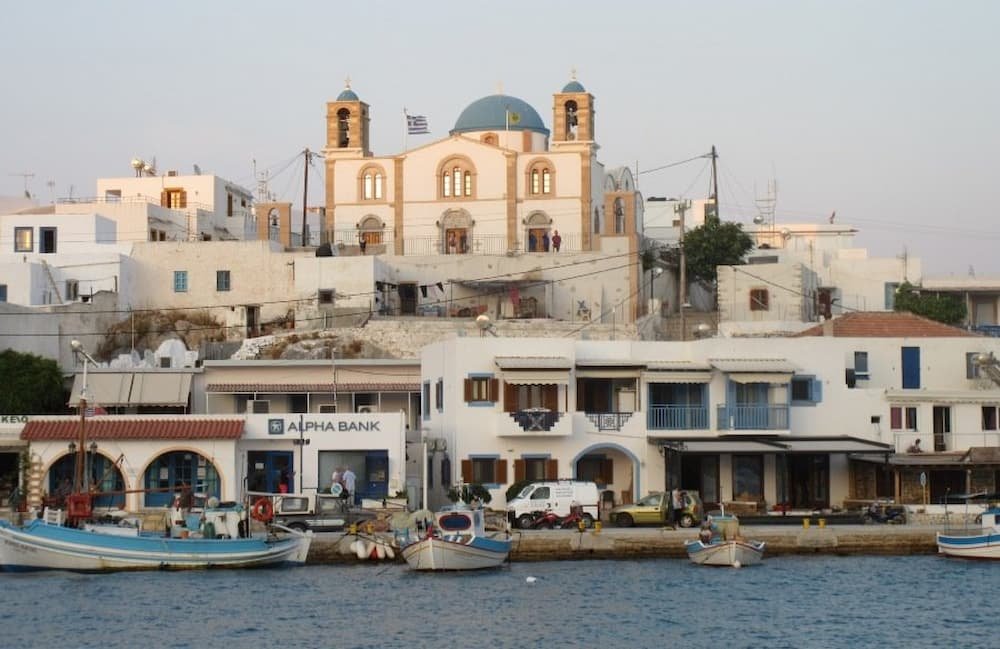 Fourni
Fourni is the next island that we have on our list of Greek islands that are best for a quiet holiday. This island is one of the smallest Greek islands, but despite its size is still inhabited by people. For those looking for a beautiful summer getaway in a place where they can just take time to relax, this is the place to be.
On this small island you will find a handful of beautiful traditional villages and landmark windmills all around. something that you can't miss whilst on this island is tasting some of the local cuisines in a traditional Tavern located in one of the small towns.
Halki
If you are looking for an island that is even more remote, then Halki is the island for you. This island is home to some of the most impeccable and amazing secluded beaches, some of which are only accessible on foot. This means that minimal traffic has left the environment around the island intact and impeccable.
Here, you can also see are the various destination spots such as windmills, bell towers, and even the castle of the Knights of Saint John.
Lesvos
Last but not least is the final island that you should make your way to if you are looking for a quiet Greek holiday in Lesvos. although in the past this island was populated a bit more with tourism, today it is less frequented by tourists as they would rather beyond one of the bigger islands.
However, this island is quite big and has plenty of space to offer an abundance of history, architecture, and geology to its visitors. It is said that tourists were driven away during the refugee crisis however as time goes by the island continues to build its reputation and become more and more popular. If you are looking for a quiet holiday, then take advantage of it whilst you can before it becomes a tourist attraction yet again.