No one can visit this bite-sized country and not be changed by it. As the temple hub of the world, tourists are arriving fast and furious. Cambodia is a country that is firmly putting its past behind to embrace the 21st century. It is emerging as a vibrant, exciting tourist travel destination, offering an opportunity to step back into ancient history, get off the beaten track into a lush yet unpredictable rural countryside, and to immerse in a kind and charming culture.
Known as the Land of Smiles, Cambodia's gentle culture is influenced by Theravada Buddhism practiced by the bulk of its population. Angkor Wat, the ancient temple at the heart of a sprawling, monumental complex of stone block structures in Angkor, is a testimony to the power of the Khmer kingdom, which peaked during the 11th century.
You can travel cheaply in Cambodia, sleep reasonably comfortably and eat well. Or you can live it up in the lap of luxury and dine in restaurants to rival the best in other Asian capitals.. It is pretty easy to fly in and out but not so from province to province. Major infrastructure connecting the dots on the map is still deficient and some roads flood. During the wet season, travel by boat on the country's 150kms of waterways is the way to go. Landlines for telephones are still lacking but a cell phone is pretty cheap. Internet cafes have sprouted up like little mushrooms, and are starting to appear in outlying areas.
Unspoiled mountainous forests, ornate stone temples more than 1000 years old, idyllic islands and unspoiled beaches – these are the makings of a dream vacation. And it is, but some common sense will prevent headaches later. Medical insurance is not only prudent but also crucial; check that the coverage extends to emergency evacuations.
Charming as Cambodia is, its hospitals are not up to international standards and critical cases have to be evacuated to Bangkok or Singapore. Arm yourself adequately with the appropriate medication or be pre-armed with vaccinations especially if you are going off the beaten track. Remember that land mines are still a problem in unexplored areas.
Get your Cambodian visa sorted out before you leave. Unlike other visas, this visa type can be applied for online and will be sent to you by email.
Cambodia's Climate and Seasons
Cambodia has a classic tropical monsoon climate. Temperatures range from 21 to 35°C, although they can exceed 40°C in the steamy month of April. There are two distinct seasons. The rainy months are from May to October when the southwest monsoons bring rains from the Gulf of Thailand and the Indian Ocean. It is hot and humid during these months and the heaviest rains kick in between September and October. Total annual rainfall ranges between 100-150cms, with as much as 130-190cms falling in the Tonle Sap and Mekong basins.
Dry Season
The dry season is from November to March when the northeast monsoon blows. Temperatures can fall to the low 20s in the cool months of December and January when there is little rainfall, low humidity, light breezes, and cool evenings. This is the peak tourist season for the temples and the beaches. Temperatures creep up in February with short "mango" showers in the afternoon.
From March to May, the "mango" showers become more frequent and intense in the afternoon. River and lake levels are low and water travel can be difficult. Temperatures peak in April and in inland areas like Siem Reap, they average mid to upper 30ºs C with more intense sun and rising humidity.
Monsoon Rains
Between June to August, the days are hot and wet, with the predictable afternoon and evening rains lasting for a few hours, providing some relief from the high humidity. Some consider this a desirable time to visit the Angkor temples as the moats and barays are full and the jungles lush and green. Rains are more frequent in the coastal areas and roads can get flooded.
The monsoon rains are still fast and furious in September and are completely over by the end of October. Temperatures hover around the 30ºs C but are not as stifling as in the hot months of April and May.
Currency
Carrying a stack of US dollar bills is necessary as that really is the currency of trade. Even the visa fees and departure taxes are paid in US dollars. The Cambodian currency, the riel, is relatively stable to the US dollar so the tourist does not have to worry about a rapidly inflating local currency.
Shopping
Shopping is fun and there is a reasonable range of antiques. Just remember you cannot export pre-Angkor and Angkorian antiques as that is considered looting. However, local creativity is well at work here. In a revival of ancient techniques for stone sculpture, wood carvings and ceramics, you can now buy a beautifully reproduced Buddha head or stone carving, or a bust of the Angkor kingdom's greatest king. Be tempted by the silver, but also be vigilant as to how pure it is, and whether it is really silver.
Support the local artists and artisans. Many of them would be jobless but for these vocational skills picked up at dedicated training centers. Shop Cambodian should be the mantra, as the tourist dollar really goes a very long way. Bargaining is a part of life but bear in mind that many of these people live on less than US$0.50 a day. Be part of the sport but be gentle.
Budding Art Scene
For a mix of Khmer culture outside of ancient ruins and the ubiquitous karaoke bar, a budding art scene is complemented by a fast-growing number of art galleries. Attempts to fuse the traditional with the street culture are giving rise to interesting music and rock operas.
There is magic in Cambodia and as a tourist, you want to travel responsibly and make sure that there is more of the country to re-visit. Tipping is not part of their culture but the extra money is appreciated; good etiquette is probably just as well appreciated. Learning a few words of Cambodian might be useful in getting better prices at the stores. Relax and enjoy the ride through a magical country.
Crime and Corruption
Cambodia is generally a safe and friendly country, with the usual exception for large cities late at night, particularly, and unobserved luggage or wallets. Bag snatching, even from those on bicycles and motorcycles, is a problem in Phnom Penh. Be discreet with your possessions, especially cash and cameras, and as always, take extra care in all poorly lit or more remote areas.
Intending visitors should be aware that the rule of law in Cambodia is inconsistently applied. Crimes usually require bribes to be investigated, and if perpetrators are wealthy or connected to the government they will often be untouchable by police and courts. You should also be aware that the courts are corrupt, so contracts are hard to enforce without some political leverage. All this being said, the violent crime rate is fairly low, the police are generally friendly and non-threatening, and those with common sense have little to fear.
Prostitution
Unfortunately, Cambodia has gained some notoriety as a destination for pedophiles, but under Cambodian law, the penalty for sex with minors can be up to 30 years in prison, and such tourists may be prosecuted by their home countries as well.
Land mines
Cambodia suffers from a legacy of millions of land mines left during the war years. However, to tourists, land mines present a minimal to nonexistent threat, as most areas near touristed areas have been thoroughly de-mined. Many tourists mistake electric or sewage warning signs along national highways for land mine signs. HALO Trust, a leading mine removal organization in Cambodia asserts that you would have to drive through the jungle for at least an hour north of Angkor Wat to come across any mines. The threat is to locals in extremely rural areas who rely on subsistence agriculture for their livelihoods.
All that said, in remote areas such as Preah Vihear (near the border) and Pailin (a former Khmer Rouge stronghold), exercise caution: ask for local advice and heed warning signs, red paint, and red rope, which may indicate mined areas. Do not venture beyond well-established roads and paths.
Places to Visit
---
Temples of Angkor
The sprawling megalithic complex of Angkor is no longer Asia's best-kept secret. Hidden for centuries by jungles, Cambodia's ancient treasures and far-flung temples are at last emerging. More and more visitors are being lured to explore these mysterious temples and the rich and proud civilization that lived in them.
Angkor Thom, which is Khmer for "Great City" is a fortified city that might have supported one million people in the surrounding region at its height. Built by Angkor's greatest king, Jayavarman VII, it is laid out in a near-perfect square, which runs north-south and east-west.
The Bayon sits in the exact center of the walled Angkor Thom city, and with its 216 enigmatic stone faces, is as much an icon of the Angkor kingdom in its heyday as Angkor Wat itself.
One of the most popular sites in Angkor, atmospheric Ta Phrom, the Tomb Raider temple, remains very much in the grip of the jungle. Tropical roots as wide as tree trunks split the massive temple stones or grow on top of the temple ramparts. In recent years, underbrush has been cleared and fallen blocks organized into piles.
Phnom Kulen is the holiest mountain in Cambodia. It was here in 802 AD that King Jayavarman declared himself the god-king and broke away from the Java kingdom. This is the birthplace of the Angkor kingdom and modern Cambodia.
Pub Street
This is where it happens at night when the street is blocked to motor traffic, tables are set up on the curbside and the music is cranked several decibels higher. Pub Street is a block away from the Old Market and is lined on both sides with restaurants, offering vast choices of Khmer and international food, and numerous pubs which attract the crowds with their happy hour deals starting around 5 pm.
Psar Chas
Psar Chas or the Old Market is a must on every itinerary. Located at the south end of the old French Quarter, it springs to life in the early morning and stays open till dusk.
Angkor Night Market
A 10-minute walk from Psar Chas, the Angkor Night Market tourists a chance to shop at the end of the day. Officially opened in early 2007, it is located at the back of Sivatha Road and has expanded from an original 100 stalls to 170 with a planned maximum capacity of 250 outlets.
Land Mine Museum
Check out what life was like during the Khmer Rouge regime. Here you can see the effects of the millions of land mines that were distributed around the country and meet locals who have lost limbs and loved ones.
Toul Sleng Genocide Museum
The Museum of Genocide speaks of Cambodia's horridly painful past. Stark exhibits include metal bunks in narrow cells plastered with black and white photos of every prisoner – men, women and children- who were captured. The buildings remain as found, with windows barred with iron and barbed wire, and electric barbed wire around the perimeter.
Killing Fields (Boeung Choeung Ek)
This was the execution grounds for the Khmer Rouge, who are believed to have brought the prisoners out from S-21 in Phnom Penh. Total numbers killed here vary between 17,000- 20,000 men, women, and children, many of them found bludgeoned to death to save the cost of a bullet.
Silver Pagoda
The Silver Pagoda is also known as the Temple of the Emerald Buddha. Its floors are covered with 5,000 gleaming silver tiles, weighing more than 5 tonnes.
National Museum
A grand red sandstone building designed along classical "colonial Khmer" lines, the National Museum is home to an incomparable collection of Khmer sculpture, pottery and bronzes, ceramics, textiles, and glass, some centuries old.
Royal Palace
Distinguished by its classical Khmer architecture, elaborate gilding, rooftop spires, and golden temple nagas, the Royal Palace is the jewel in the crown for the Cambodians and an oasis of peace in the center of busy Phnom Penh.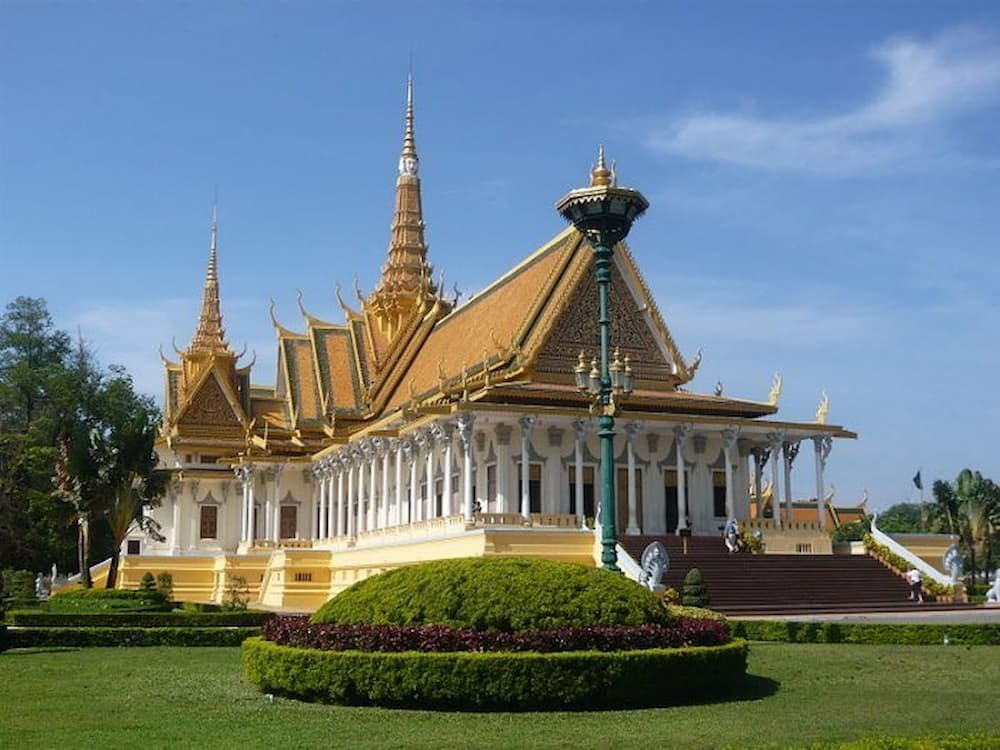 Wat Phnom (Hill Temple)
Set on top of a 27m artificial hill, Wat Phnom is Phnom Penh's tallest temple and the center of activity during Pchum Ben, the Festival of the Dead. Legend has it that Madam Penh built the temple in 1373 to house six Buddha statues that were washed up by the Mekong River.
Independence Monument
The Independence Monument (Vimean Ekareach) in Phnom Penh stands in the center of the city at a busy roundabout where Norodom and Sihanouk Boulevards intersect. Built in 1958 following the country's independence from France in 1953, it is a towering lotus-shaped structure modeled on the central tower of Angkor Wat.
The Markets
Phnom Penh's lively markets are loud, colorful, crowded and a must on any itinerary. The major ones, Psar Thmei and Psar Tuol Tom Pong are nicely laid out and offer huge choices and money changers who will swap foreign currencies in exchange for loads of Cambodian riels. Here you can sample delicacies such as deep-fried tarantula.
Sihanoukville
Relax on Sihanoukville beach boasting exquisite white sands and crystal blue waters or alternately take a short trip cycling to Ream Maritime National Park with its untouched mangrove forests, offshore coral reefs, and fishing villages.
This is a great place for snorkeling and scuba diving with the main dive location being at Koh Rong Samloem Island some 20 km offshore.
The Mighty Mekong
The Mekong River is a beautiful, mystic river, and an important means of transport in the region. It is rich in natural, cultural, and historical resources that provide enormous potential to explore.
Explore this mighty river by fast boat or river cruise and get a glimpse into the agrarian life of the vibrant life along the river. See the smiles of children as you drift by them playing along the shore (make sure you give them a friendly wave). Sunset along the Mekong is an incredible sight that is not to be missed.
Kratie river dolphins
The small town of Kratie lies on the banks of the Mekong River in the northeast of Cambodia. It is famous for the unusual-looking Irrawaddy dolphins that frequent its waters. These rare creatures have been slowly reducing their numbers due to tourism in the area and recent reports estimate that there are only between 60-90 dolphins left in the area.
Tonle Sap Lake
The Tonle Sap is a combined lake and river system in Cambodia that is also the largest body of water in South East Asia. The Tonle Sap is also home to many ethnic Vietnamese who have emigrated to Cambodia over the last 50 to 100 years, often to the consternation of the native Cambodian population.
Despite the local ethnic tensions the Vietnamese Floating Village on the Tonle Sap in Siem Reap has become one of the area's more popular attractions with tourists touring the area on boats For three days each year the Tonle Sap in Phnom Penh is home to Cambodia's most famous sporting event.
The Water Festival is held to celebrate the reversal of the waters back into the Mekong and normally takes place in October or November. Millions of people travel from the provinces to Phnom Penh so they can participate in and watch the boat racing. Teams from every province and many villages compete against each other in canoe-style boats that they make themselves and decorate to represent their homeland.
This is the heart of Southeast Asia, with everything the region has to offer packed into one bite-sized country. If you were only planning to spend a week in Cambodia, it's time to think again.