After spending a week using Reykjavik as a hub for our travels through the Southern Highlands and the surrounding areas, we set off on a week-long road trip around Iceland. Our aim was to leave Keflavík and snake our way clockwise up to the northernmost tip of the country past the town of Akureyri, before snaking our way back towards the west of the country back to where we started again.
From Keflavík, we got onto the Ring Road and despite driving in a sturdy SUV that we had hired from Lotus Car Rental, our vehicle was shaking quite violently on the open road against the gusty wind. I can only imagine how much more inhospitable the weather is in the winter months.
Borganes
Our first stop for us was a small town called Borganes, which has a small town center that includes a historical and Settlement Centre the Museum Borgarfjörður, which focuses on the life and surroundings of children in Iceland in the 20th century. Next to the Settlement Centre is a cozy cafe/restaurant where we had a divine traditional Icelandic rice pudding with raisins, brown sugar, and warm milk – very creamy and satisfying against the chilly wind! In this tiny town, there is even a Filipino restaurant – not sure how they wound up here!
Not far from our guesthouse for the night is a place called Fossatún, which has adorable-looking camping pods, a guesthouse, a hotel, and a restaurant. The surrounding area is troll-themed. Various paths lead to different sculptures of trolls, which were created by a man who found a rock shaped like a troll's face and decided to write a series of folk stories about trolls.
The next day, we drove into Hvammstangi, a great spot for seal-watching on the peninsula. Most of these small towns have the essentials – a guest house or campsite, bakeries or cafes, fuel stations, which double as convenience stores (selling yummy Icelandic hot dogs, fries, and other basic items), a bank, a post office, and of course, a geothermal swimming pool. There's not much else beyond that in these tiny towns, and I couldn't help but wonder how uncomplicated their lives must be (besides having to deal with a foreign traveler every now and then).
While you could drive for miles along the ring road and not see a single person, the landscape was always stunning. Alongside us, there were always dozens of fluffy white and black sheep and majestic Icelandic horses. In the distance, we saw commanding volcanoes and snow-capped mountains. But I loved the clouds the most – they were so expressive – whether it was dark clouds opening up to let a bit of sunshine through (it looked like the heavens were opening up) or piles of white fluffiness darting across the sky and changing color as the sun rose or set.
Akureyri – the Capital of the Shining North
By evening we'd made it to Akureyri, the "Capital of the Shining North," so-called due to its midnight sun in the summer and the northern lights during winter. It's the second largest town outside of Reykjavik with a population of over 18,000 people, making up more than half of the population of North Iceland. Just like Reykjavik, the city also boasts a tall and prominent church in the city center (Akureyrarkirkja) and has a host of cool restaurants and cafes.
Some photos around Akureyri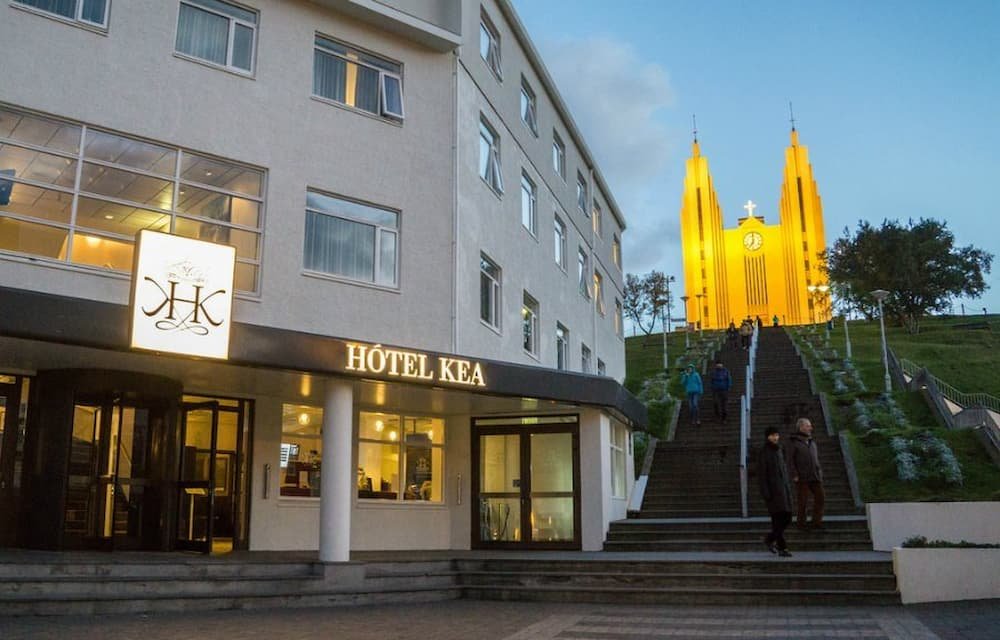 We splurged not on dinner but on dessert at a shop called Brynja, which some people say has the best ice cream in the country. The lady was amused by our excitement at sampling the different flavors. You can get an ice cream, have it dipped in a fudge sauce, and add as many toppings as you like. Icelanders love licorice so there was a black sauce for that and both sweet and salty licorice flavors, as well as other types of chocolates and sweets. Definitely a must-eat for anyone with a sweet tooth!
Goðafoss – Waterfall of the Gods
After leaving Akureyri, our first stop was Goðafoss, which literally means "the waterfall of the gods", referring to an incident in one of the Icelandic Sagas when Thorgeir the Lawspeaker (cool name, huh) threw his symbolic likenesses of the old Nordic gods into the waterfall, after making Christianity the official religion of the country. The falls are 12 meters high, with a width of 30 meters. There's a viewing platform, paths surrounding the falls, as well as a bridge along the side to check out the spectacle at every desirable angle.
Dettifoss
For me though, the most impressive waterfall was Dettifoss, which has the greatest volume of any waterfall in Europe. Over 500 cubic meters of water spill over into the river below each second and the falls are 45 meters high by 100 meters wide. What's cool is that you can view it from both sides (which we did on two separate days) – on one side you can get right up to the water (there's only slippery rocks as your fence between that and the strong waterfall), while on the other side you need to park your car a while away but hike past some splendid lava rocks until you get to the waterfalls. The drive itself to these rocks is incredibly bumpy because it's laden with lots of big rocks, which means that it takes about an hour to get to the falls from the main road.
Dettifoss itself is part of Vatnajökull National Park, which is filled with wonderful sights like the Vatnajökull glacier (the largest in Europe) and the horseshoe-shaped cliffs of Ásbyrgi, which you can hike right into. It's easy to see why there's a lot of mythology surrounding this remote place when you have so much beautiful natural scenery surrounding you.
Myvatn
One of the most popular destinations in north Iceland is the Lake Myvatn region, which is well-known for its hot springs, craters, geothermal nature baths and lava formations. Here you can really appreciate the ruggedness of Iceland, and see how the volcanoes and craters continue to evolve the landscape.
We were driving east of Lake Myvatn when we saw a bunch of cars parked along the side of the road, and everyone walking up to what looked like blasts of smoke rising up in the distance. It turned out to be Hverir – these crazy boiling mud pots and steaming fumaroles, which were literally in the middle of nowhere. Basically, there were several spots that had opened in the planet's crust, letting off steam and gasses including sulfur, so it can be extremely hot and certainly very smelly. If you want to be blasted by hot air pungent with the scent of rotten eggs, this is the place to be.
In Lake Myvatn, we decided to splurge on somewhere quirky, a place called Vogafjós Café. It's a cowshed café where you can dine face to face with a cow (well, they're in a shed behind glass, but it's about as close as you want to get while eating anyway). The food is delicious – they smoke their own meats and trout, and also serve homemade cheeses, geysir rye bread (baked hot underground), and rye bread flavored ice cream. You can wash everything down with specialty shots made with local angelica herbs. Very gourmet.
The Far North
One of our goals was to reach the northern tip of the country, which is just below the Arctic Circle. We reached the village of Raufarhöfn, which was eerily quiet and where you can find the Arctic Henge (still under construction). It's a huge stone structure reminiscent of Stonehenge in Ireland, designed to interact with the unique natural light.
We kept driving up north and made it to a place called Hraunhafnartangi, which has a lighthouse looking out to the Arctic. We couldn't drive all the way up to it because the path is basically smooth black rocks, so we walked along what seemed like a path that had been abandoned long ago – there was evidence of fishing, with lots of used nets, but no signs of life otherwise. It was very peaceful to look out into the ocean and marvel that the Arctic Circle is less than a kilometer away.
Leaving Hraunhafnartangi, we drove as the sun was setting and saw one of the most spectacular sunsets we'd ever seen in Iceland, and perhaps even in our lifetimes. The sky was filled with rich and vivid shades of red, orange, yellow, purple, pink, and blue… which seemed to dance and change each minute. Stopping along the road by the coast, we took photos along the beach and wound up finding a waterfall along the side of the cliff crashing into the ocean below. Amazing.
Returning to Reykjavik
On our final day making the long drive back to Keflavík, we checked out the Vatsnes Peninsula, home to Hvitserkur, an impressive 15-meter high rock formation in the middle of the ocean. While we didn't see any, just south of the rock is apparently a good place to see seals, while the rock itself has many birds living on it.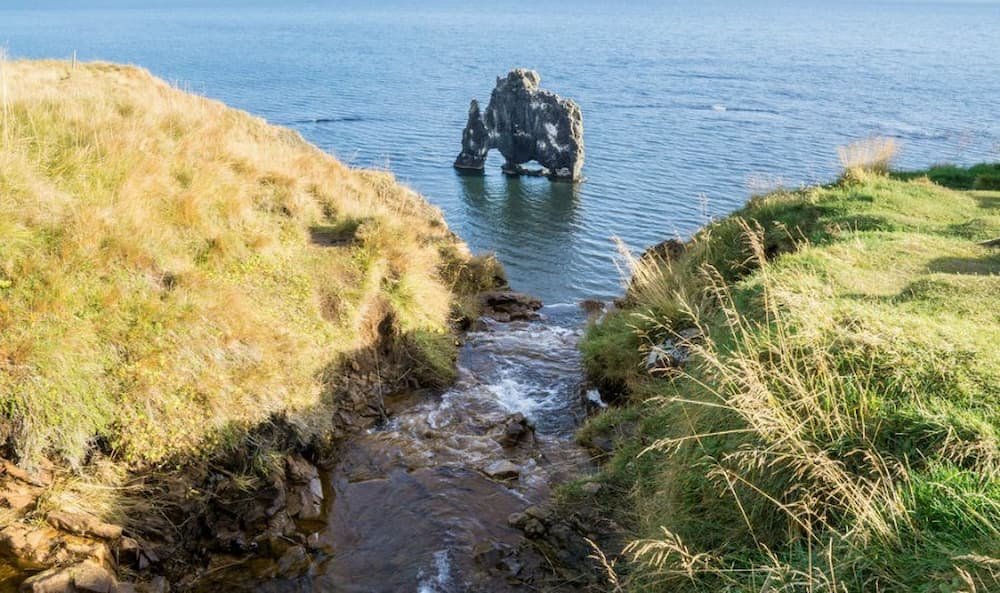 Our final stop was Kirkjufellsfoss, a waterfall in the western part of Iceland. You'd think that we'd be all 'waterfalled-out' by this time but every one we saw was so unique and beautiful. Kirkjufellsfoss was certainly not the highest or most powerful waterfall, but it makes up for it by being surrounded by rolling lush hills and the scenery around it, which makes for that perfect panoramic picture.
While was certainly a lot of driving at times, it was worth it to see so much of the country in a week. Iceland is a country that's harsh, cold, and rugged – but that's exactly what makes it breathtaking and worth a visit all over again.