This is a sponsored article in partnership with Extreme Iceland
You don't need to be a speleologist (someone who studies caves) to be impressed with the lava tubes of Iceland. Lava tubes are formed when hot magma from a volcanic eruption flows into tunnels of already petrified lava, creating incredible underground caves where you walk, crouch, and slither your way across.
About 30 minutes drive from Reykjavik, Cave Leidarendi (which means "End of the Journey") is about 900 meters long and sits in a lava field near a volcanic crater. The cave was named after the discovery of a sheep's carcass, which had the misfortune of falling into the cave and being unable to climb back out. The entire area was surrounded by various lava fields, which are covered in green moss and feel light and spongy underneath your feet. It's incredible to think that these lava fields exist so close to the capital.
My husband, a self-confessed claustrophobe, was excited about checking out the lava stalactites, colors and formations until we arrived at our lava tube (Cave Leidarendi) and realized that we were descending into a fairly narrow abyss. Provided with helmets, headlamps, gloves (it's quite cold inside) and sturdy hiking boots by Extreme Iceland, I squeezed his hand as we slowly made our way down the narrow entrance.
As soon as we walked down into the cave, we were enveloped by the darkness, with only the faint lights of our headlamps helping us navigate around the cave. As our eyes adjusted to the diminished light, we were able to explore the cave with our guide. We saw the sheep's carcass (mere bones, but given how cool it was underneath, very well preserved), and checked out the features of the cave up close. In some places, the cave's walls were smooth, and in other places, they ran jaggedly with the black stalactites pointing downwards towards us. In some parts of the cave, the colors were only jet black, but in other areas, we could make out unexpectedly bright colors shining back at us. It was incredible to think that all of this formed naturally from a nearby volcano – and the country continues to change with every natural phenomenon that happens.
In some parts of the cave, we could comfortably walk upright, but in many places (especially for anyone above average height), you are constantly doing the limbo – whether it's ducking your head, waddling while in the crouched position, or even sliding and rolling around on your stomach. Thank goodness for our helmets as even the shortest visitor can easily find a way to knock their head on a rocky surface or two. Our guide mentioned to us that with so many forks and turns, it can be easy to get lost in a lava tube – it's easy to see how that can happen if you're unprepared, as obviously experienced by that poor dead sheep.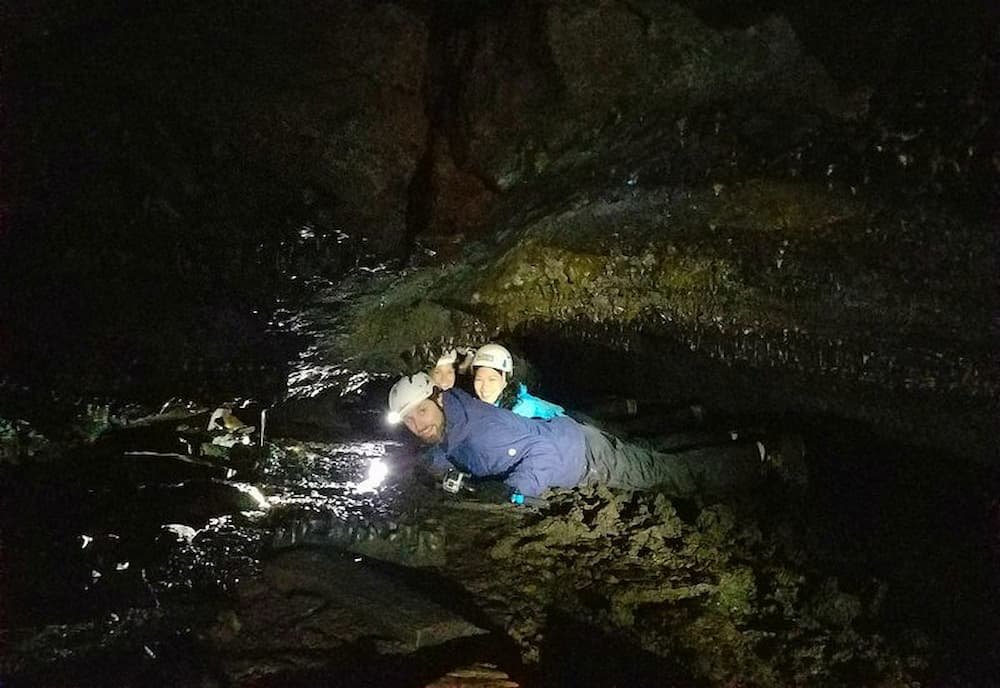 We literally saw the light at the end of the tunnel at the end of our caving experience, and my husband, having twisted and contorted himself, managed to come up sweaty but unscathed. Ditching our caving gear, we had a quick stop to check out some fish being dried out on branches in the sun.
It was quite the sensory overload, seeing hundreds upon hundreds of huge fish (heads and carcasses) being dried out while getting an intense stink. It's an Icelandic tradition to dry fish out in this way, to be used again in dishes to give them what will certainly be a strong flavor.