The image that immediately springs to mind for most people when they think of Cappadocia is hot air balloons. While there are many places where people can experience this (we're working on this Wanderlist as we speak), this region in Turkey is well-known for being one of the top activities for those who visit.
We had a 13-hour flight coming from San Francisco direct to Istanbul, and then a brief layover before our connecting flight to Cappadocia. Our flight was delayed to Istanbul, so we were stressed about making our connection – particularly because it was the last flight out that day, which would mean that we'd miss the chance to experience being in a hot air balloon the next morning. One thing about Istanbul is that it is a huge airport, which makes sense since it is the gateway for flights not only within Turkey, but also across Europe and Asia. The airplane taxis for what feels like 10 minutes after landing., which feels like a really, really long time when you're trying to make a connecting flight.
But… we made it! That flight was delayed as well. Once we landed in Cappadocia, it was after 10 pm, and it took 40 minutes to get to our hotel, which was mostly driving through darkness (no street lights) until we arrived in the town of Gozleme, which has a few streets within the town square filled with restaurants, cafes, food stalls selling dondurma, or Turkish ice cream, and souvenir shops.
We stayed at the Luvi hotel, a newly-built cave hotel built in the last couple of years. I'm one of those people who gets really excited before opening the door to where I'm staying, and it was really cool to be sleeping in a room that has been literally cut into the rock!
Hot Air Ballooning in Cappadoccia
After about 4 hours of sleep, we woke up for a 4.20 am pickup from our hotel to have breakfast (which I learned was small by Turkish standards) and we were then whisked away to see all the hot air balloons getting ready.
It was slightly chilly as the sun was yet to rise – depending on what time of year you go temperatures can vary (it can get to minus 22 degrees Celsius in the winter!). It was awesome seeing all the balloons getting filled with air, and each of them starting to rise up into the sky one after another. There is a maximum of 160 balloons that go up at one time, so it's quite the sight to behold. There was only one flight that day for sunrise, although during the winter there can be two flights daily.
We chose Voyager Balloons to take us up into the air, who were great. It cost us $220 per person (including transport to/from hotel, breakfast, hot air balloon). Our balloon held 16 people (sizes vary up to 32 people). Seeing the unique landscape from the air was incredible, with beautiful rock formations, pinkish-colored rocks, and farmland growing grapes, apples, squash and other fruit and vegetables. The landscape looks out of this world. Many of the rock formations had windows and steps cut into them, which we later learned was for people to collect pigeon poop to use for fertilizer and fuel.
The flight was about an hour long, and while there are hundreds of people experiencing the same thing as you simultaneously, it felt really peaceful being up in the sky. You also get a lot of variation in elevation – we were able to soar up high past the horizon to see the sun start to peak out, and also get very close to the rock formations to see them very close up. The pilots were impressively able to maneuver around, including landing pretty much directly onto the back of the trailer (which then drove us to an open space, while we were inflated, before we disembarked!).
After landing, we had a bottle of champagne (alcoholic and nonalcoholic versions), and snacks, and everyone was given a certificate at the end to commemorate the flight experience.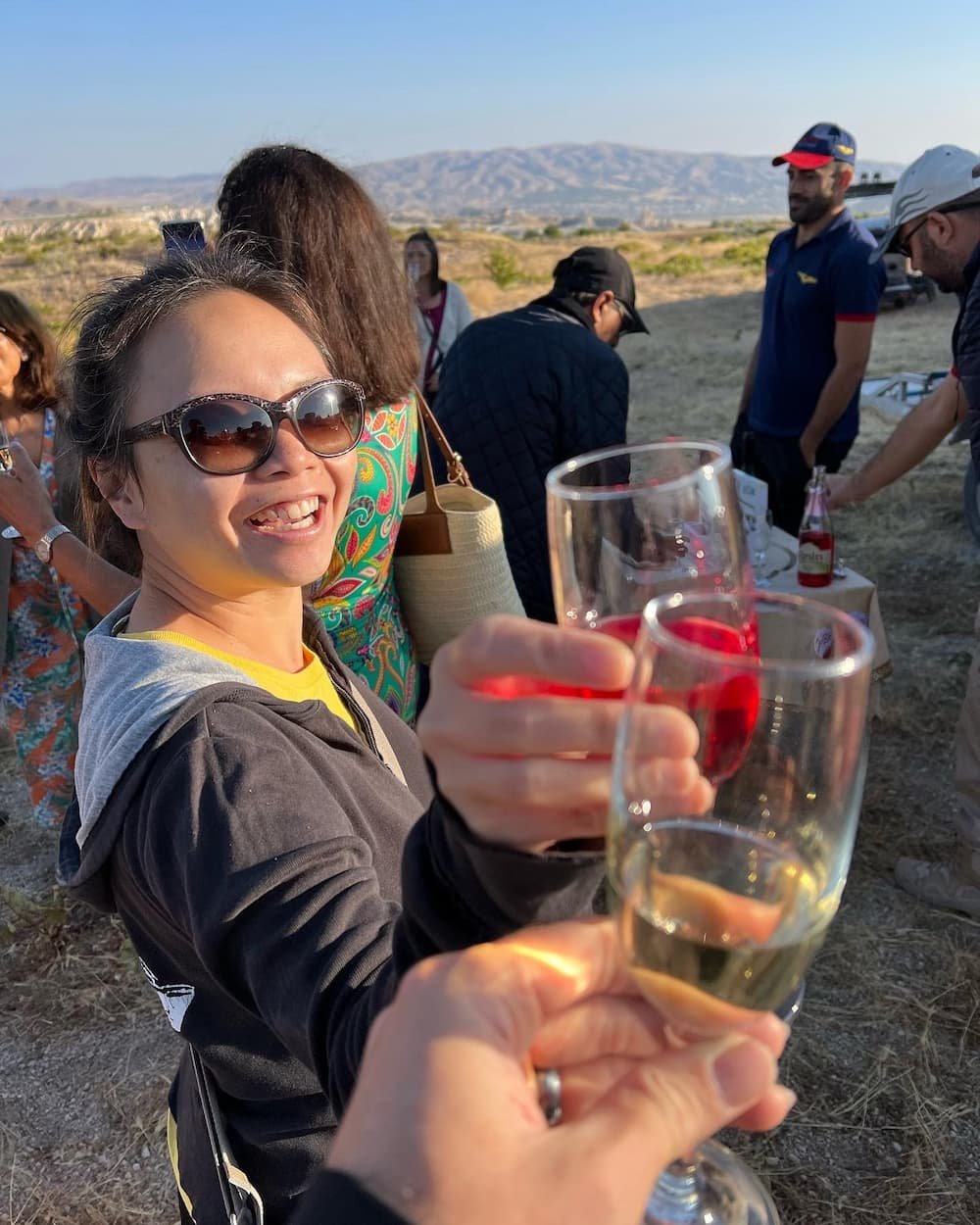 While Cappadocia's weather means that flights happen for at least 100 days in a year, if you do visit it's a good idea to be there for a couple of mornings, in case the day of the flight you'd booked is canceled due to poor weather conditions. Having said that, flights do get booked out, so you're also not automatically guaranteed to be added for the following day during peak season.
Going on a hot air balloon anywhere is an amazing and memorable experience, and the landscape at Cappadocia makes it even more special. The whole trip wraps up by around 8 or 8.30 am, time for a second breakfast (food is absolutely delicious – check out my separate post here), and certainly enough time to drive around and explore the sites on the ground.