If there's one thing that Iceland isn't scarce on, it's natural beauty. From imposing volcanoes and glaciers, to animated clouds and awe-inspiring waterfalls, Iceland has something to marvel at behind every turn.
Extreme Iceland packs in as many of these sights on its South Coast and Jökulsárlón Ice Lagoon tour, where you see icebergs, black sand beaches, glaciers, lava fields, and waterfalls in an action-packed two-day adventure.
Seljalandsfoss
Driving out of Reykjavik, the first stop is Seljalandsfoss, a beautiful waterfall that plunges down over 60 meters into a shallow pool. The water comes from the infamous volcano and glacier Eyjafjallajökull, which erupted in 2010 and led to thick volcanic ash covering the earth and halting flights all over the world for weeks. We had a lot of fun trying to pronounce the name on the bus with our tour guide (hint: the letter j is pronounced as a y sound, and two consecutive l's are pronounced as 'at'). You can also walk behind the waterfall for a unique view – although wear wet weather clothing, as you will certainly be splashed!
Skogafoss
The word 'foss' means waterfall in Icelandic and not too far away is Skogafoss, which is also 60 meters in height. You can see this waterfall from further away and what's great about it is that there are stairs (which are more tiring than they look to scale!) that lead to the top of the waterfall. For those not as inclined to make the hike up, there are plenty of beautiful vantage points on the ground level – whether it's standing by the stream where the water plunges into, or from further away to take in all the grandeur. We were fortunate enough to see a couple of rainbows while there, making the waterfall even more magical to behold.
Black sand beach
When you think of beaches, Iceland is not the first country to spring to mind, but it's home to a beautiful black sand beach in the village of Vik, which is also characterized by intricate basalt column formations next to Reynisdrangar, which are basalt sea stacks that stand next to a cave right by the shore. The beach is also littered with pebbles and rocks – mostly black in color, although you can see tinges of greyish-blue and brown rocks as well. You can sit on the beach, and stack some rocks while looking out at the dark ocean in front of you. Apparently, it's common for someone to try and go for a dip (which I wouldn't dare to) – and yes, a tourist did in fact try it out in the freezing cold while we were there!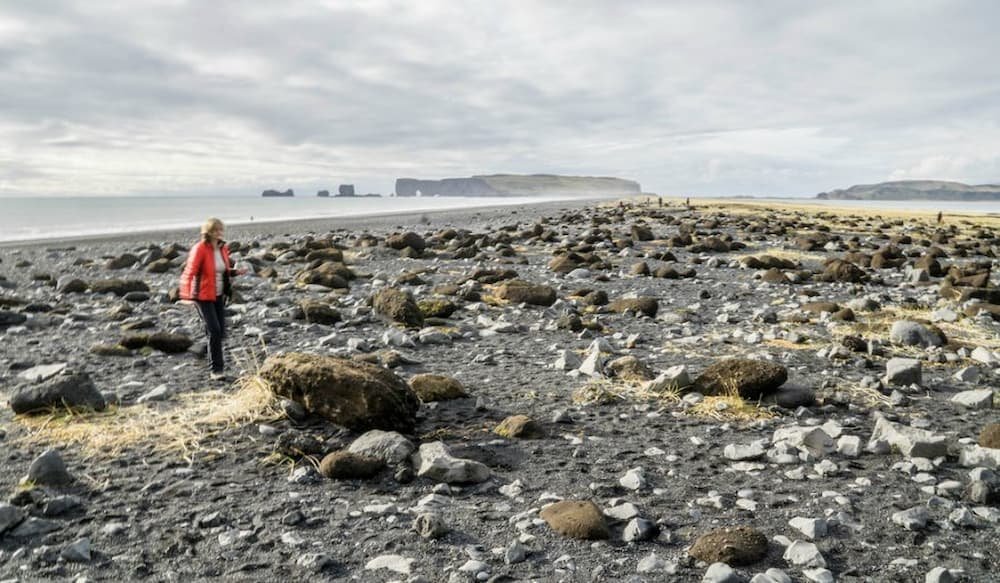 As our tour bus snaked our way through the south of Iceland, everyone continued to be struck by how gorgeous and impressive the scenery was in the country. Photos and videos as we zoomed past on the minibus would not be able to do it justice. Houses looked minuscule against the backdrop of a huge mountain, which would more often than not have a waterfall behind it. And we're not talking a little stream either – rather, it seemed like every house had its own personal waterfall!
Jökulsárlón Glacier
As the sun started to set for the day, we made it to Jökulsárlón Glacier Lagoon – and if you weren't awestruck before, this place will absolutely blow you away. Jökulsárlón is the setting for many Hollywood movies and it's easy to see why. There are huge chunks of icebergs sitting in the lagoon, with many glistening bright blue in the light, or tinged black by volcanic ash. Some of them idly sit in the lagoon, while at times you can hear some suddenly crack and break into smaller pieces, floating out to sea. You most likely will see seals hanging about and leisurely swimming through the icebergs, looking like they have not a care in the world and not noticing how frigidly cold it is.
Our accommodation that night was at the Country Hotel Katla in South Iceland – very cozy with a yummy dinner, warm and neat rooms and wi-fi. The decor is rather kitsch – think random plug-in crystals and hand-stitched crafts in glassed shelves – but that's what makes it more quaint and charming.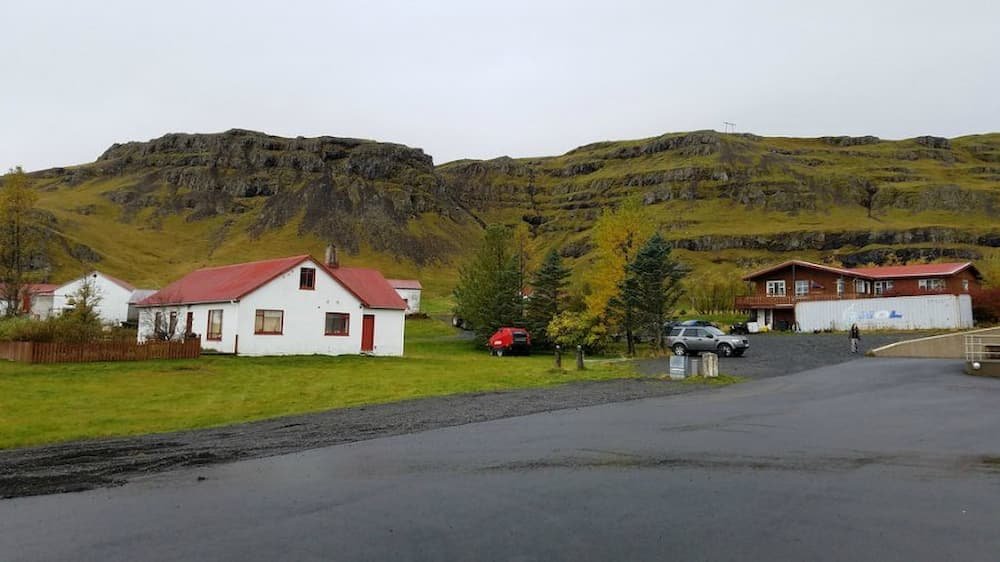 The next morning it's back to Jökulsárlón to see the magnificent lagoon in a different light. If you're so inclined, you can pay for a boat ride to take you through the lagoon, or you can walk along it and spot more seals, try your hand and balance skills at rock stacking or just sit and enjoy the view. If you walk past the bridge towards the ocean and keep going until the shore, you'll be rewarded with more phenomenal sights – huge, glistening and crystal clear icebergs stranded on the shore. It's fun to take pictures next to (or on!) these icebergs, and see even more seals playing in the water.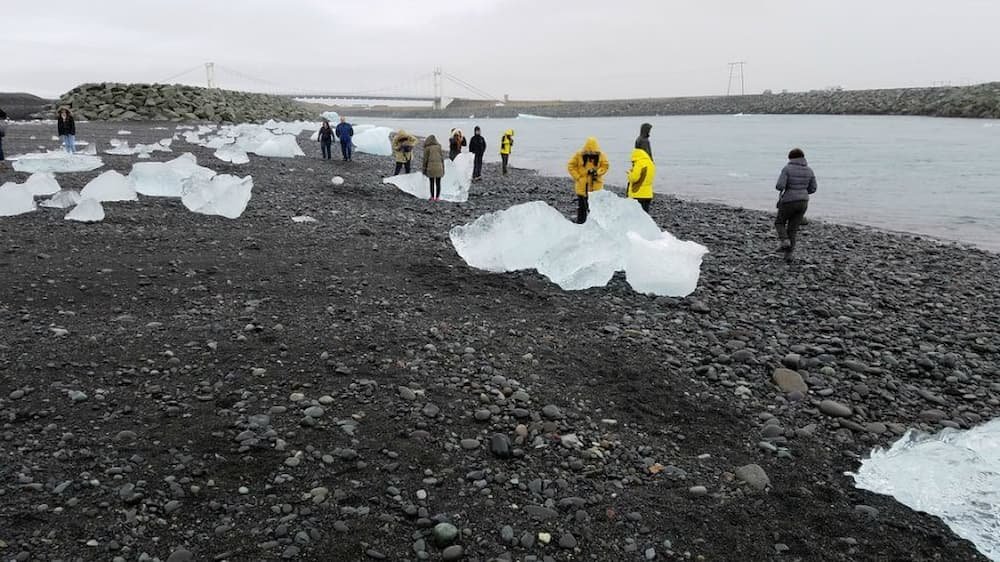 Hiking on a Glacier in Iceland
One of the highlights of this tour is hiking up a glacier in the Skaftafell area. The glacier is made up of fallen snow, that compresses as the weight of the snow keeps accumulating over hundreds and hundreds of years. After being fitted for the right size crampon to put on over our hiking boots, given a helmet to wear, and an ice pick to walk along with, we were off.

Walking with crampons is sort of like walking with ice skates on as they're both heavy on your feet and you feel like you're walking on clouds as soon as you take them off. But the best way to walk with crampons is like you're in a Western movie – feet apart, slightly bent knees, and stomping flat on the ground with each step!
During the hour-long hike, we saw crevasses gushing with icy water within, and areas where the snow was not as compressed to see the dark rock exposed a bit underneath. The air and the whole area seems so pure – we even picked a bit at the packed snow to find a clean chip of ice and taste the delicious freshwater. There's something very special about walking on ground that you feel not many people have walked on and seen the exact way you have.
The weather can change very quickly and dramatically in Iceland – fortunately, during the hike the weather was sunny and clear, but before and after it we did experience dark, brooding clouds and rain. The cold is also biting – we ran out one time to check out a lava field (the ground is so fun to jump on because it's so spongy) but didn't last long before wanting to run back in the warm minivan – the icy wind made sure of that!
Our guide, Thiddy, was a wealth of knowledge throughout the entire trip – he was extremely informative and entertaining, and we felt like we were traveling with a genuine Viking descendant (in a good way, of course). Whether you're a solo traveler or visiting Iceland with a group of friends, this two-day tour is a great way to pack in many of Iceland's southern highlights for a memorable adventure.