After enjoying the beauty of Agra, the next stop for us was Ranthambore, where we would be spending the next two days on the hunt for the elusive Indian tiger on several safaris.
We decided to splurge on our accommodation for the next couple of nights was one of the best on our trip – Vivanta by Taj, a five-star villa. Our room was massive – a king-sized bed with a safari tapestry hanging on the wall above, tiger-striped cushions and a huge marble bathroom that included a spa. It was so big that we had two air-conditioning units as well – definitely nice and plush!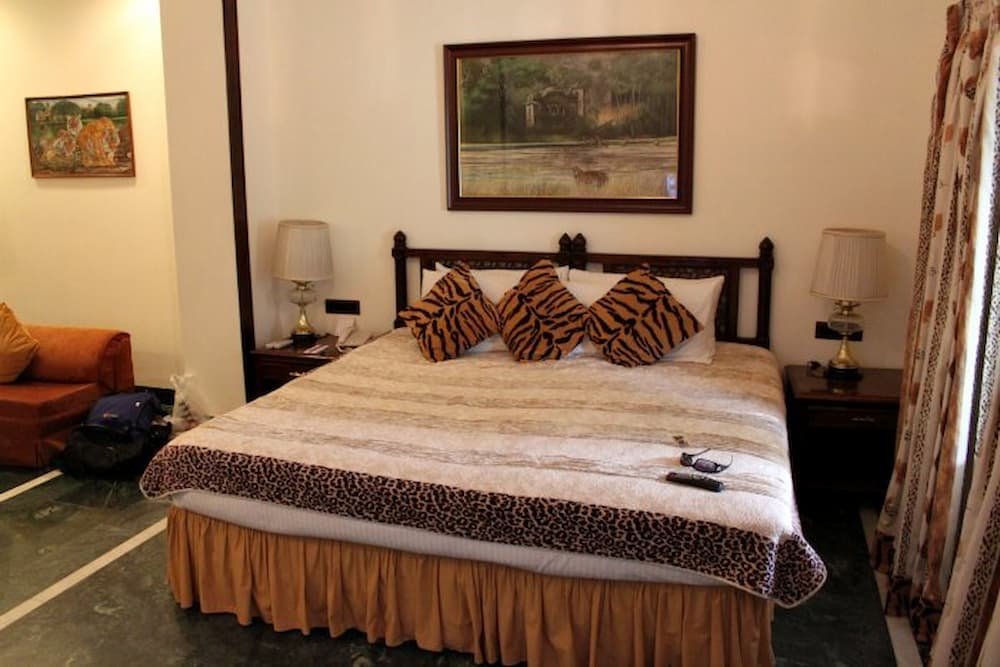 In keeping with the safari theme, the hotel had a couple of stuffed wildcats – a tiger hung above the pool room while a leopard was encased in glass next to the reception area.
That evening, we were treated to a dinner fit for any Maharaja – an outdoor buffet dinner with lots of Indian dishes including daal and curries. Fresh naan bread was being made by two ladies clad in colorful saris, while dessert was the round, syrupy sweet gulab jamun and vanilla ice cream. To add to the ambiance, we had a family playing music, singing, and dancing, while clear bowls filled with rose petals floating in water and candles topped everything off.
The next morning, we woke up before dawn (yep, even before the crack of dawn was up), to get on our 6.30 am safari. We were on a canter for all three safaris over the next two days – basically they look like big buses with the roofs cut off. It was freezing though – the dew overnight meant that the seats were wet on the canter, but luckily we were provided with blankets to sit on and wrap around ourselves as the chilly wind whizzed past us.
After picking up a few more tourists, we were on our way to Ranthambore National Park. One of the biggest and most popular national parks in northern India, the chief attraction is the tiger, which is now endangered thanks to the site being a former hunting ground for the British and the Maharaja.
The park is crammed with other amazing flora and fauna that would enthrall any nature lover though – you can see massive trees (palm, gum and the second-largest banyan tree in India), marsh reeds, flat plains, and rising cliffs. There are also scores of birds (kingfishers, vultures, buzzards, snake birds/Indian darters, peacocks, and partridges), two types of deer (spotted and sambar), cheeky monkeys, and crocodiles (we saw one swimming in Padam Lake, one of the three lakes in the Park).
We didn't have to wait long to see wildlife in action either – as soon as we drove in we saw an eagle swoop down at lightning speed to poach a rodent. David Attenborough would have a field day doing commentary in this place!
The terrain was incredibly bumpy to navigate around – we marveled at the skills of our driver, who seemed unfazed in backing up and down the essentially one-way road (heaven forbid what would happen should we cross paths with another canter – I think it would be a bit of a standoff to see who would back down first!).
We had our third and final safari at dawn the next morning. On this trip, we were the closest to spotting a tiger – it had rained in the morning so we spotted fresh tracks on the road, apparently trailing a bird.
Unfortunately, we didn't see it in action, but over the three safaris highlights included gazing at a crossing of over 20 spotted stag and deer, watching a family of monkeys casually munching on berries in a tree (and getting up to some naughty monkey business), as well as several huge birds perched atop branches, pondering their next move.
Our tip for anyone interested in going for an Indian safari? If you can, try and score seats in the jeeps instead – they are smaller, less noisy and can drive further into the dense terrain – so you do increase your chances of seeing tigers and other animals that typically wouldn't make their way down to the tracks.
With all the noise our canter was omitting, I wouldn't have been surprised if we had scared the tigers away. If you don't manage to hitch a ride in a jeep and opt for the canter, definitely aim to get seats right up the front looking out the windscreen.