Sharm el-Sheikh is one of the world's top scuba diving destinations for any recreational or highly-experienced diver. Situated between the desert of the Sinai Peninsula and the Red Sea, Sharm el-Sheikh (or "Sharm" as it's commonly abbreviated), is a well-trodden tourist town, filled with resorts, white umbrellas lined up along the sandy beaches, and dozens of restaurants, bars, and shops.
Sharm was the last leg of our trip to Egypt, where we could kick the desert sand off our dusty shoes and laze along the clear waters of either the beach or the hotel pool. As a recreational diver who is always eager to add a few more dives to the list, this part of the trip was also a major highlight.
Sharm is famous for its clear waters and varied dives, including coral reefs, colorful and incredible marine life, dramatic drop-offs, caves, and wrecks. Some of the sites are for more advanced divers as there can be stronger currents, but there are around 30 different sites that can be easily explored on day trips for any level of experience. Diving in Sharm is possible year-round, with water temperatures ranging from 27-28 degrees Celsius between July to September.
I went diving with Camel Dive Club, which has offered scuba diving and snorkeling packages since 1987. They also have a boutique hotel at the back of the dive shop, which most of the other people I was diving with opted to do. If like me, you stayed somewhere else, the Dive Club also offered transfers to/from the hotel.
I chose to dive for two consecutive days. On the first day, Camel Dive Club typically takes snorkelers and divers to a local site along the coast to ease us into diving in Sharm. Our two dive spots were at Ras Nasrahi and Ras Bob ("Ras" in Arabic means headland).
As soon as I went in, I was amazed by the coral biodiversity of the area - a marvelous variety of hard corals - from brain, finger, fire, and table corals, as well as different soft corals including leather, bubble, and tree coral. There are apparently more than 1,000 fish species living in the Red Sea, with many species found nowhere else on the planet! You may even see dugongs under the sea. While I didn't see any dugongs, I saw so many beautiful, colorful species - from parrotfish, anemonefish (hello, Nemo!), angelfish, and many others.
I decided to skip the optional third dive, and as I was relaxing on the boat I was surprised to see how close we ended up to the shore - so close that we were practically docked in front of a hotel resort where a few people were launching off a short pier to snorkel! It was so amazing to me how accessible it was to see such beautiful marine life from mere meters from the shore.
The other divers were just as diverse as the sights we were all there to see. There were no more than a dozen of us on the boat each day, and among us were Israelis, Latvians, and an Italian living in Saudi Arabia, English, Dutch, and a Uruguayan. The Uruguayan man went scuba diving multiple times each year and had braved a 38-hour trip from home to finally get to Sharm. A number of the divers were well-experienced and had been to Sharm before, eager to revisit the dive spots that had captivated them in previous years.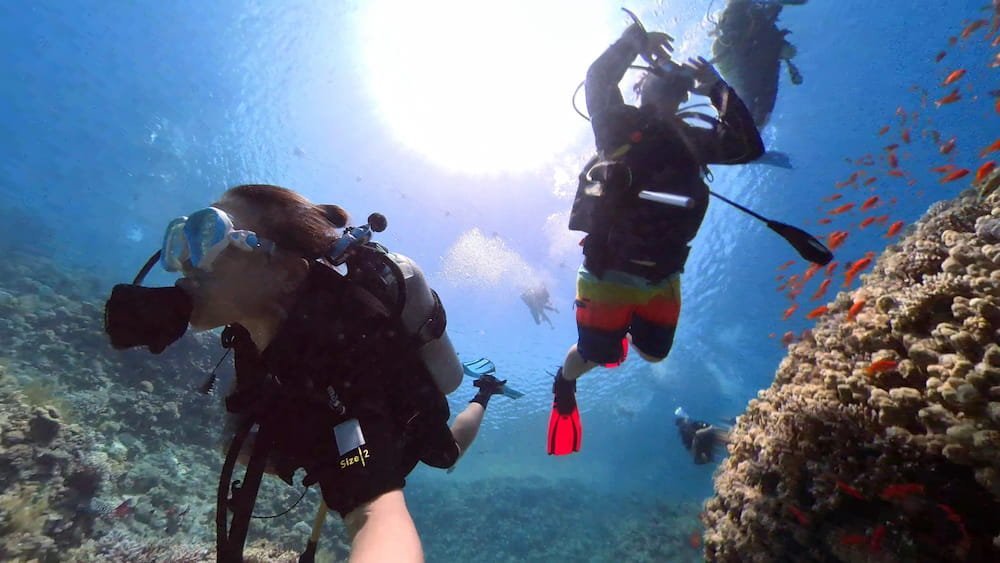 On the second day, we ventured out a bit further, to Ras Mohammed National Park, which is world-famous for its plentiful coral and fish life. Our two dive sites - Jackfish Alley and Shark & Yolanda Reef, certainly had a bit more of a current compared to the day prior. Apparently even in the winter months, these sites have great visibility (50+ meters), and in the summer months when we were here, we were lucky to see all sorts of jackfish, barracudas, moray eels, groupers, and eagle rays swim past us. Similar to the day before, there was an option to pay for a third dive, but I decided to rest my sea legs and enjoy the rest of the afternoon on the boat. Looking around, it was amazing to be within the calm and quiet of a national park, with desert all around us - I could even see Saudi Arabia from where we docked - yet underneath the sea was teeming with color and life.
For scuba divers wanting to go beyond the first two days, there are many other dive options available. These include Thistlegorm wreck (a World War II supply ship that is known as one of the world's top wreck dives), Dunraven wreck, and night dives. Diving with Camel Dive Club was easy and highly positive - they have an international team, were very helpful and professional, and made the whole experience memorable. I hope that Sharm will continue to be a diving paradise for many more years to come.