After what seemed like an eternity of flights from Sandakan to Kuala Lumpur and from Kuala Lumpur to New Delhi, we stumbled out of the sterile New Delhi airport that welcomed thousands of visitors arriving for last month's Commonwealth Games to be greeted by the contrasting smog, humidity and queues of distinctive black, green and yellow painted Ambassador taxis anticipating their next load of customers.
We were met by a representative of Adventure World, the company that we had booked our tours with for our stay in India. They then drove us to our hotel and we were as excited as a dog with a bone watching the scenes of Delhi unravel as we passed by – everything from tuk-tuks crammed with a dozen passengers or so on their way home, people jostling for their share of the road as they rode their bikes alongside the freeway (minus any helmet, reflectors or any safety gear of course) and men having impromptu meetings on the highway median strip as the traffic whizzed by within an inch from where they stood.
Arriving at Bajaj Guest House, our accommodation for the next two nights, we were welcomed with presents of silk scarves, (fake) single roses, and red bindi on our foreheads. Definitely recommend staying here if you're on the hunt for a guest house – the staff were warm and our room was massive – particularly the floor-to-ceiling marble bathroom with a walk-in shower.
While a sign on the back of our door said that tipping wasn't compulsory, we soon learned that pretty much everyone who provides a service for you – whether that be the bellboy in your hotel, the man who minds your slippers as you slide them off to go into a place of worship, or the sari-clad lady passing you squares of toilet paper outside the public restrooms expects it.
If you are visiting India and want a comfortable stay, check out Treebo hotels in Delhi as they are well-rated for their hospitality.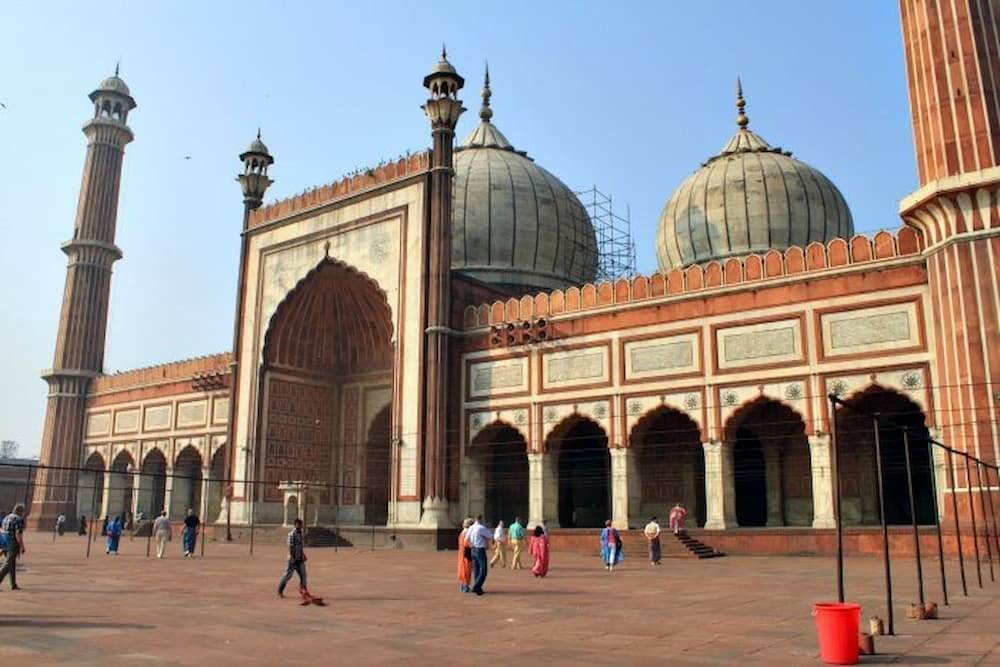 The hospitality continued the next morning with our breakfast of plain omelet, Indian-style spring rolls (crepes stuffed with various vegetables and spices), and vegetable macaroni (again, sauteed in more spices), before we headed downstairs to be met by our tour guide, Jhyoti and our driver for the start of our tour, which started at Jami Masjid, situated in Old Delhi and one of the largest mosques in India. Not only do you need to take your shoes off to enter the mosque, if your arms or legs are exposed at all you are provided with a long robe to wrap around you.
Built in 1656 by over 5,000 men, the massive 300-foot courtyard accommodates up to 25,000 devoted Muslims for prayer. Amidst the courtyard lies a large pool of water for washing, while two minarets frame the great central arch. We decide to test our legs and scale the dark, narrow, and dizzying stairs of the southern minaret that leads to some spectacular views of the city.
Perched at the top were five men from the state of Uttar Pradesh who enthusiastically accommodated us to seats in the already cramped minaret, raved about their love for cricket (the sport) and practically jumped for joy when we suggested taking a photo of them.
Saying goodbye to our newfound friends, the next stop was a rickshaw ride that snaked through the tapering streets of Old Delhi. Here, we uncovered tiny standing-room-only stores selling leis from the Diwali festivities that finished two days before, fried samosas sizzling that were being gobbled up by several men surrounding the store, as well as carts overflowing with bananas, lemons, and other fruits and vegetables.
The lanes were so narrow in parts that it was possible for the neighbors across the road from each other to shake hands, while the electrical wiring was so convoluted that any Western electrician who saw it would suffer their own convulsions. Everywhere we looked there was a story unfolding – whether it was the men reclining against their row of rickshaws, the lady wearing the beautiful yellow and red embroidered sari sweeping the street between a couple of mulling cows or even the scores of eagles flying overhead, ready to possibly pick on the remains of the ashes of those cremated down the Yamuna River.
Yet among the colors and craziness, poverty was more than apparent – including passing a neighborhood stockpiled with every car part you can imagine – and where you went to buy back your stolen parts from the night before!
Next stop was the inspiration for the Taj Mahal, the lesser-known Humayun's Tomb, built in the 16th century. Known as the "red Taj Mahal", it is made out of 34 shades of white marble and was commissioned by his wife, who was scandalously in love with her jeweler. Wanting to make a tomb for her lover as well but not wanting to draw attention to her affair, she constructed many other tombs across the sprawling complex. Wanting to be buried in a separate tomb upon her death, this wish was not granted by the people, who wound up placing her by her husband's side.
On route to Qutb Minar (also spelled Qutab or Qutub), we were stuck in a massive traffic jam thanks to US President Obama being in town. As traffic ground to a halt, bikes, and motorbikes were unperturbed, deciding to use the sidewalk to whiz past us.
Finally arriving at our destination, we discover that due to not having enough money to create his own place of worship, the Muslim ruler decided to hijack the site of an old Hindu temple to convert it to an Islamic one. Besides checking out an interesting and intricate example of Indo-Islamic architecture, the site features one of the great metal mysteries of all time – an iron pillar from around the fourth century BC that apparently nobody had the technical know-how to build until 22 centuries later.
According to legend, anyone who can put their arms around this solid, 24-foot pillar will have his or her wish granted (although there's now a fence around it to stop you from trying). Amazingly, the pillar has never rusted – adding to the enigma behind it.
I manage to catch the eye of a gaggle of schoolboys while Mike and I take a photo together – seconds later, we're surrounded by a dozen wanting to take photos with me! I wonder who I was mistaken for. Pushing past my admirers (cough), I later see a sign for "Paras Chemist" and learn that my surname in Hindi is the most sacred stone atop a snake's head. There's also "Paras Milk" (the first "bactofied" milk in India) and "Paras International Hotel" in Delhi. Indeed!
Last stop was Rashtrapati Bhavan – the President of India's official residence where you can only take photos through the gates. In typical Indian style, while India's parliament neighborhood is immaculate, the gardens are not complete with elephant-shaped bonsai and of course, a couple of resident monkeys running through.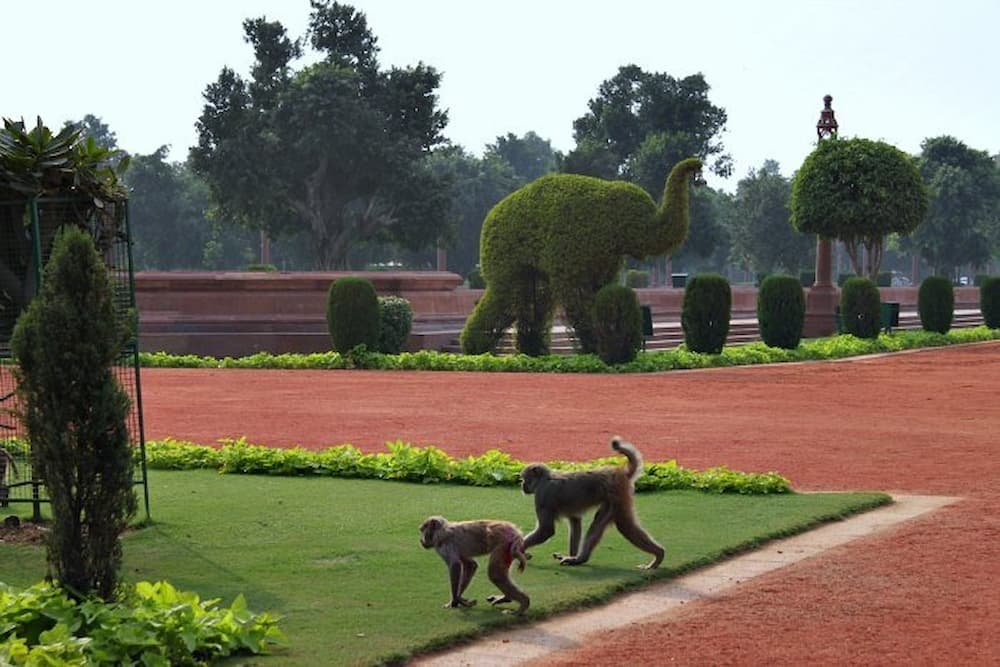 Culture-crammed, we wind our day with a delicious Indian meal of roti, naan, chicken tikka and keema curry, washed down with mango juice. Too stuffed for a full-blown dinner, we skip dinner and hunt down a sweet store, Bikanervala, which hits the spot with crumbly and milky squares of heaven. We recommend the kalakand – yum!