Here is an outline of our recent trip to Malaysia and some of the fun experiences that we had on the mainland and Borneo, including some up-close encounters with the local wildlife.
Kuala Lumpur
The Air Asia flights land at the KL low-cost carrier terminal about an hour's drive away from the city center, so we had an amazing eagle eye view when landing of millions of palm trees stretching out as far as the eye could see. If we didn't feel like we were on holiday before, the humidity, heat, and environment definitely made us feel like we had started our trip (and were sweat monkeys in desperate need of a toothbrush and shower).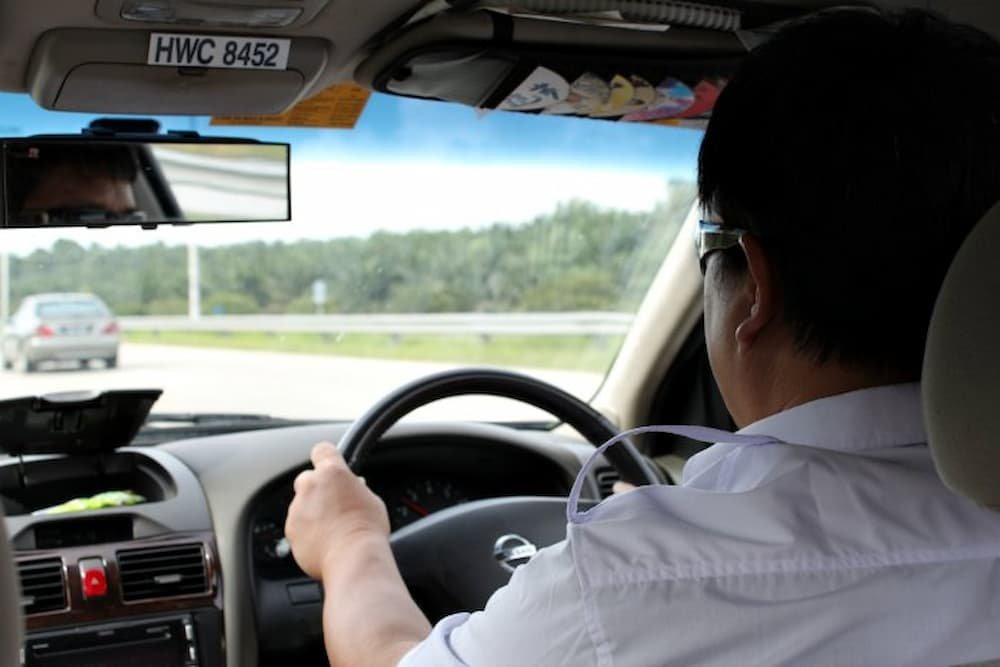 Not having enough patience to wait for a train to the city center (that cost RM12.50, about US$4), we forked out the RM102 (about US$35) for a taxi that took us straight to the hotel. Not only did we have full air-conditioning the whole way, we were treated to our own private Asian rave – complete with high-pitched singing and '80s style keyboard synthesizers – we couldn't help but get into the 'music' in the backseat.
After freshening up we then walked for about half an hour down to Bukit Bintang, known for its restaurants, shopping malls, and nightlife to eat nasi lemak (rice, peanuts, dried anchovies, sweet chili with satay chicken on the side, served upon a banana leaf). Lisette loved it so much that she's eaten it three times (the flight, dinner and breakfast the next day).
Stuffed, we walked around the shopping areas (Mike, the obvious tourist being accosted by every street vendor for massages, dinners and other knick-knacks) before wandering back home to take the even more gratuitous tourist pics (on a tripod, no less) of the Petronas Twin Towers across from our hotel. Our tip? While we walked the first time around, the light rail system will save you from the humidity and won't make much of a dent in your hip pocket – it costs RM1.20 (about 40c US) for a one-way trip.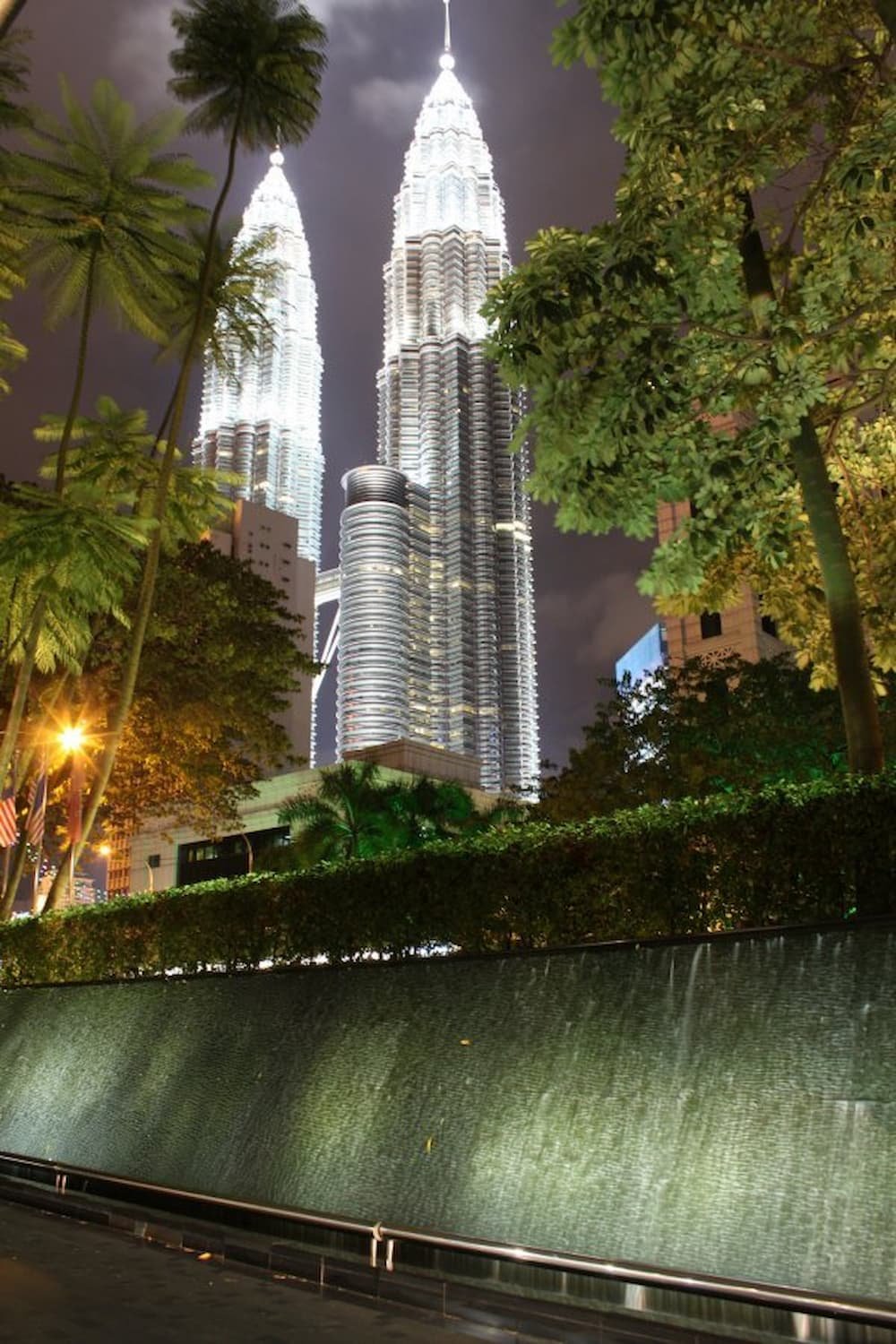 Our day started by wandering over to the Petronas twin towers, which were not far from our hotel. However, we were dismayed to find out that the sky tower and observatory deck is closed on Mondays – and today was our last day before going to Sandakan, so we would have to miss out.
The towers are filled with offices with the bottom four or so floors filled with expensive, up-market shops such as Tiffany's, Chanel, Prada, Gucci etc. Clad in shorts, flip-flops, and t-shirts, we obviously weren't the target audience so we decided to take the train to Chinatown to check out shops that were more appropriate to our price range (and yes you can bargain here as well). Here, the markets are the place to buy cheap (and fake brand name) clothing, bags, shoes, toys… and DVDs. While you won't spot a counterfeit DVD store in sight, foreigners are often approached by people trying to peddle the latest movies in hushed tones, trying to usher you to the back streets to check out their wares.
Mike had a craving for McDonalds – while I don't eat at the Golden Arches when I'm at home, it is interesting to see how the food giant tailors its menus in each country. The special here – a spicy chicken burger and a black pepper spicy chicken to cater to the Malaysian palate. The patty is deep-fried (different from our grilled burgers back home) and our verdict was that it was the toughest chicken patty we had ever tasted – I think it had been cooked five times before it reached our lips, it was that tough!
Have you ever bumped into someone on your travels that you know, which makes you realize how small the world truly is? Going back to Petronas mall en route to our hotel, I bumped into a friend who studied at the same university as me – she is Malaysian and had gone back to her home country after finishing her studies in Australia three years ago. Stranger things have happened!
Sandakan, Borneo
We left Kuala Lumpur that afternoon to catch an Air Asia flight to Sandakan, a town in Sabah, Malaysian Borneo. Arriving around 9 pm on one of the last flights of the day, we were greeted with pouring rain and no hotel pick up (even though this had been prearranged direct with our hotel – the 2Inn1 Hotel). Even more frustratingly, once we did manage to get a cab to the place, the hotel said that they were full (we had confirmed our reservation previously three times) and the bellboy kept the taxi driver and my luggage hostage at the front door! Luckily, reception managed to find us a room in the end – though to top it all off, our next-door neighbor seemed to have a serious whooping cough problem, keeping us awake all night.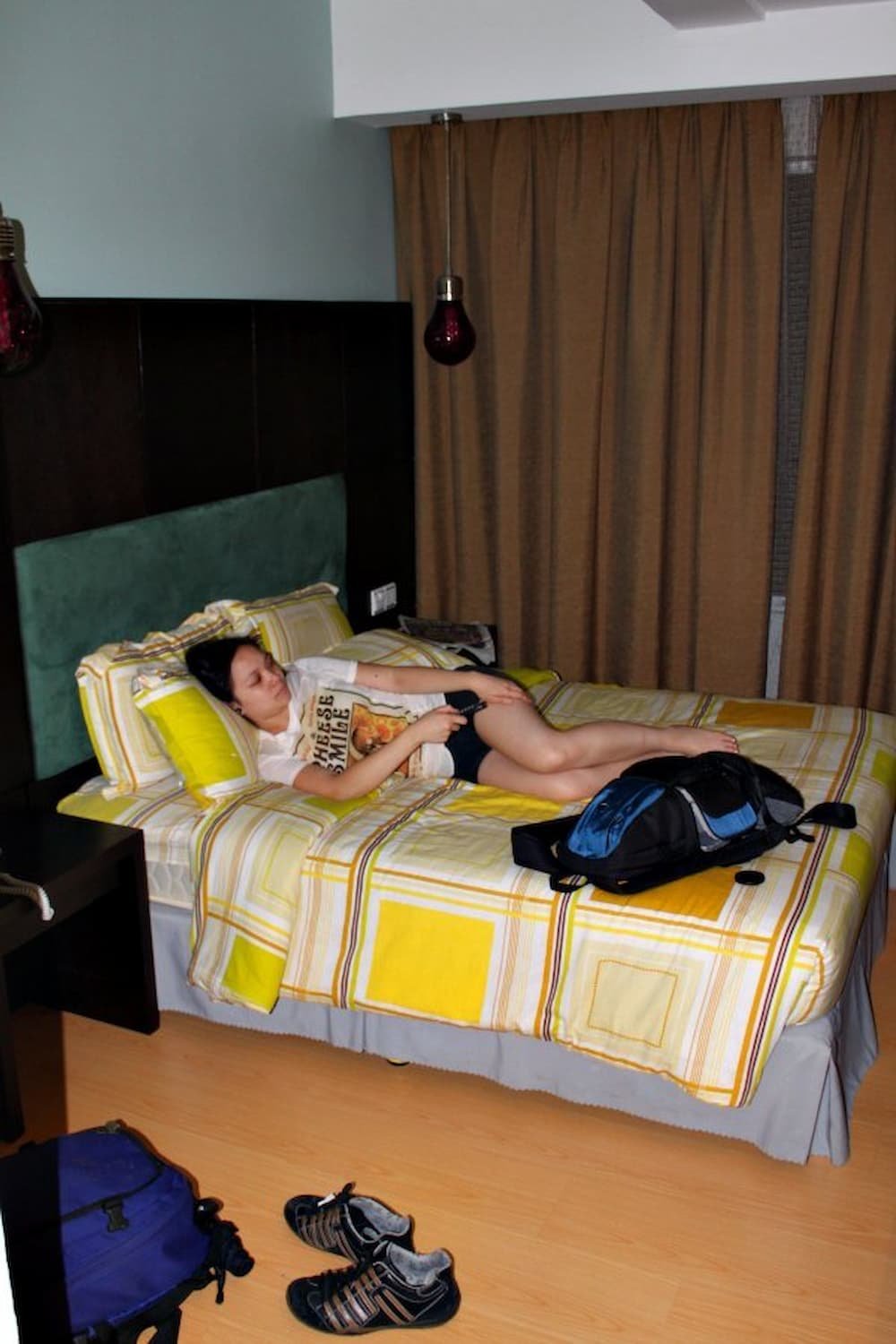 Sandakan was ours to explore the next day – we had the morning free so wandered into the city center, which does not have much in the way of tourist attractions. There are lots of shops, kedai kopi (literally coffee shops, these are cheap eats where you can have noodles, soup, fried chicken and other meals for less than $2-3 per person).
Given that there's not much to see in town, we were pretty much the only foreigners in sight. That's not to say that there isn't anything to see – compared to Kota Kinabalu on the other side of Sabah, Sandakan is a bit off the beaten track when it comes to tourists but is fast growing in popularity as it offers some similar attractions.
We organized a local driver to take us to visit the major landmarks. His name was Lawrence and the first place on our agenda was seeing the proboscis monkeys, native to Borneo and having distinctive long noses and fat bellies.
Labuk Park
The sanctuary in Sandakan, called Labuk Park, houses dozens of these curious creatures and is jammed packed with other native wildlife, including silver leaf monkeys, otters, goannas, lizards, eagles, hornbills and other birds.
While you can't really get close to a proboscis monkey (they tend to shy away), the silver leaf monkey, hornbill, and otter weren't so timid – you could pretty much touch them. There are regular feeding times for the monkeys each day, which allows you to stick around and enjoy seeing the monkeys climb, eat, play, and nurture.
Sepilok Rainforest
The next attraction was the orangutans (in Malay this means "man of the forest"), adorable primates that have over 95% of the same traits as humans. Sepilok Rainforest in Sandakan is one of five sanctuaries created to help save these endangered animals in the world – the others are either in Indonesian or Malaysian Borneo.
In Sepilok, over 2,000 semi-wild orangutans live in the forest. We were fortunate to not only see them in the feeding platform crammed with tourists but to see several (including two mothers carrying their babies) lumbering or swinging alongside us as we wandered along. We definitely recommend checking out both of these sanctuaries and seeing these guys.
Other attractions we visited included the Australian Memorial Site from World War II (only six survived from the hundreds of British and Australian soldiers fighting against the Japanese), Pu Jih Shih temple (a Chinese Buddhist temple built high atop a hill, which provides an eagle eye's view of the city) and the English tea house (previously where British high ranking officers were stationed, it is now a restaurant and venue to have high tea during a game of croquet).
Lawrence was keen to please us and we ended our day at a local restaurant of his choice called the Modern Curry House where we were more than happy to shout him to dinner. The food was incredible and we finally got back to our hotel with our very full bellies and collapsed in our room.
Our hotel also offered spa treatments, so we chilled out at the end of the day with a full body massage. Arriving there, I realized that massages here seem to be a male-only domain – the women were all getting foot massages only and tittered at me when I walked past. Self-consciously shuffling past, I was provided with only boxer shorts initially but the staff managed to find me a robe to wrap around me and I had to get undressed in an empty room as there were no change rooms to speak of. Being ushered into a sauna first, Mike and I were dehydrated prunes had we not decided to walk out (nobody came to get us).
Next, we were ushered into a cafe to have unlimited snacks/drinks (again, something that is unusual for a massage) and then to the massage room. "You want a Thai massage?" my masseuse asked. "No, I want an aromatherapy massage," I responded. "You want a Thai massage?" she repeated. "Oh…. okay," I said.
While the massage experience was lost in translation, after an hour of kneading, pinching and contortions, we emerged relaxed, only to return to our hotel room to hear our incredibly loud whooping cough neighbor, who kept up the coughs, gags, and splutters until 2 am. Ah…. at least we are headed to Lankayan Island tomorrow….
Here is a video from Sepilok.