Romania has a rich history and plenty of places to see. The people are friendly, and most of them have excellent English skills, but the fascinating thing about them, the idea that will drive you straight there is their traditional food. Your taste buds will be delighted with an explosion of flavors.
If you are curious to hear more about these traditional dishes, you will be happy to hear we have picked the top ten traditional foods in Romania, so you can add them to your list for your next trip to this beautiful country.
1. Cabbage Rolls
First of all, we need to say that most of the traditional Romanian food is challenging to digest, and it contains lots of various meats. This dish is the first one you must try when you get here. Usually, the minced pork meat gets mixed with rice and spices; then it's rolled into sour cabbage leaves. Then it will be boiled for hours in a special sauce that is usually a tomato juice which makes it simply delicious.
2. Grilled Minced Meat Rolls
Number two on our list, pork meat appears center stage again! Romanians call them "mici" or "mititei" which means "small ones" because they are only as long as one adult's finger. This food is created using a mixture of minced pork and cow, or pork and sheep, all mixed with spices and garlic; then they are grilled and eaten while hot with mustard or ketchup.
3. Beef Tripe Soup
When you hear the words beef tripe, you might not be so impressed. But you will put your preconceptions behind you after trying the Romanian Beef Tripe Soup aka Ciorba de Burta. This is the soup of a beef's stomach served with sour cream, vinegar, and a traditional garlic paste, also known as "mujdei".
4. Polenta with Cheese and Sour Cream
Polenta, locally known as "mamaliga" is probably the second food Romanians will serve foreigners traditionally. This food is often served after Cabbage rolls or even grilled minced meat rolls.
How to cook it? Put some cornflour in hot water with a dash of salt, and sometimes you can add a few drops of sunflower oil. Mix everything until it gets the consistency you like.
It is usually served with sheep cheese and some sour cream, and sometimes you can even add some eggs.
5. Papanasi
This food is a desert people will love. It is donuts served with sour cream and sweet cream. Some restaurants prepare it a little differently meaning the donut will contain sweet cow cheese and topped with jam or berries.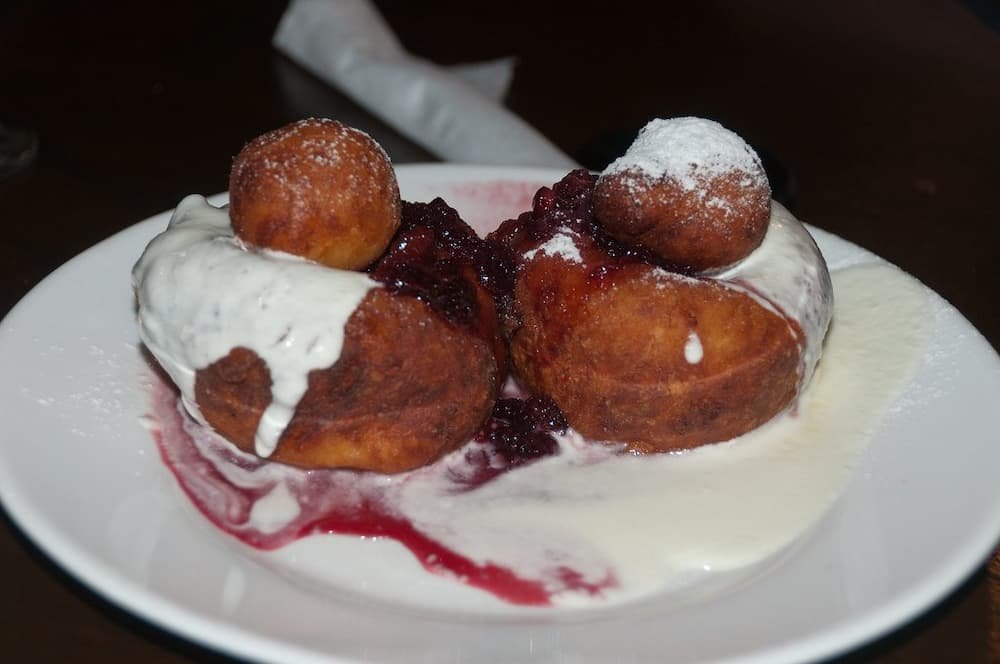 6. Soup from Radauti
This delicious soup is not for someone on a diet! Be aware it contains a lot of fat from the chicken meat, but it also contains many vegetables. You can usually serve it with sour cream, and you will love it!
Radauti is a city in Romania situated in the northeast region where all the incredible monasteries are. This soup is originally from here, but you can eat it all over Romania.
7. Greaves with Onions
Greaves is a pork product that is obtained by frying bits of bacon and fat, they are delicious and indulgent. Usually, they are served with large chunks of onions sprinkled with salt. This is an old traditional way of eating anything in Romania.
Lots of Romanian dishes are served with onions and salt.
8. Cozonac
Cozonac has no English translation, yet the closest one is sweetbread filled with a sweet walnut paste, whole nuts, or Turkish delight. Be aware this dessert is usually served during the Christmas and Easter holidays, but you can often find it during the rest of the year. Every supermarket sells it, but the real taste that will impress you is the homemade version.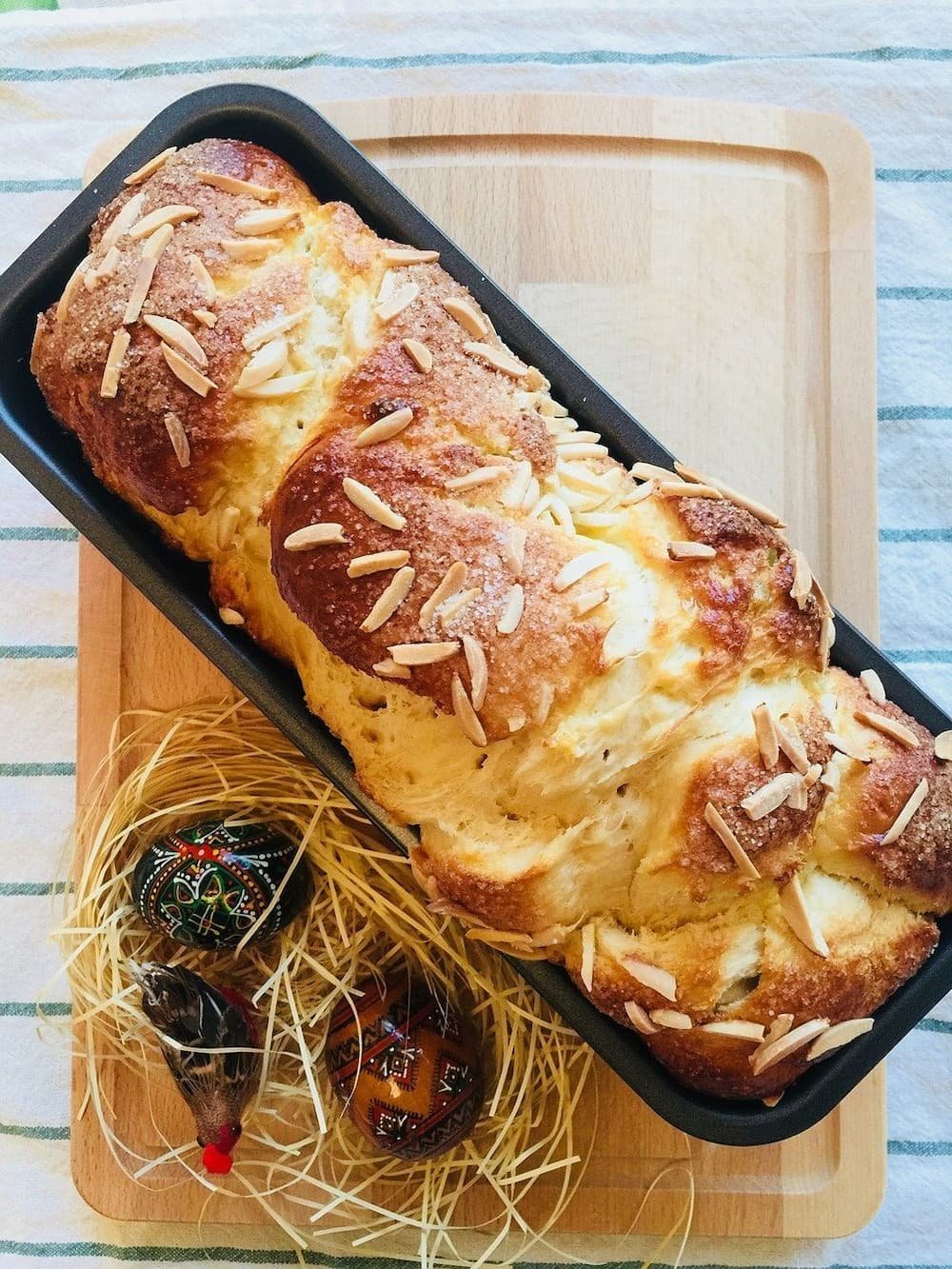 9. Beans with Hocks
This is another dish you can serve with big onions chunks. It's all about mixing beans with a big chunk of smoked pork hocks or any other type of smoked meat. The results are delicious and the smell…Don't mention it!
This dish is usually served during the winter when the temperatures are low, and this hot dish will warm you from the inside especially if you pair it with a traditional drink made of plums called plum brandy, in Romanian, it is called "țuica."
10. Sweet Dough Rolls
This dish is another dessert, but this one is only eaten once a year, every 9th of March. In Romania, there are two types of sweet dough rolls eaten in two different regions of the country. One in Moldavia, and another one in Muntenia, the Southern part of Romania.
The photo below presents the Moldavian version, which is way more significant. These 8-shaped pieces of sweet, sweet dough, are baked in the oven, and they are served with a honey and walnut paste topping.
Romanian traditional food is delicious, and you definitely will enjoy it. People who eat it once are so impressed by it that they return to Romania to eat it again and again!