It is difficult to pack lightly for a skiing adventure because of the kind of clothing and equipment necessary to enjoy skiing. However, there are easy ways to get around this problem. Begin by compiling a comprehensive list of ski gear.
Write a list
It is important to ensure that you pack everything you need to enjoy your skiing vacation and also to stay safe and healthy. First, write down 7 headings.
Vital items
Ski gear
Other equipment
Ski clothing
Other clothing
Toiletries
Other vacation essentials
Vital items
If you're a backpacker who loves to venture along the road less traveled, you may be considering cross-country skiing on backcountry trails. In order to find your way and avoid dangerous locations, take a mobile GPS unit. In case of disaster, pack a first aid kit and a locator beacon. Either of these could save your life.
Skiers who have a medical condition must pack any necessary medication. People suffering from allergies should take an EpiPen in case they experience anaphylactic shock.
Ski gear
Skiing equipment is heavy. If you want to travel light, hire it all at the ski resort. You will need to hire skis, a ski helmet, ski poles, and ski boots. Ensure you hire a good-quality, well-fitted ski helmet because your life may depend on it. For extra fun on the slopes, you could also hire a snowboard and try snowboarding. You may also need a ski bag to transport your ski equipment to the slopes.
Consider packing your own ski goggles. These touch your face, so using your own is more hygienic. While considering hygiene, ensure the ski equipment and any clothing you hire has been sanitized. If in doubt, use your own sanitizing wipes to clean any equipment that comes into contact with your face or body.
For cross-country skiing, take a small backpack. If you plan a long skiing adventure, you might consider hiring a pulk, which is a small sled you can pull behind you to carry camping equipment, your portable stove, and food. It's easier to pull a pulk than to carry a heavy backpack.
Other equipment
Whether you're flying down the slopes or exploring the winter wonderland on skis, a GoPro is ideal for capturing all the action. For great stills, a nature camera is useful. If you want to explore areas you cannot reach on skis, consider packing snowshoes. You should be able to hire a snowboard and ice skates at the ski resort.
Ski clothing
Just like with ski gear, you can hire specialist ski clothes at your ski resort. If you must take along a ski jacket, choose one that doubles as a normal coat for sightseeing or hiking. That will save space in your backpack.
The important clothing you can't hire at the resort is that which protects your extremities. You'll need a neck warmer to cover the gap between your helmet and ski jacket. Ski gloves or ski mittens and ski socks help prevent frostbite. Glove liners provide an extra layer of insulation for your hands.
Other clothing
When skiing, you need to wear plenty of layers to stay warm. When choosing layers, look out for clothing that includes electrical or chemical heating systems that enable you to stay warm while wearing less bulk. Such heated clothes will take up less space in your backpack. You should also take along clothes to wear in the hotel when you're not skiing, such as T-shirts.
Toiletries
If possible, purchase toiletries at your ski resort to save room in your backpack. Anyone who suffers an intolerance to some toiletry brands will need to pack their own from home. Band-aids are great for dealing with any blisters you suffer on skis. Skin moisturizer, lip block, and sunscreen are essential to protect your skin while skiing because of the harsh sunlight and rapidly changing temperatures. Baby wipes are essential when traveling with kids.
Other vacation essentials
Don't forget the standard items you need to take any time you travel. These include your bank cards, driver's license, international driving permit, and travel documents. Skiing can be a little dangerous, so ensure you're covered by your travel insurance and pack the insurance documents in case you need them.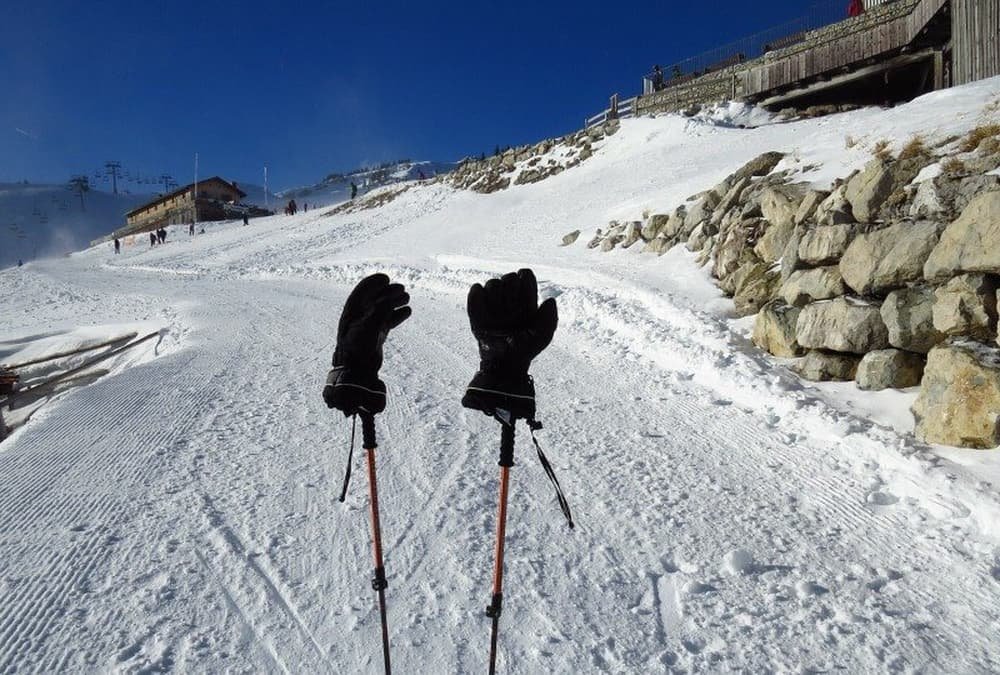 Packing
After you've completed your list, lay the items out on a flat surface, and empty out your backpack. As you pack, cross the items off your list. This ensures nothing important gets left behind.
Wearing your heaviest clothes while traveling keeps them out of your backpack. You can also carry your camera on a strap around your neck and pin it on your GoPro. Compression bags are a good way to squash bulky clothing into more manageable packages.
Pack the heaviest items into your backpack first and center them for better balance. Anything you might need frequently or in an emergency, such as an EpiPen, should be stored somewhere easily accessible, such as a side pocket.