Travel blogs have become incredibly popular over the years. Every month, new bloggers appear on YouTube who want to surprise users with their vision of the world.
The popularity of YouTube travel videos is because they engage viewers and completely captivate their attention. Videos take the viewer on a journey through an overwhelming experience that includes visual movement, sound, story, and personality.
According to the latest statistics, 2 out of 3 people who plan to go on vacation will watch travel videos about the country they want to visit.
In this article, we will share with you where to start, how to shoot travel videos, how to write a script, edit a video, and promote it on Youtube.
Also, it can be useful to watch other popular travel blogs to learn from their experience. If you'd like to learn even more, check out our guide - How to Create Compelling Videos.
Working Out the Route and Choosing a Location
Before you start coming up with the concept of your video, you need to use a trip planner, choose locations and draw up the timing and number of shooting days.
To stand out from other bloggers, you should either choose an exotic country that tourists do not travel to so often and unleash its full potential. Tell people about some unusual backgrounds they can see, visit and enjoy the trip.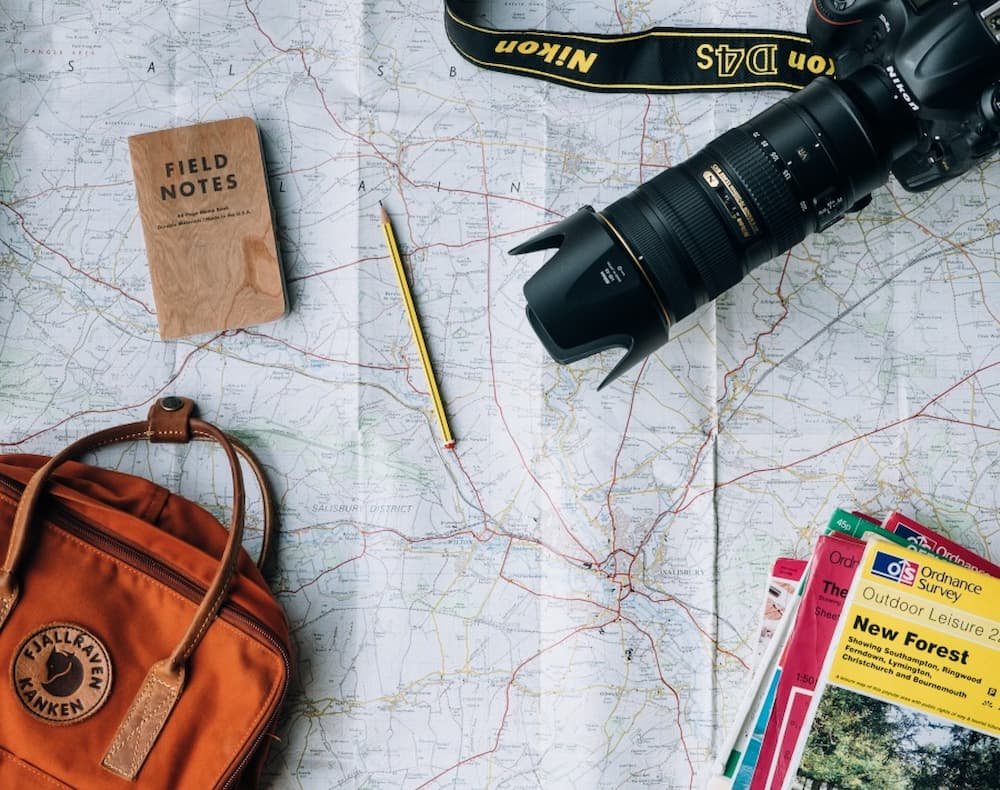 Also, you can shoot your video about a country that tourists often travel to, but to surprise the audience, you need to think over a unique route and tell about untrodden routes.
Make a clear plan of what you will shoot at each location and how long it will take you to understand the time frame of your trip. You will be able to buy plane tickets in advance, rent a car and book accommodation.
Equipment Preparation
When you have already decided where you will go and what you will be filming, it is time to pack your bags. The main rule of travelers is to take as few things as possible. You will need to go around a huge number of locations in a day, and a bag with heavy camera gear can significantly complicate your task.
Large cameras take up a lot of space and weigh down your bag. Great travel options are GoPro and other action cameras. They are compact, easy to install, and they shoot high-quality videos.
If you want to shoot a video from a bird's-eye view and show an unforgettable view from the location, then take a drone. Before traveling, make sure you have a license and that the drone can be used in the location you want to capture.
To save space, choose a pair of versatile lenses that are suitable for a variety of video formats and locations. Moreover, you can read experts' tips and organize your equipment.
Scriptwriting
To write a script that will impress users, you need to think about what goal you are pursuing and in what format you want to shoot a video.
Travel vlog
Vlogs are usually long videos of your trip to a country. Most often, they are shot in selfie mode. The purpose of such a video is to build communication with your subscribers as you share a part of your life. Be natural, and you will build a strong connection with your subscribers.
Guide
The purpose of this video is to introduce your viewer to different locations. You can choose the top unknown places or the best cafes and restaurants. The main goal is to inform the audience.
Niche videos
Typically, the purpose of such videos is to educate your viewer. For example, you want to talk about entertainment, or you specialize in gastronomic locations. You need to decide on the niche to which you will devote the topic and captivate subscribers with your passion.
Shooting
To better capture video clips and convey a complete vision, you should start shooting your video in the morning or before lunch. At this time, the frames are more saturated, and there are no shadows. Moreover, arriving early to the shooting location, you will have time to capture all the necessary shots before the tourists rush in.
It is important to show how you interact with the local population and how you pass through mesmerizing locations. This approach will allow you to convey your emotions and feelings.
Postproduction
First, you need to choose a program to edit your video. The most common are Adobe Premiere and Final Cut.
Next, you need to choose the musical accompaniment. Music can either spoil the impression or, on the contrary, add the desired atmosphere. Before using music, make sure that you are allowed to insert it into your video or get a license.
When shooting videos in different locations, background sounds will be heard. Somewhere they may be appropriate, but if you are leading your story, and behind the scenes, someone is shouting or talking loudly, then this can spoil the impression of your video. You can use the background noise removal app.
Add titles, where you will indicate the names of places, people with whom you are talking, and various statistics. When creating titles, use a font that does not overlap the content and is easy to read.
Publication and Promotion
It's best to upload your videos as "Personal." This can help you set SEO optimization, where you can write the description, title, keywords, and tags.
Optimization settings can allow you to target your video. Thanks to this, more people will see your video.
When adding keywords, use words that have a high frequency. It is also better to use keywords in the headline, but it must be done in such a way that the headline still grabs attention.
In the description, also use frequent keywords, and do not forget to include links to your profiles on other social networks.
After optimizing your YouTube video, you need to start promoting your video and channel.
Use the link to the video on social networks and forward the link to your video to other bloggers who may be interested in your video.
Interact with your audience. Invite your viewers to subscribe to your channel so that they get notifications about new videos.
Include comments on videos, so you read feedback and improve your content.
Create playlists for your videos. This way, subscribers will be able to find the video they want faster.
Conclusion
This YouTube travel video action plan can help you start filming your travel videos. Remember to think ahead and promote your video using the optimization and features that YouTube provides.