If you are planning a trip to Africa – or are merely an avid hiker – you may have wondered what the best mountain ranges on this expansive continent might be.
Home to some of the most fascinating geological features and gorgeous plant and wildlife species in the world, these five mountains in Africa should be on any outdoor enthusiast's hiking bucket list.
1. Ras Dashen
Height: 14,927 feet (4,550 meters)
Location: Ethiopia
Why It's Special
As Ethiopia's tallest mountain and the highest mountain in the Horn of Africa, this peak goes by several names, including Ras Dashen, Ras Dejen, and Ras Dashan. Located in the Simien Mountain Range, which is known for its steep ravines, rugged mountains as well as rare flora & fauna, this hike is a must for any avid enthusiast.
This mountain can be hard to get to, as Ethiopia has strained relationships with several of its bordering countries, like Eritrea. Therefore, the easiest way to get there is to fly. Once there, you must arrange your hike through a local park office. The hikes themselves are challenging, but not impossible. The park receives a lot of visitors, so as a result trails are relatively well-trafficked and easy to navigate, with only small scrambles requiring minimal technical skill.
2. Mount Rwenzori
Height: 16,762 feet (5,109 meters)
Location: Democratic Republic of Congo/Uganda
Why It's Special
Formerly referred to as the Ruwenzori Range, the Rwenzori Mountains are often affectionately called the "Mountains of the Moon." Located on the border between the Democratic Republic of Congo and Uganda, the mountain tops out at 16,762 feet above sea level and offers permanently snow-capped peaks. The mountain range is inside both the Rwenzori National Park and Virunga National Park and is comprised nearly entirely of crystalline rocks like granite and quartzite.
This mountain range offers multiple mountains and different hikes, each of which is separated by a deep gorge. Popular hikes include treks up Mount Emin, Mount Baker, Mount Gessi, and Mount Stanley. While these mountains are prolific among hiking groups, they are also popular for those interested in mountaineering and safaris. You can climb to the top of the highest peak in less than two weeks, allowing you plenty of time to visit the neighboring Bakonzo villages for cultural experiences and nature walks.
To get to Rwenzori Mountain National Park, you can use either road or air transport. The drive from the nearest town can take several hours, while it only takes about half an hour to land via charter plane. You can access the park from the Democratic Republic of Congo or from Rwanda. This hike allows you to see all the surrounding peaks and glaciers, and it's possible to reach all of the major peaks in less than two weeks of travel time.
3. Kilimanjaro
Height: 19,341 feet (5,895 meters)
Location: Tanzania
Why It's Special
Mount Kilimanjaro is the quintessential African mountain. Located in the Kilimanjaro region of Tanzania, this mountain is also part of a national park system of the same name. It is one of the major hiking destinations in East Africa, offering views of three volcanic cones (Mawenzi, Shira, and Kibo). It is also a dominant volcano. Kilimanjaro is the tallest mountain in Africa, rising 16,000 feet from its base above sea level.
Each year, nearly 17,000 hikers visit this peak, traversing over well-traveled routes like Machame, Mweka, Lemosho, Rongai, and Umbwe, among others. Machame is one of the most popular routes, allowing hikers to both summit and return in about a week. It is scenic but incredibly steep. Rongai, on the other hand, is easier but offers less scenery.
Regardless of the trail you select, all routes are about the same in length. There is a lot of accommodation available along the way or you can bring your own 4-season tent if you want to camp. The hike is marked by challenges that include high winds, cold temperatures, and, of course, a high elevation. Whilst you don't need technical climbing skills, you do need to be physically and mentally prepared for the journey and be aware that altitude sickness commonly affects hikers.
Luckily, Kilimanjaro is easy to get to, offering travelers its own airport. Multiple African airlines travel to and from this airport, and there are nearby hotels that your trekking company will likely partner with. You can also connect by bus to the mountain town of Arusha by way of Kampala, Nairobi, or Dar es Salaam.
4. Atlas Mountains
Height: 13,671 feet (4,167 meters)
Location: Morocco, Tunisia, and Algeria
Why It's Special
Bridging the border between Algeria, Morocco, and Tunisia, this mountain range spans nearly 1600 miles through the three nations. Hikes in this area offer a unique look at where multiple geographical zones intersect: here you see where the Atlantic and Mediterranean coastlines meet, as well as where the Sahara Desert begins to emerge. Hikes allow you to check out dozens of endangered species and diverse flora and fauna, including animals such as the Atlas Bear the Barbary Stag, the North African Elephant, and many more.
This mountain range is not commonly frequented by tourists and can be reached by road from Casablanca, Rabat, or Marrakech. Imlil is one of the main starting points for hiking in the Atlas Mountains and is a village that will offer you an exceptional experience in interacting with the local Berber culture. Most hikes can be completed in about four days and are of moderate difficulty.
5. The Drakensberg
Height: 11,400 feet (3,475 meters)
Location: South Africa
Why It's Special
The Drakensberg spans the eastern portion of the Great Escarpments on the southern African plateau. Stretching from the Eastern Cape province toward the Kwazulu Natal province, this main mountain range of South Africa is one of the most historic and gorgeous of those in Southern Africa. Designated a UNESCO World Heritage Site, this mountain range is home to thousands of rock and cave art and paintings, allowing you to experience the culture and heritage of the region as well as its natural beauty.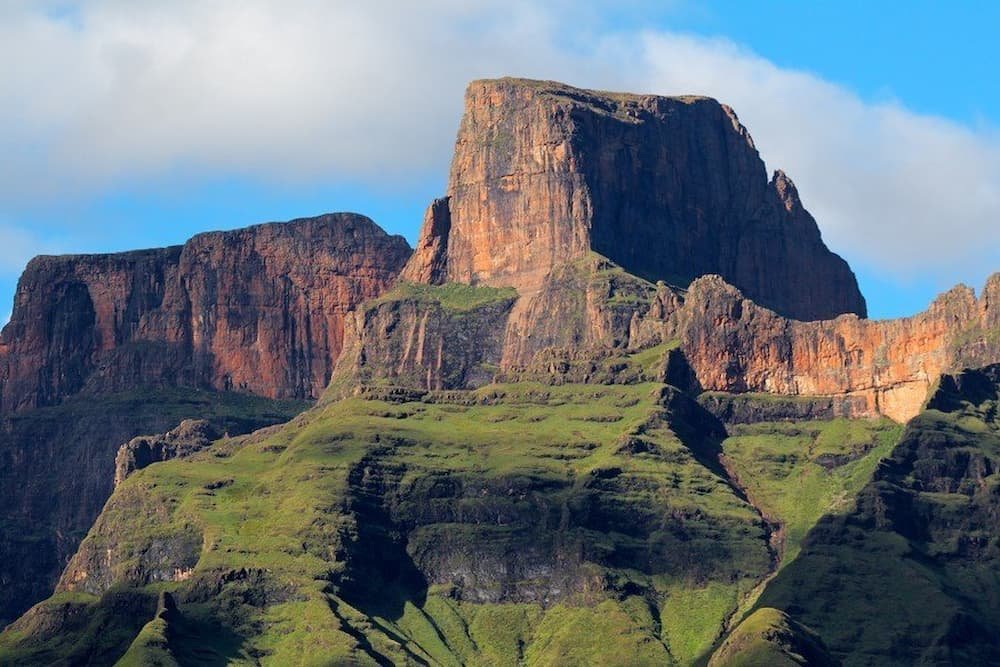 The range is also home to multiple parks and game reserves, serving as the main watershed of South Africa. The highest peak in this range is Thabana Ntlenyana, topping out at over 11,000 feet, with lesser but still impressive peaks including Mafadi, Giant's Castle, and Ben Macdhui.
Another popular hiking destination in this region is cathedral peak. This zone is located in north Lesotho, where the range begins to level out and be less rugged. Here, there are multiple day hikes available, allowing you to choose from long overnight treks or quick jaunts into the wilderness. The hikes include impressive views of the area, as well as access to swimming areas, forests, waterfalls, and even wildlife viewing. The range is home to unique spices like the eland, baboons, reedbuck, duikers, and more.