No travel crew is complete without the thrill seeker. The adrenaline junky who leads the search for the next big dare or hit of danger. So often though, thrill-seeking becomes synonymous with sky diving or hang gliding, with adrenaline lovers from all over the world flocking to the most Instagram-worthy peaks they can find while overlooking countless other hidden gems.
The following list includes some of the world's most underrated and less frequented thrill-seeking activities. Each is guaranteed to pique the interest of moderate and hard-core daredevils alike!
1. Mario Kart Racing, Japan
You read that correctly. Our childhood dreams have come true and you can actually race the streets of Tokyo and Osaka dressed as your favorite beloved Mario Kart character! No, you can't throw shells or banana peels at your friends, but you can breeze past them en route to a first-place finish!
Close enough, and considering the fact that you will be driving down the street alongside actual cars and buses, there will be enough inherent danger to satisfy even the bravest of daredevils in the crew. The most popular tour is offered by a company called MariCar Shinagawa, which vehemently insists that they are in no way shape or form affiliated with Nintendo or the Mario Kart franchise. No scamming intended here, just a nostalgic and thrilling ride down memory lane! They offer modified go-karts and of course awesome costumes so you can look the part and blaze the trail.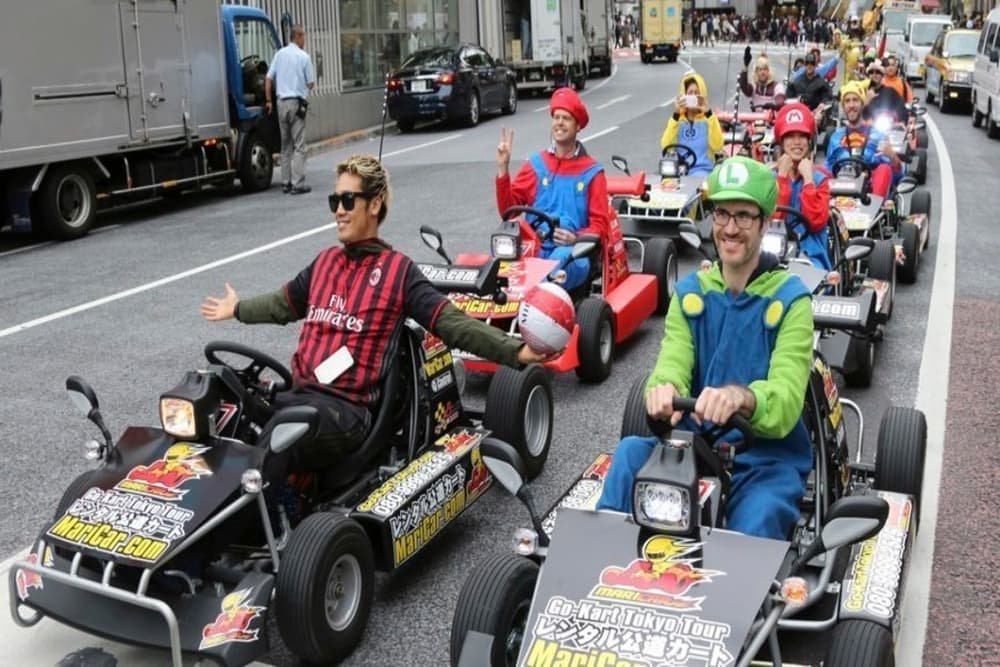 2. Nevis Swing, New Zealand
Somewhere in between "let's do it!" and "absolutely not" lies the daunting Nevis Swing in Queenstown, New Zealand. Those who have the nerve can take the 70 meters (230 ft) plunge before swinging in a 300 meter (984 ft) arc sure to get your juices flowing. Needless to say, the Nevis Swing is the largest swing in the world and subsequently probably the scariest.
It is a part of the AJ Hackett Bungy adventure collection which also includes the Nevis Bungy, New Zealand's largest bungee jump at 134 meters (roughly 439 feet). Hackett himself is responsible for popularizing the bungee jump after his 1987 leap from the Eiffel Tower and founded the world's first commercial bungee site a year later. Fear is the most probable reason this attraction isn't more widely visited (understandably so), but for those who aren't afraid and may have overlooked it, I would implore you to take a leap of faith. Pun intended.
3. Swing to Heaven, Ecuador
High in the hills of Banos, Ecuador sits a small tree house and observatory called Casa Del Arbol. Attached is a sensational little swing that overlooks a daunting cliffside, leaving visitors dangling tens of feet from the edge! Though not nearly as large or high as the Nevis Swing, it is the story of the Casa Del Arbol swing and the treehouse that is more compelling and lesser-known and perhaps, therefore, underrated. Carlos Sanchez of the Ecuadorian Geophysical Institute built the observatory (and the swing) in the early 2000s to monitor the active Volcán Tungurahua (Volcano) nearby.
The swing, Sanchez says, was built simply to pass the time and unwind after hours of observation but its significance would change in 2014. A group of American exchange students stumbled upon the treehouse while hiking and took turns enjoying the swing. Suddenly, Volcán Tungurahua erupted in the distance, and the group quickly fled but not before Sean Hacker Teper snapped the above picture that soon went viral on social media.
The photo won 1st prize in National Geographic's Photo Contest that year and has since inspired hundreds of thousands of visitors to make the trip, myself included. Ecuador in itself is a less frequented tourism destination let alone the swing, and I would highly recommend both. To be fair, safety measures have been taken since the rise in tourism, with a seat belt and iron support beam being implemented. But the swing still offers quite the rush.
4. Volcano Boarding, Nicaragua
Three words: What. A. Rush. Despite ranking #2 on CNN's list of 50 most thrilling things to do on vacation in 2014, there doesn't seem to be as many people flocking to the hills as one might think. It takes place at Cerro Negro Volcano, just outside of the town of Leon, and is considered an active volcano since it has erupted as recently as 1999. The day starts with an hour-long hike to its 728 m (2,388 ft) high summit before sitting and boarding down its surface at blistering speeds!
In principle, there isn't much difference between boarding and sledding per se, but somehow "volcano sledding" doesn't quite do it. Plus volcano boarding comes with the added inherent risk of an eruption which to some thrill-seekers is important (the added risk, not the eruption necessarily). And since I've never seen or heard about anyone sledding down anything other than a snowy hill, I think a slight distinction makes sense.
Speaking from experience, the views at the top of Cerro Negro are breathtaking and the ride itself is exhilarating. It is not excessively dangerous, but you can pick up some serious speed and the wrong body position can send you tumbling down the volcano with your board either right behind or way ahead of you! Don't worry, you are given a protective jumpsuit to protect your skin during a fall, and your guide is always on standby should you need assistance. Fun doesn't even begin to describe the experience.
5. Mountain Carting, Switzerland
Of all the ways to propel yourself down a high and steep surface, mountain carting takes the cake for me. There is nothing like the wind in your hair and the jaw-dropping views over the mountainside that really gets your engine running. Speaking of engines, there aren't any in the carts.
Nor are there pedals, just hand breaks on both sides and good old-fashioned gravity and momentum! That's what makes this activity so unique for me and absolutely worthy of a spot on your list.
You can find this hidden gem in the hills of Grindelwald, and high is the optimal word. It requires a 45-minute cable car ride to reach the starting point, and the incline is fairly steep hence the lack of engine and pedals. Picking up speed won't be a problem, and neither will satisfying your thirst for adrenaline! An absolute blast of a time and experience of a lifetime.