Are you planning your next adventure? Are you looking for destinations that offer a great mix of history and culture, along with plenty of opportunities to kick back and relax? Then look no further than Abu Dhabi.
In Abu Dhabi, you can spend your morning immersing yourself in centuries of history, your afternoon burning off energy with adrenaline-packed adventures, and your evening enjoying great food, drinks, and music. This city has everything an intrepid backpacker is looking for.
Here are nine exquisite, fascinating, exhilarating experiences for adventurous Abu Dhabi visitors.
1. Qasr Al Watan
Qasr Al Watan is the UAE's newest cultural visitor attraction. This dedicated museum and library complex is part of the country's presidential palace. It is an immersive experience, explaining everything you could ever want to know about the UAE's traditions and heritage. It's a must for an introduction to Abu Dhabi, the UAE, and the wider Arab world.
The building itself is exquisite, inside and out, allowing you to explore the best of the region's architecture as well as its contributions to art, science, and the humanities. The House of Knowledge exhibition explains the Arab world's crucial contributions to human civilization. Make sure you visit the Great Hall, too. You'll be mesmerized by the traditional central dome, archways, mirrors, and mosaic patterns. If you are here in the evening, you can witness the building lit by a breathtaking light show, too.
2. CLYMB Abu Dhabi
After working out your brain and learning all about UAE culture, you might feel like a switch to working out your body. Head down to CLYMB Abu Dhabi, the world's tallest indoor climbing wall. There's a choice of five walls with 13 routes between them. The ultimate is the SUMMYT, reaching 43m tall. Whether you are an expert or getting your first taste of indoor wall climbing, there's a climbing adventure for all here.
CLYMB Abu Dhabi can be considered a global adventure hub, as it is also home to the world's biggest indoor skydiving chamber. It's double the size of a standard chamber, meaning a skydiving experience like no other. You can get all your kicks here!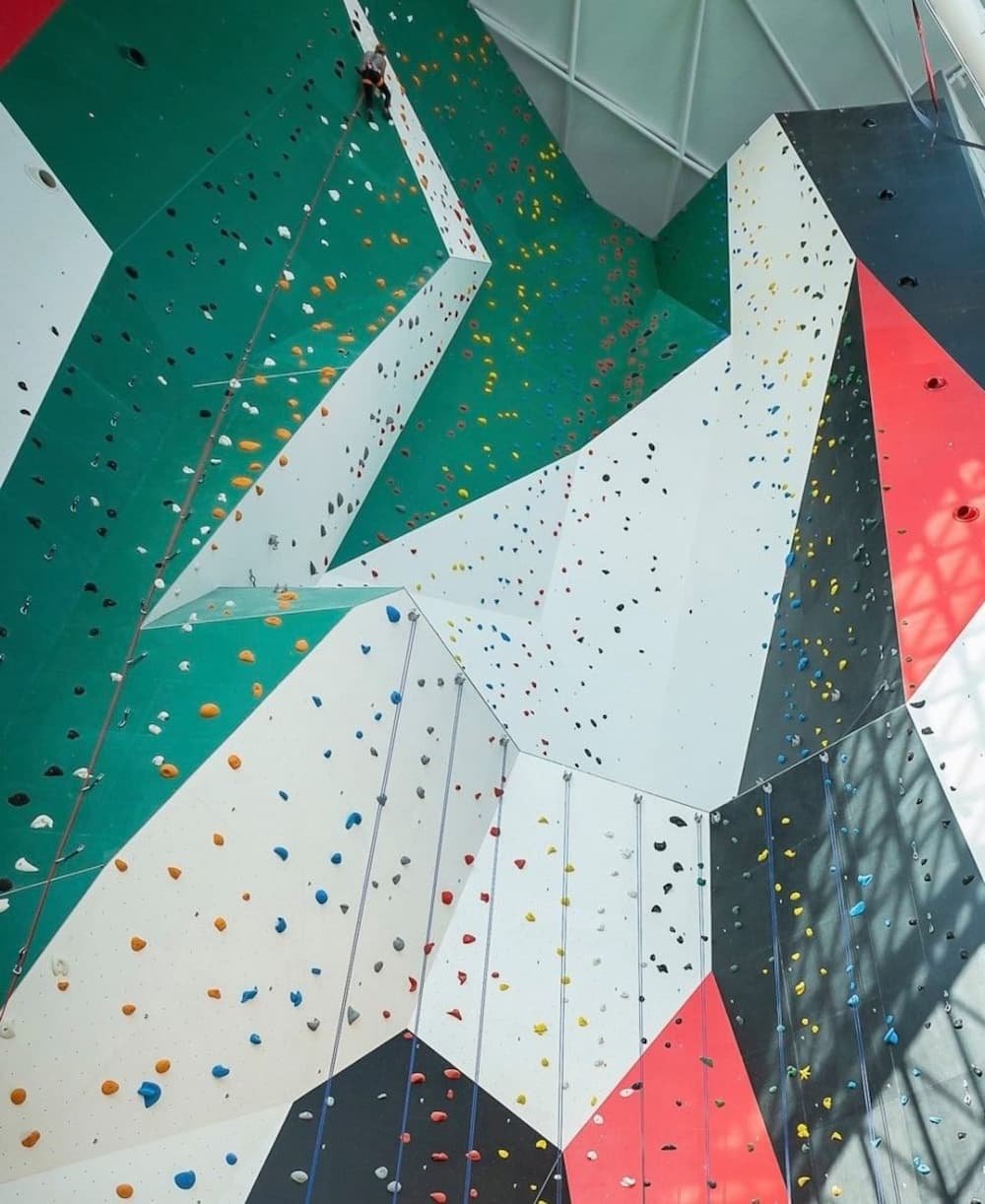 3. The Fountains
After working up an appetite, you'll welcome a relaxing evening at The Fountains. This is a dining destination with a stunning backdrop of illuminated, dancing fountains. There are 19 outlet options for dining, meaning there's something to suit all tastes and budgets. The Dancing Fountains Show happens daily, accompanying both lunchtime and evening meals. Whether you are looking to taste traditional Arabic food, grab a quick bite, or enjoy the best of local seafood, The Fountains offers dining with a difference.
4. The Louvre Abu Dhabi
The Louvre Abu Dhabi is a must for anyone interested in art and culture. The building is an architectural must-see and definite landmark photo-opp. Its beautiful dome roof appears to float serenely above calm waters, protecting the treasures within.
The Louvre Abu Dhabi contains masterpieces from across the world and its works span centuries. There is an abundance of beautiful exhibits from the Arab world, like the unmissable frieze printed with Quranic verses. You can also witness exquisite pieces from China, Europe, and beyond in this world-class collection of art, ceramics, and sculpture.
5. Ferrari World Abu Dhabi
Ferrari World Abu Dhabi is a world-class attraction of a very different type. This is an adrenaline-lover's paradise, with dozens of action-packed rides and experiences. A highlight is Formula Rossa, the world's fastest rollercoaster. It reaches speeds of 240 km/h in just 4.9 seconds and is as close to the feeling of driving a Formula One car as you can imagine.
A day spent in this theme park may be one of the most exhilarating of your life. However, there are more nearby options for thrill-seekers. Yas Island is home to Hollywood-themed Warner Bros. World Abu Dhabi and Yas Waterworld, an epic splash park, as well as Ferrari World Abu Dhabi. Are you game for all three?
6. Yas Marina
Yas Island is more than just parks. There are numerous dining and entertainment options. Another special place to spend time is Yas Marina, where you can see plenty of spectacular superyachts moored. Both locals and visitors love the marina for its relaxed atmosphere and incredible views. This is a great place to enjoy seafood, sunset drinks, and the great company of your traveling companions.
7. The Sheikh Zayed Grand Mosque
Another place to get a fascinating insight into Islamic culture, religion, and architecture is The Sheikh Zayed Grand Mosque. It's one of the world's grandest mosques and is universally considered to be an architectural marvel. With bejeweled columns, marble domes, crystal chandeliers, vast hand-woven carpets, and one of the largest mosaic artworks on the planet, this place is breathtaking.
8. Yas Beach
A trip to Abu Dhabi would not be complete without enjoying at least one of its pristine beaches. A favorite is Yas Beach. This place is great for lounging on the beachside and relaxing in one of its lovely cafes. Sit back and enjoy white sand, serene blue waters, and a tropical vibe. If you tire of sitting still, this is a great place to take part in watersports, with jet skis, kayaks, and banana boats available. There's almost always some beach volleyball going on, too.
Your Abu Dhabi Itinerary
With these eight activities, there's enough in Abu Dhabi to keep you entertained for several days. You might be surprised to know there's even more to explore both in Abu Dhabi and the nearby desert and coast. Why not come and see for yourself all that the UAE capital has to offer?