When it comes to beaches, Abu Dhabi offers a wide range of options to choose from. Whether it's a laid-back stretch of white sand near the city or a family-friendly adventure venue, Abu Dhabi has something for everyone. Because of this, it's unsurprising that people – both locals in the Middle East and foreign visitors – would choose the UAE capital as the destination for their beach holiday.
If you're planning one of your own this 2021, use this checklist that provides everything you need to know – from beach hotels in Abu Dhabi to essential items to pack – for an awesome trip.
Where to go
There is an Abu Dhabi beach for every type of person or lifestyle. You may even find some unique combinations of adventure and relaxation there. For example, if you're someone who likes to go on an ecological adventure, you can choose to head to Saadiyat Island's natural shore. If you time your visit well, you can get a chance to witness the endangered Hawksbill turtles thrive in a government-protected portion of the 400-meter stretch of sand on the Saadiyat Beach.
Another famous beach destination you should consider is Yas Island Abu Dhabi. The island has an abundance of luxurious beach hotels, like Al Raha Beach Hotel, where you can enjoy panoramic vistas of the corniche coastline in Abu Dhabi. There, you'll have a choice to swim on the beach or in one of four beachside pools, each with its own unique beauty.
But that is not all. The great thing about Yas Island is that it can offer more than just water-based leisure. With the island's entertainment hub a mere 30 minutes away from the city, you can enjoy lots of activities like race car driving, theme park rides, golf, indoor skydiving, and many more.
What to do
There are endless possibilities when you go on a beach holiday in Abu Dhabi. In fact, the beach isn't the only place you can have fun in. If you have a lot of time, consider adding the following must-try activities in the UAE capital to your itinerary:
Go shopping at Yas Mall
If it's a fabulous shopping and entertainment experience you're after, then Yas Mall is the place to be. This 235,000-square-metre shopping center has three stories' worth of retail goodness, featuring many famous regional and international brands.
Get a taste of local and international cuisines
No Abu Dhabi trip is complete without getting a taste of local and international cuisines in Yas Marina Dining.
Gear up for a gastronomic adventure in one of the most diverse dining selections in the UAE. It doesn't matter if you're partial to Italian food or a die-hard fan of Indian and Mediterranean cuisine; Yas Marina Dining will surely have something to tickle your tastebuds and complete your Abu Dhabi beach holiday.
Enjoy an adrenaline-pumping ride at Yas Water World
Done with a relaxing swim at the beach? Then, it's high time that you try some adrenaline-pumping action in Yas Water World Abu Dhabi.
Choose from over 40 rides in this unique Emirati-themed waterpark, ranging from gentle kid-friendly attractions to adventures suited only for the brave. Whether you like slides, rides, and even themed experiences, Yas Water World has the right kind of thrill just for you.
Yas Water World is divided into four thrill levels:
Young Fun – low thrill level slides like Yehal, perfect for kids and kids-at-heart
Moving and Grooving – medium-level thrill, including Al Raha River, Marah Fortress, and many more
Exciting Adventure – high thrill levels activities such as Water Wars and Cannon Point
Adrenaline Rush – rides that offer extremely high levels of thrill, like Bandit Bomber, Liwa Loop, and Jebel Drop
Meet-and-greet characters from your favorite comics
If you're done with water fun, you can also head to the biggest indoor theme park in the world: Warner Bros. World Abu Dhabi.
This popular UAE destination transports you and your family to the fantastical world of Warner Brothers, where you'll find rides and attractions based on DC Comics, Hanna-Barbera, Looney Tunes, and other famous franchises.
What to pack
Once you're done choosing a beach holiday destination and listing down your itinerary, the next thing you need to think about is all the things you need to bring. Below is a packing essentials checklist that could help with that.
Shawl and Beach Topper
In consideration of the cultural background of the UAE, ladies need to cover up their legs and shoulders when going out in public places in Abu Dhabi. So do not forget to bring your trusty shawl and beach coverup when you go on a beach holiday.
Pro Tip: Choose pieces made from lightweight, breathable fabric – preferably in a neutral hue – for comfort and style.
Cotton Clothing
As a desert city, Abu Dhabi has a warm climate that can become incredibly hot during the summer. But since you still need to dress conservatively, you should pack clothing made from cotton and other lightweight fabrics. This applies to tops, trousers, and even your sundresses.
To avoid getting too warm, steer clear of outfits that cling too much to your skin, especially during summertime.
If you visit Abu Dhabi between November and March when the temperature is cooler, adding one extra layer of clothing should be enough.
Unlike in other countries, you won't need thick jackets and scarves during what is considered wintertime in the UAE. A pair of denim jeans, a lightweight scarf, or a sweater hoodie should do the trick. If you're going to the beach, don't forget comfortable and stylish summer outfits like kimonos and lightweight jackets.
Water Bottle
Because of the warm climate in Abu Dhabi, you need to stay hydrated to make the most out of your trip. But don't forget to take care of the environment too by bringing refillable water bottles instead of buying water in disposable plastic bottles every time you go out.
Pro Tip: Save space by bringing a collapsible water canister that transforms into something smaller when not in use.
Sunscreen
Even in winter, the sun's rays can be quite strong. So don't forget to bring sunscreen and other things that help shield you against the sun, especially if you're planning to go on an outdoor adventure like swimming at the beach.
Hand Sanitizer
Washing your hands may not always be possible, so make sure you have a handy pocket-sized bottle of sanitizer in your carry-on bag. This can be useful whenever you travel via public transport or before eating a snack.
Make the most of your Abu Dhabi beach holiday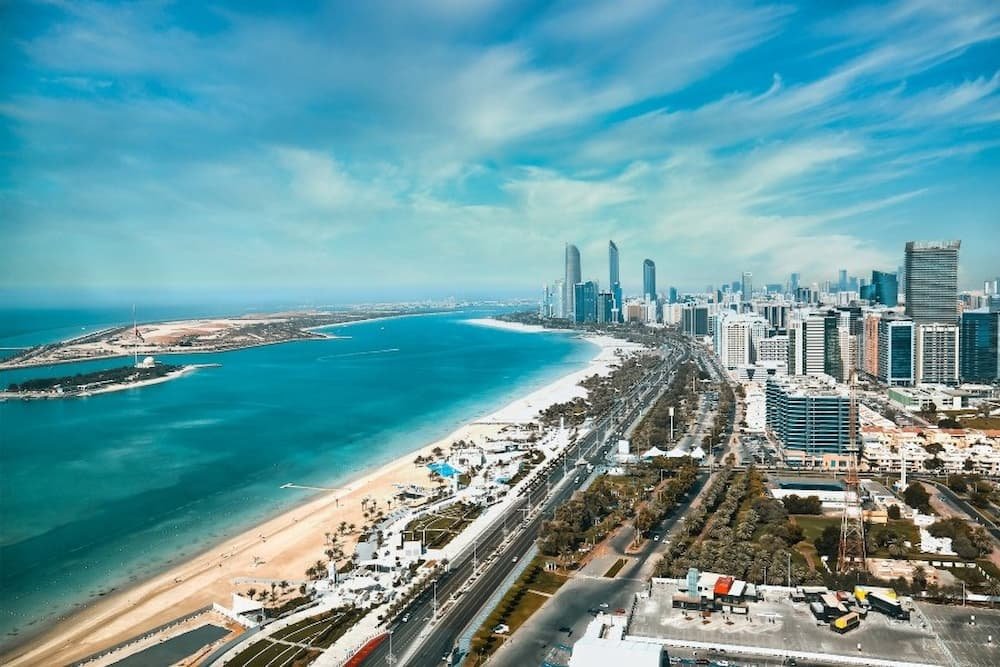 An Abu Dhabi beach holiday can be more than just enjoyable – it can be exhilarating, relaxing, and memorable, too. So plan your excursion well with this checklist as a guide and make the most out of the trip.