continued from Part 1….
Woke up around 9 am (early in comparison to the night before) after stopping on the side of the road in Derwent Bridge. Kept on driving – lots of windy roads – the roads were also incredibly mountainous – particularly as we got towards the mining community in Queenstown.
Stopped over for a quick ham/cheese/tomato toastie and coffees (not sure it really provided the caffeine kick we were after, especially as Lisette continued to snooze on the drive-through). The weather in Tasmania, we have found, is incredibly volatile – it can be sunshine and blue clouds one moment, then the clouds will quickly fly through and it will be bucketing not too long afterward.
The latter was the case as we drove through more towns – Hamilton, Strahan… (which on the map look huge but if you are not going on a harbor cruise through the latter, there really wasn't much point for us to stop there). So we kept on driving through the grey and rain until we got to our destination – Cradle Mountain.
Arriving we found that there were, fortunately, a few spots for us to camp for the night – and that quite a few of our neighbors were roughing it in the rain, with tents to sleep in overnight. Brrrr…
After a quick shower (Lisette had luxury after a couple of days of being stinky with a warm shower and a hairdryer, while Mike could only get boiling-to-the-point of unbearable to I-am-freezing-to-frostbite cold), and some instant Korean noodles (mmmmm….spicy) we wound up in the recreation hall to type out a few stories and watch some DVDs.
Later that night we were feeling quite peckish so decided to venture out in the van to find somewhere to eat. It was now about 8.30 pm and the choice was very limited. We ended up at the Cradle Mountain Lodge as they had a gourmet buffet on that night. It was a little bit expensive but we ate a ton of food… so much so that Lisette felt like throwing up afterward.
After a cold, wet night reaching near sub-zero temperatures, we woke to a clear and more importantly dry day. We set off to the national park center to get the shuttle bus up to Dove Lake where we would start our hike.
A couple of tour buses had arrived at the center just before we got there so we had a long wait for the shuttle. In that time, standing in the cold line, we watched as a tour helicopter took a bunch of tourists on a scenic flight over the park…wishing we were also on it.
On our way out to Dove Lake we watched and listened as the driver made repeated calls on the CB radio to notify the other shuttle drivers of his location. The calls were along the lines of "42 out", telling the other drivers we were at marker 42 on our way out (this was all due to the narrow road making passing very difficult).
We arrived at our stop and went to register our names in the hiker's log book. The weather was freezing as the wind bounced off the icy lake.
The hike we had decided to do was the Dove Lake Circuit which had fantastic views of Cradle Mountain and the surrounding bushland including a number of waterfalls, a distance of around 6.5kms. The natural landscape was quite rare as this is apparently one of the only cold weather rain forests in the world. We made our way along the well-maintained boardwalks through dense forest covered in thick green moss, past secluded beaches, and rocky outcrops for the next 2 hours.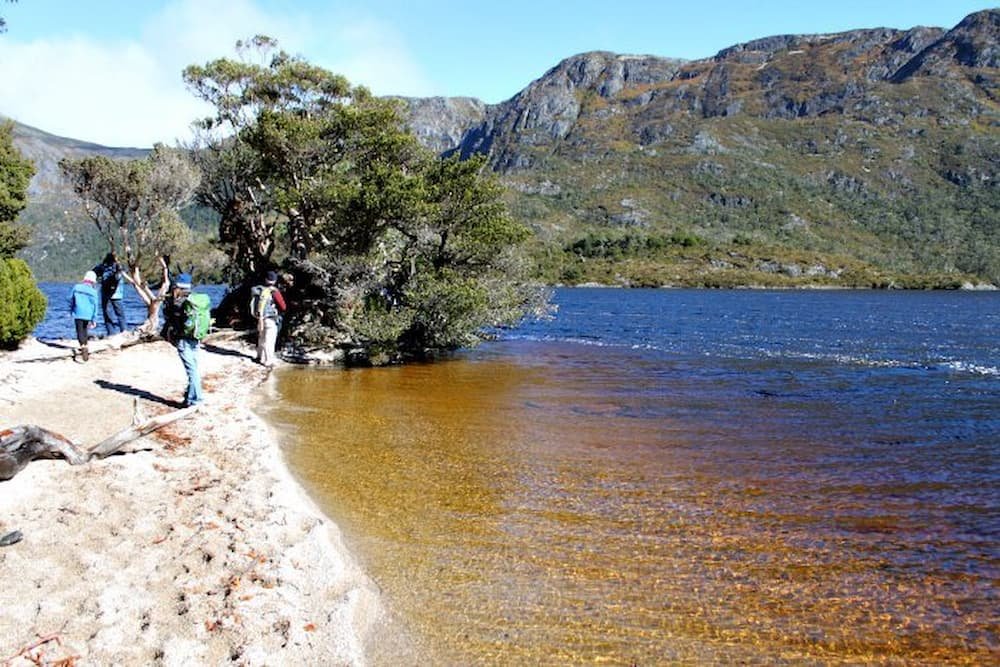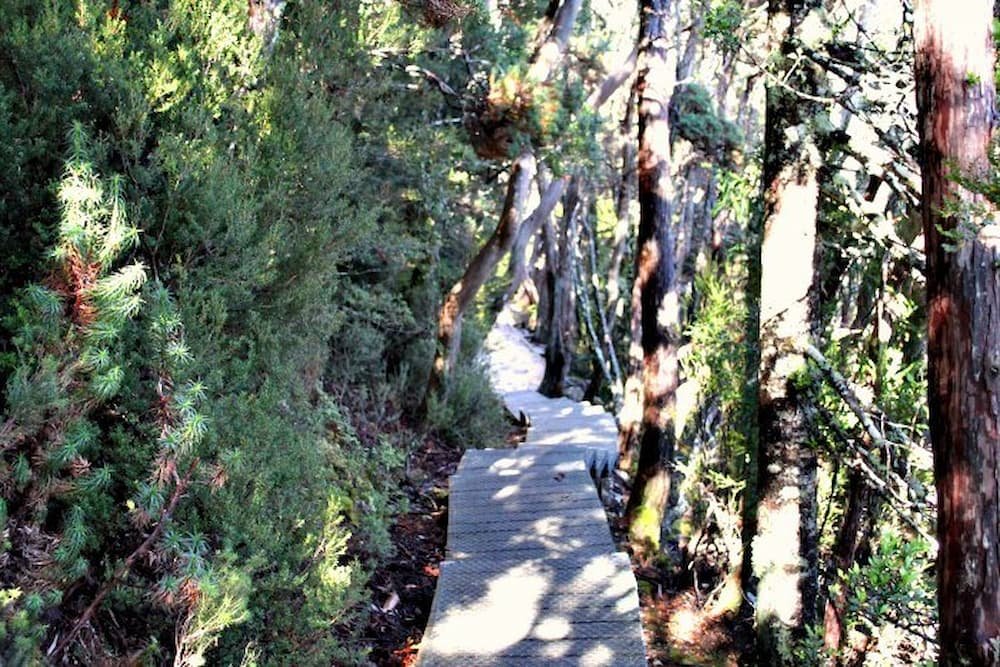 There was an interesting mix of tourists that we encountered on the walk, from speed walking backpackers, to an asian lady in 4-inch heels (surprisingly she managed to handle the terrain quite well).
Once we got back to the start point and signed off in the logbook we joined the end of the queue and waited for the next shuttle to take us back to the Ranger's Station so we could begin our long drive towards Bicheno on the east coast of Tasmania.
The drive took us through winding mountain roads and the scenery was great (even though I couldn't really take it all on while concentrating on the road ahead). We did however stop at a mountain pass for a quick stretch and happy snap.
Our next stop was at The Honey Farm near Mole Creek. We noticed the shopfront as we were driving past and decided to stop for a peek. They had a small museum and gift shop selling every imaginable honey product you could think of. I ended up having a honey ice cream and Lisette looked after the mothers day gifts.
As we drove on our tummies started to rumble and we were craving a good old Aussie burger. Unfortunately, this turned out to be a bad choice as we managed to find the worst burger place in all of Tasmania…. both our burgers were swiftly thrown into the bin as we walked out of the shop.
The road had now started to open up as we headed towards Launceston on the highway so we started to make good time on our way to the coast. As we neared the coast road the sun had just set and the wildlife started to make its way out onto the road again…resulting in an increase in my concentration.
Finally, we arrived at the coast and made our way through Freycinet National Park to Coles Bay where we had decided to spend the night. Once we arrived in Coles Bay we looked for a suitable parking spot so we could get some rest. We decided on a small dirt parking spot by the side of the road just outside the national park entrance.
In our next post you will discover that this spot was not all it was cracked up to be………. read about it here: Around Tasmania in a Campervan – Part 3.