Once an imperial city, Marrakech is a very popular destination for tourists and one of the most popular in the Maghreb. It is home to stunning palaces, gardens, and mosques, as well as the famous souk markets and the Jemaa el-Fnaa square. Marrakech, with its medieval and modern quarters, will captivate you with an incredible array of things to do and see.
Those who are willing to delve deep into the narrow streets around the square or into the mountains and desert outside of the city will be rewarded with breathtaking scenery, unforgettable flavors, and elegant Moroccan indulgences.
Here are some of the highlights of Marrakech.
Disclaimer: This article was kindly sponsored by Now Minimal
Stay in a Traditional Riad
Marrakech should be experienced in a Riad, an elegant house or palace with an interior courtyard or garden. Many of these are available as holiday rentals in Marrakech. Riads often accommodate groups of people, and have wellness facilities and swimming pools, making them a fabulous way to holiday as a group. Staying in a Riad is going to be an experience that you never forget and is one of my favorite ways to enjoy a truly authentic Marrakech experience. This will be your base for exploring this wonderful city.
Museums
Marrakech is full of interesting museums such as Dar Si Said, which displays delightful Moroccan architecture and objects. The Museum of Marrakech, an art museum is located in the old center of the city. It is housed in the Dar Menebhi Palace, constructed at the end of the 19th century by Mehdi Menebhi. Here you can find some interesting embroidery, contemporary art, and weapons. You can also visit the La Maison de la Photographie, housing a permanent collection and offers an interesting number of rotating exhibitions.
Saadian Tombs
These tombs are located just outside of the city, they were built during the reign of Sultan Ahmad al-Mansur in the late 16th century. This is the resting place of al-Mansur himself, his family, and other notable officials from his reign. The Saadian Tombs were discovered in 1917 and their restoration began shortly thereafter. Today, it is now well preserved and stands as one of the most popular things to see in Morocco.
Jardin Majorelle
One of the most popular tourist destinations in Morocco, and of course Marrakech, is the Jardin Majorelle. This is the creation of French painter Jacques Majorelle, who spent most of his life injecting his creativity and passion into this magical garden and villa. If you want to avoid the hustle and bustle of the city, Jardin Majorelle is perfect for its strikingly blue villa, charming little lanes, tranquil streams and over 300 species of plants. This is one of my favorite places in all of Marrakech.
Visit the Tanneries
The tanneries cannot be missed, this is where the world-famous leather goods from Morocco start their lives. Located in the northeast of the medina, the tanneries give off quite an overwhelming smell, but of course, the lure of the leather goods is much stronger than this smell ever could be. Here you can find everything from dresses to beautiful leather bags, and it's just fun to watch just how all the treasures are being made by the master craftsmen. You can watch workers as they hand dye material in preparation for trade in the city.
Enjoy a Bath in a Hammam
Hammams or bathhouses are a great way to enjoy the refreshment of bathing, just like the locals do. Bathhouses are intrinsically linked to the Islamic culture and are important for those looking to cleanse themselves before prayer. Usually, you strip down, head into the hot sauna and then dip in the ice-cold pool directly after.
Massages and other spa treatments are also available, which only add to the experience. There are many hammams throughout Marrakech, and prices usually range from 500 to 100 dirhams. Also, don't forget to bring your own towel, just in case, it's not provided.
Koutoubia Mosque
This is the largest mosque in Marrakech and is a must-visit, especially given the importance of mosques in Moroccan culture. The mosque is not just a spiritual center but also a point of reference for international architecture. Just like the architectural buildings in Rabat and Spanish, the stunning 12th-century minaret is one of the best examples of ornamental expertise. Listen to a prayer coming from the top of the minaret and appreciate this important building.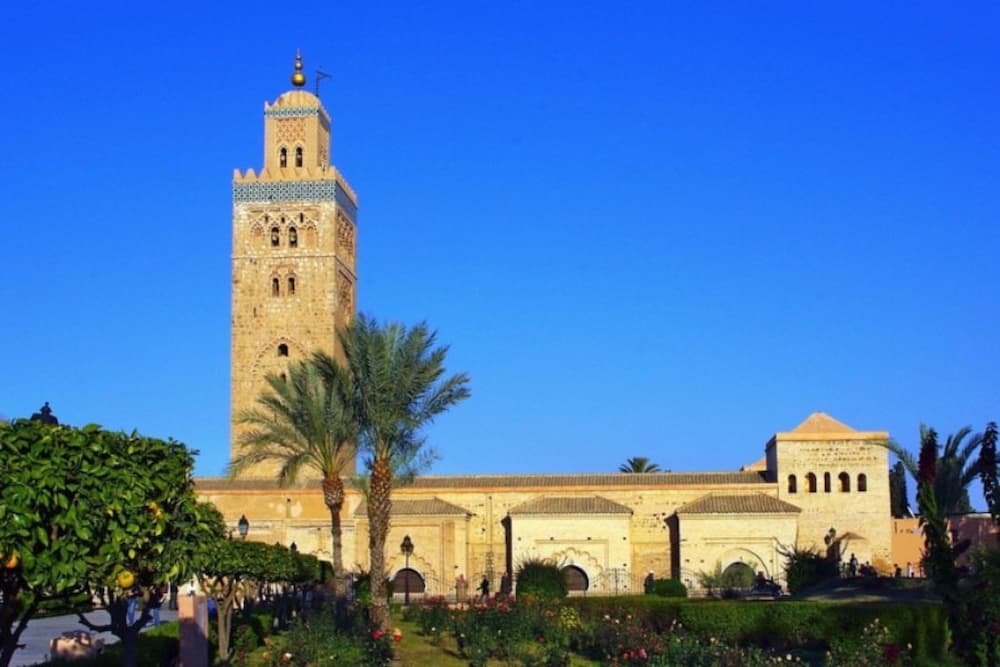 Jemaa el-Fnaa
This is known by many as the heart of Marrakech. By day, the square buzzes with henna-tattoo artists, snake charmers, and various other entertainers. At night it transforms into a number of different stalls offering the freshest and sweetest orange juice, as well as the best-tasting lamb dishes that you are likely to ever eat. Locals and tourists alike flock here all year round to experience the lifeblood of Marrakech and to explore the intriguing things the locals have to offer in the magical Moroccan square.
Ben Youssef Madrasa
Madrasas or school is now a historical representation of the Moroccan education of the past. You can visit Ben Youssef Madrasa, the largest madrasa in all of Morocco and one of the largest theological colleges in North Africa, which has housed as many as 900 students. Visitors can explore more than 100 tiny windowless student chambers and admire the beautiful architecture, from the richly decorated halls to the amazing courtyard.
The Souks
The souks are a must on your list when visiting any city in Morocco and Marrakech is no exception. A souk is an Arabic marketplace or bazaar and is where the people of Marrakech go and find pretty much everything that they could ever need. Visiting the souks gives you an insight into the richness of Marrakchi handcrafts and here you can watch and learn from the 40000 or so craftsmen of the city.
You will definitely be wandering around the souks for many hours, mesmerized by some of the highest quality goods that you could imagine. Marrakech boasts countless treasures and traditional winding souks. Whatever you're looking for, be it handcrafted goods, books, or food, there's a street and an alleyway to suit your needs. You will be surprised at the variety of these alleyways and wonder why someone didn't think of such a section in your local supermarket! Tourists and locals can truly get lost for hours in these overwhelming yet enticing streets.