Dubai is such an incredibly beautiful and adventurous country that there are any number of things that you shouldn't miss while you're there. The main things not to miss are the simply amazing man-made wonders of Dubai such as the Burj Dubai and the incredible man-made islands and so many others. Here's a comprehensive list of everything that you should see while you're in Dubai. It's a fairly long list, so if you run out of time and you're not able to see them all, just pack your bags again! The many delights of Dubai will pull you in time and again, that is for sure!
The Magnificent Burj Khalifa!
No way can you visit Dubai and come back without a look-see at the incredible, the only-one-of-its-kind, Burj Khalifa. Getting to the top observatory deck in the multimedia-enabled super-speed elevator and then viewing the whole of Dubai from there – it'll leave you speechless. Take advantage of the many telescopes on the deck to focus on other points of interest – ever seen the Palm Islands through a telescope before? If you're on the deck just before sunrise, focus your telescope on the heavens to catch the last glimpses of the flickering planets of our solar system.
The great Burj is 828 meters tall – other buildings are being built that might turn out to be taller, but the Burj's construction is completely unique. Shaped like a delicate, twirling flower, the tip of the Burj cuts through the very skies. Be sure to catch the multimedia show on the reflective glass walls of the Burj during the evening. The best place for a look? Right by the Burj Lake – watch the amazing Dubai Fountains dance, their lights shining on the Burj's glass walls. Spellbinding!
The View at The Palm
The View at the Palm is Dubai's latest 360-degree observation deck, right the Palm Jumeirah, where you can feast your eyes on one of Dubai's top landmarks, from a height of 240m. Spread out in front of you is the incredible Palm Islands, spreading out just like a palm tree with beautifully symmetrical branches, with the Atlantis The Palm at one end. You can get a fabulous view of the Burj Al Arab from here as well. This view is new – you've never seen this particular grouping of the Palm Islands and the pristine Arabian Gulf with the distant Dubai skyline framing it all.
The observatory deck is on the 52nd floor of the Palm Tower. Enjoy the view for the longest time and then grab a coffee at the building café, take in the creative exhibition detailing the Palm Island's development and explore the gift shop and some cool interactive aquarium-themed tunnels!
IMG Worlds of Adventure
IMG Worlds of Adventure is literally many worlds of adventure in one huge covered entertainment zone that's as big as several football fields. There are many interactive attractions, including a Cartoon Network where kids can play with their favorite cartoon network characters, and enjoy interactive rides based on various cartoon network shows. The IMG Boulevard has an extensive range of retail outlets and numerous dining options. Fun for the grownups!
Then there's the Haunted Hotel, which does its best to scare both children and adults, pitting the visitor's wits against scary backdrops and scarier characters. In the Marvel zone, kids can enjoy some fabulous adrenaline-pumping rides and attractions that are based on MARVEL characters such as The Avengers, Iron Man, Thor, Spiderman, and others. The Lost Valley zone is a unique one, with animatronic dinosaurs complete with Fred Flintstone and family.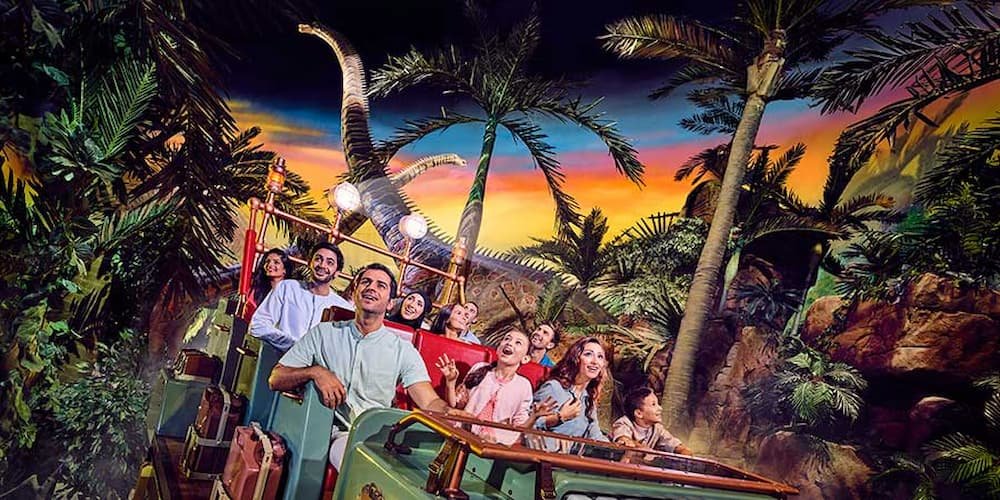 Global Village
Global Village Dubai offers a mega exposure to more than 90 countries across the world. This means you get exposed to multiple cultures, cuisines, arts and crafts, music, and entertainment. The entire village is panned around a sparkling water canal. The Global Village is open from October to April every year, so this is the right time of the year to head there. The village covers an area of 17,200,000 sq. feet. Enjoy amazingly immersive rides, shop till you fall down and stop at as many cultural tents and stalls as you can. There's no other place like Global Village Dubai.
Deep Dive Dubai
No, you won't be deep-diving into the Arabian Gulf. You'll actually be deep-diving into a man-made pool, a record-breaking pool that is 60.02 meters deep. Of course, the Guinness World Records is on the story as always, and Deep Dive Dubai has been certified as the deepest swimming pool for deep diving in the world.
It's not just about the depth though – Deep Dive Dubai has some unique underwater attractions. There's a 'sunken city' complete with abandoned urban neighborhoods. You can dive down deep wearing tanks and explore all the hidden details, discovering new stuff every time. The sunken building is oyster-shaped, which is reminiscent of Dubai's pearl-diving heritage. The venue has a gift shop, a restaurant, and 100-seater meeting spaces.
Dubai Mall Aquarium
When you visit the incredible Dubai Mall, be sure to obtain tickets to the Dubai Aquarium & Underwater Zoo located on the ground floor. This amazing aquarium houses more than 33,000 species of marine life, which swim about in a monumental 10 million liter tank containing water from the Arabian Gulf. The aquarium tank surrounds long acrylic tunnels. As you walk through these tunnels, you come up close enough to kiss deadly hammerhead sharks and other dangerous marine creatures.
A unique underwater zoo, situated one floor above the tank is where you can get a look at a plethora of underwater life. A Virtual Reality zoo takes you on a journey through various water bodies on earth and the creatures that inhabit them.
Dubai Marina
Dubai Marina is not just a seaside marina – it is actually a man-made canal city, offering uber-luxurious lifestyles to the rich and ready-to-throw-it-away. The Dubai Marina is home to upscale shopping malls, Michelin-starred chef-driven classy hotels, fabulous spas, entertainment centers and a great deal more. The Dubai Marina Mall Complex is a fantastic destination for shopping and entertainment. You can walk from place to place here – something that cannot be said of the not-so pedestrian-friendly city of Dubai. Take a good look at the Richie-rich yachts lined up at the marina – each one costing millions of dollars!
Desert Safari
There's something about exploring a desert – an ancient ecosystem that has stood for millennia, unchanging. The sands are smooth under your feet, and hot enough to cook eggs. You can get away with wearing the bare minimum so long as you load up on sunscreen and water. This ancient land is Dubai is now a center of great excitement, as it's where you can enjoy the best adventures. Desert Safari includes dune jumping, 4WD driving, sandboarding, sand tobogganing, quad biking, and hot air ballooning – it's an endless list.
Then there's the fabulous evening meal in a beautiful, rich communal tent accompanied by belly dancing, Tanura dancing and fire-dancing! Do you want to spend the night under the stars, cozying up in your sleeping bag on the desert dunes? How about a midnight guided exploration, to get to know the flora and fauna of the desert?
These and many other sights and attractions you must not miss when you visit Dubai. If you do happen to miss a couple, then please do visit Dubai again! The Dubai Miracle Garden is a fabulous paradise of flowers grown in the shapes of cars, airplanes and cartoon and real-life characters. It's open from November to April and is an absolute not-to-miss.