….continued from Impressions of Adelaide
This morning we woke to another inclement day and after a shower, we head to the General Store for a quick bite of breakfast.
First stop on the agenda today was a good hour drive away at the far south-west of the island. We drove on the main sealed road past vineyards and paddocks before arriving at the Flinders National Park.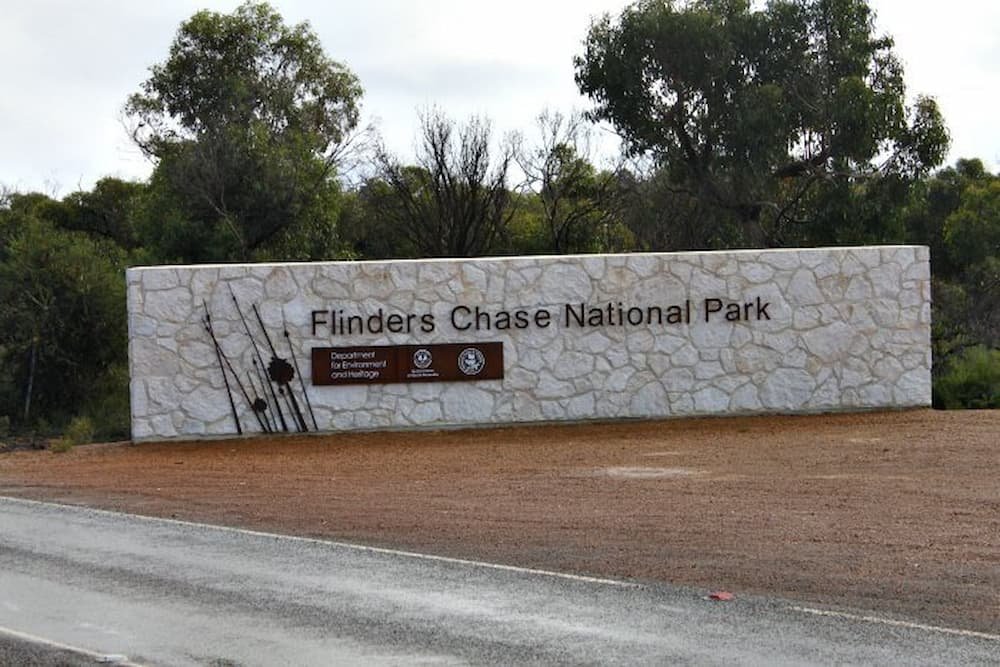 A quick stopover at the Visitors Centre was needed to purchase our park passes. In the center they had a great exhibition of animal skins and rock samples, it was quite an educational experience and would be very interesting for children (as everything is hands-on).
Another 15 kms into the park we encountered the Remarkable Rocks. These rock formations are perched on a cliff face near the ocean and make for a wonderful sight. We wandered around the rocks climbing and taking photos before heading to our next stop, Admirals Arch.
Only one kilometer along the road was a beautifully kept lighthouse that had been built in 1909 to try and put a stop to the large number of vessels that had been coming to grief nearby.
Walking down the boardwalk we encountered a large colony of New Zealand Fur Seals that were lazing on and around the rocks. There was a very pungent fishy smell but you couldn't stop smiling at these magnificent creatures up close in the wild.
Admirals Arch was at the bottom of the boardwalk and made for a great snapshot as there were some seals perched below.
On our journey back we stopped again at the Visitor Centre and ate lunch. The food was delicious and I would highly recommend it. (So much so that we decided to grab some baguettes to have for dinner later that night).
We had planned to check out the seals at Seal Bay which was a short drive east of our cottage, but on arrival, the Park Ranger explained that it was another $27.50 pp fee to have a guided tour to the beach (really the only way you could get up and close), so we decided to give it a pass on this occasion.
The sun was now starting to fall so we headed back towards our cottage, stopping for a quick walk at Little Sahara (a number of white sand dunes that were just off the side of the road).
With the sun setting, we made it back home just in time for a brief stroll along Vivonne Beach before chilling out for the rest of the night.
After patches of rain overnight, we woke to our second day on Kangaroo Island to clear blue skies. If there's one thing that we've learned about the Island, it can be sunny one moment and then drizzly the next.
With nowhere nearby to eat breakfast except Vivonne Bay General Store (and liquor shop and petrol station), it was a repeat of yesterday's bacon and egg sandwich before we headed over to Kangaroo Island Outdoor Action to go quad biking and sandboarding (with time not on our side we decided to give kayaking down Harriet River a miss).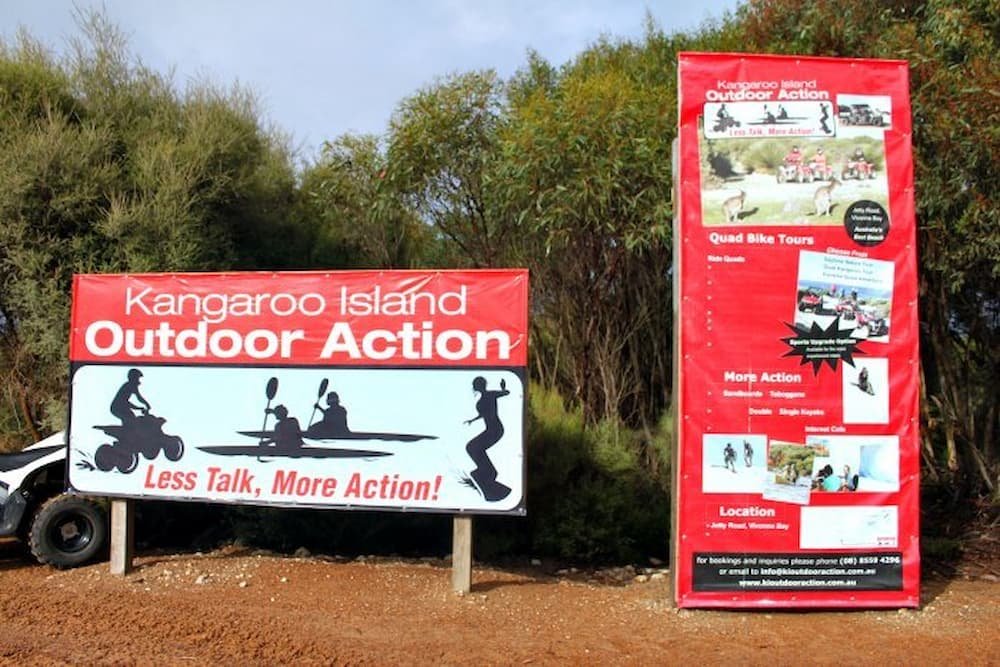 We had booked the 2.5-hour extreme adventure quad biking experience – which Lisette was slightly apprehensive about, given that she is rather uncoordinated on anything with four wheels and perches on the other side of 'speed demon' status.
However, with the company catering to children as young as six, we soon realized that quad biking is pretty easy to learn – the bikes simply need to have the ignition started, the start button pushed and the gear shifted to forward and you're off.
Probably the only thing challenging is keeping your thumb continually pushed on the throttle to move – by the end of the adventure, it feels like your thumb is going to drop. You're also more than adequately geared up – you get a helmet, gloves, and goggles before you jump on.
Our guide, Mick, was awesome – attentive, funny, and informative, he took us through open plains, windy paths, and incredibly bumpy trails where we encountered kangaroos, manmade lakes, sleepy koalas, funky native trees (including the spiky 'black boy') and lots of puddles!
We also had a brief pit stop to walk down to the beach below, admire the rugged coastline being lashed by some pretty ferocious looking waves, and check out a bee's nest that had apparently been thriving there for years. Lisette still managed to almost run into a tree in line with her lack of coordination, but no serious damage to person or vehicle done.
Lunch was a drive 14 kilometers away to the Marron Cafe. Marron is a crustacean that is darker and bigger than a yabby – which looks like a cross between a lobster and a prawn. The Marron Cafe grows its own produce which means that the food is fresh and absolutely delicious.
Starving after the drive on the quad bikes, we practically inhaled our lunches – and if Lisette could have licked the bowl any further, she would have (the marron in garlic and parsley sauce, served with rice and salad with a balsamic dressing is divine, while the whiting with the cafe's own lemon myrtle tartare sauce is worth raving about too).
Adjacent to the Cafe is the marron viewing area, where you can learn about the breeding process. In about a dozen deep vats, about 5,000 marrons were categorized by weight, awaiting their fate to land as cafe meals or to be sold commercially. We settled instead for some wine tasting, which lead to us getting five bottles of Pinot Gris and a pear liqueur being mailed to us within a week's time.
The thought of scampering around the sand dunes of "Little Sahara" on a board, on our bellies, then doing it all over again was enough to make our seafood and wine-filled bellies churn. However, we drove back and tried it out. Michael was a natural at sliding while Lisette… well, if she's uncoordinated on four wheels I'd say that she's even more so on a board.
My tips for a successful sandboard? If you're using a toboggan-style board, make sure it's well waxed on the bottom each time, run across the top before sliding onto the board, and slide on your belly rather than sit on the board to get more control and speed.
Rushing back to our lodge to shower and pack, Michael used his newly-acquired speed demon skills to zoom halfway across the island in time for a quick dinner and ferry ride back to Adelaide. The only place open near the terminal was a rather classy-looking pub.
If there's another thing we've learned about the Island, it's that the food is absolutely delicious – and incredibly gourmet. How does dukkah-coated snapper served on a bed of Asian greens and mango mayonnaise, or a red chicken curry with julienned vegetables with a side of jasmine rice sound?
Just making it on time to catch the ferry, after 45 minutes it was back on the mainland and what felt like a long and tiring drive back to our hotel in Adelaide. Finally arriving, we both had hardly hit the pillow before we were sound asleep.
Want more? Read the next article here: Wine Tasting in the Barossa.