Being born and raised in Bangkok, Thailand, I grew up in a country internationally known for its amazing cuisine, and to be honest, I am quite proud of the reputation we have for our food here.
Thai food is truly like no other, and it is the kind of food that seems to appeal to people of various cultures. Everyone likes Thai food, and it's been rare to come across someone who says otherwise.
What makes Thai food so special is that it is simple yet so flavorful. Using staple ingredients that most people love such as garlic, onion, and soy sauce, most of the dishes you'll find in Thailand are guaranteed to hit the spot.
However, it just happens to be so that when most foreigners think of Thai food, they think of Pad Thai. Don't get me wrong, it is incredibly delicious, but the thing is that there is so much more to Thai cuisine than just Pad Thai. In fact, if you ask any local what their favorite Thai dish is, the answer would most likely not be Pad Thai.
With that being said, if you want to experience the true taste of Thailand, here are the 7 ultimate local dishes that you must try when visiting the country. These meals are Thai locals' absolute favorites and trust me, nothing tastes more like home than these dishes do.
1. Khao pad kraprao (ข้าวผัดกระเพรา)
Stir-fry with basil topped on rice
This first dish is one that locals swear by. Khao pad krapao is quick and easy to make and is a staple meal that is guaranteed to be delicious no matter what restaurant you order it from. When indecisive, it is often the first dish that Thais think of.
This meal offers a lot of flexibility when it comes to your choice of meat. You can either pick chicken, minced beef, or minced pork as your base, but there are also other seafood and vegetarian options available. As the cherry on top, a fried egg can be added to make this dish even better.
Do note that regular versions of this dish tend to be more on the spicy side. If you are sensitive to spicy food, be sure to order the mild or non-spicy version of this dish.
2. Khao moo daeng or Bami moo daeng (ข้าวหมูแดง / บะหมี่หมูแดง)
Barbecued red pork with rice / Barbecued red pork with egg noodles
Next up on the list is the infamous barbecued red pork. With this meal, you can either get it served on top of rice or a fresh bowl of egg noodles. The two versions are quite different from one another but are both worth trying.
Barbecued red pork is different from regular pork as there is a hint of sweetness to it. The meat is often served thinly sliced therefore the sweetness isn't overbearing; it is just right.
When having it with rice, the dish comes with a thick sweet sauce that is poured on top. It is also often served with a hard-boiled egg and some green chili pepper on the side for an extra kick. As an option, you may also choose to have some crispy pork added to the dish, which is a very popular preference for many Thais.
In contrast, the noodle version of this dish is served dry and plain with some fried garlic, steamed vegetables, spring onions, and maybe some added wontons. As an option, you may also choose to have it as a noodle soup dish. Although seasonings can be added for some extra flavor, the dish is already great on its own.
3. Guay tieaw kua gai (ก๋วยเตี๋ยวคั่วไก่)
Fried rice noodles with chicken
Guay tieaw kua gai is yet another simple Thai dish that is going to wow your taste buds.
This dish is not as commonly found as the ones I've mentioned earlier, but if you ever come across a street food stall that sells them, be sure to try it out. Believe me, it will not disappoint.
The rice noodles are simply stir-fried with some eggs and chicken and are served with some sriracha on the side. Although noodles and sriracha may seem like a weird combination, the spice and tanginess from the sauce are what truly makes this dish complete.
4. Guay tieaw ruea (ก๋ยวเตี๋ยวเรือ)
Thai boat noodles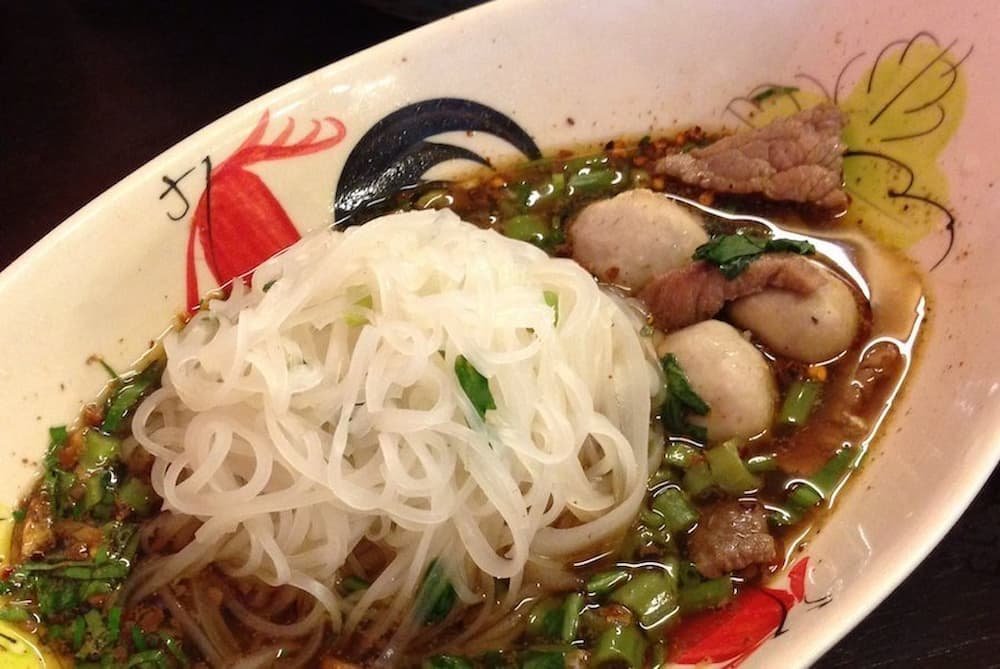 Surprise, surprise. It's another noodle dish! In Thailand, boat noodles are definitely a must-have. This is a traditional dish that Thai people have been eating since the 1800s, and the reason why they are called boat noodles is that they were once served on little farmer boats along the river!
Boat noodle soups are made with various herbs and are therefore extremely rich in flavor. Thin rice noodles are often used as a base and various meat toppings are added to give it some volume and texture.
If you are someone who loves spicy food, you are going to love this meal. The added chili powder is what gives the soup a good kind of fiery flavor. However, if you cannot handle spice, you may also ask for a non-spicy version of this dish.
5. Khao gaeng (ข้าวแกง)
Rice and curry
The name 'Khao gaeng' literally translates to curry rice, but interestingly, this dish involves more than just rice and curry.
Rice and curry is one of the most common meals that Thai locals have daily. Due to it also being one of the cheapest food options you can get, many Thai people tend to have this meal during their lunch break at work or at their university.
Rice and curry is typically found within food courts and local street food areas. It is usually a large stall of its own that serves more than 10 different Thai dishes, including various types of spicy curry, soup, stir-fries, as well as vegetarian options.
These dishes are served on top of a plate of rice as a 'side dish', and the best part about this meal is that you are free to choose whichever and as many side dishes as you'd like. With so many options to choose from, you'd most likely never get bored of it.
6. Khao kha moo (ข้าวขาหมู)
Stewed pork leg with rice
This dish is one that every Thai local has loved ever since they were a child. Unlike many of the dishes listed here, Khao kha moo is actually one of the few non-spicy meals that are easy to eat for everyone.
The stewed pork leg is packed with flavor, and many people tend to like this dish for the fatty part of the meat. It's extremely soft and tender which adds more texture to the meal.
However, if you are not a fan of fatty meat textures, you may also ask for the skinless part of the pork. The meat is served along with rice and drizzled with some sweet stew broth. For some added spice, a special chili vinaigrette sauce is served on the side.
7. Som tum (ส้มตำ)
Papaya salad
And of course, the best dish is saved for last. Som tum, or basically Thai papaya salad is the one dish you cannot leave Thailand without trying. It's perfect for having it on a hot day in the city, along the beach, or up in the mountains. Simply, you can have this meal everywhere because it truly is sold in every corner of the country.
Papaya salads are a refreshing treat to have and are the lighter and healthier meal option. They are made out of fresh green papaya with shredded carrots, chopped tomatoes, and green beans added to it. Peanuts and dried baby shrimp are also sprinkled on top to give it more flavor.
The dried shrimp will definitely require an acquired taste, but you can always ask for the salad without it. Papaya salads are often made pretty spicy so be sure to ask for less or no chili peppers in it.
All in all, food is such an important part of Thai culture, and these are some of the best and most authentic dishes that you will often see people eating in Thailand. To experience the local way of life to its fullest, you should definitely try them out whenever you get the chance.
Let me know in the comments down below if you have ever tried them and what your thoughts are on them!