For the beach, you'll need a swimsuit, sun cream, and a towel, obviously. But what about after that? And how do you know which one to take?
In this post, we'll take a look at how to pack lightly for your beach adventures. With our help, you'll be able to decide what's essential and what can be left at home. And hopefully, you can make the most of your trip! Let's check out how to pack ultralight.
Backpack
Imagine how annoying it would be trying to drag a suitcase across powdery white sand? Exactly. So, get yourself a backpack. Even if the beach is just one of many activities you're planning on your trip, you should get a day pack. That way, you have a convenient way to carry your things.
Consider a Dry Bag
More adventurous beach-goers might want to swim to nearby islands or enjoy a water sport such as stand-up paddleboarding. If that's the case, you'll need something to carry your stuff if there are no beach lockers. After all, just leaving it on the sand means your valuables may be stolen, and no one wants that!
A dry bag can double up as a day pack, and it'll store all of your stuff without it getting wet – as long as you close the bag correctly of course. As well as a dry bag, you should get yourself a small waterproof case to store your phone around your neck. How are you going to get pictures of your stunning surroundings otherwise?
Take an Inflatable Stand-up Paddleboard
We've already mentioned stand-up paddleboarding. For those who are traveling to have a go at this amazing sport, it can be tricky to transport the key equipment (the board). The things are huge! Happily, you don't have to buy a bigger car or knock people out on the bus or train with your enormous hardboard.
Just get an inflatable one instead! Inflatable stand-up paddleboards are great for beginners and they're super durable. Rather than having a heavy and difficult-to-carry item, this can fold up into a backpack and you can happily go about your business. Just don't forget to pack the pump and remember to use a PFD!
Use a Microfiber Towel
If you've been swimming, surfing, stand-up paddleboarding, or snorkeling (or any other water sports), one thing is inevitable. You're going to get wet. And you sure don't want to be sitting there still damp on your journey back home – especially if it's in the car or on public transport. As long as you pack a towel.
But which towel to pack? If you take a regular bath or beach towel, they can be large and take a lot of space up in your bag. Even worse, once they're damp, they'll get other stuff in your bag that way too. Better to use a microfiber towel – these amazing pieces of kit can fold up super small and they're self-drying. You won't even notice you have it… Until you need it that is!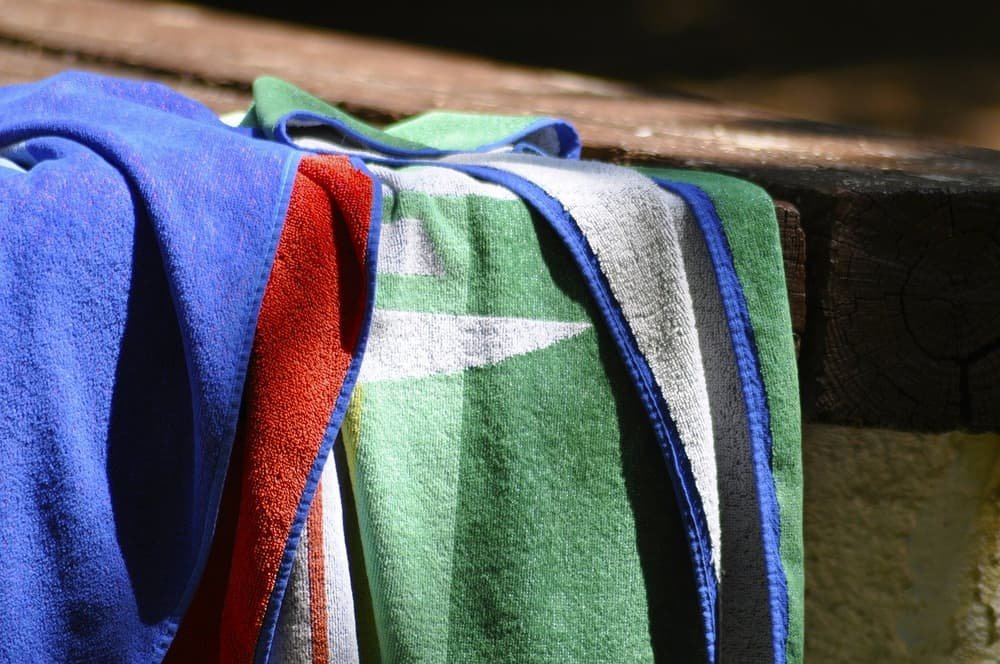 Drink From a Reusable Water Bottle
No matter what you do at the beach, you'll want to avoid sunstroke and stay hydrated. And you can be tricked by the occasional cooling dip into the water that you're taking water in. But that's not really the case. Make sure that you have plenty of water with you – ideally in a reusable bottle. Not only is it easier to keep your water ice-cold with these, but it's better for the environment.
Take a Freezer Pack
Okay, this might sound like something that your gran takes on her picnics, but maybe she's got the right idea. Beach restaurants and cafes can be extortionately expensive, so to save yourself a wad of cash bring a picnic along. However, there's a problem. If you're going to a beach where the temperature is 30 degrees plus, your food is quickly going to end up sweaty and soggy. And you might just end up heading to those expensive cafes and restaurants anyway. Be sure to take a freezer back and it'll keep your food chilled. Perfect!
So, whether you're going paddle boarding, relaxing on a white-sand beach, or planning to enjoy the local nightlife, you hopefully have a better idea of how to pack for the beach. For more tips on smart budget, travel check out the Backpacker Travel 101 Guides. They're an essential companion for an epic trip!