When it comes to adventure, Arizona is a treasure trove waiting for you to explore. From rugged canyons to adrenaline-pumping activities, the Grand Canyon State offers an exhilarating experience and a fine stable of UTV rentals for every thrill-seeker to enjoy.
In this guide, we'll take you on a journey through the most extreme adventures AZ has to offer. Get ready to embrace the wild side of the desert!
Hiking on Havasu Falls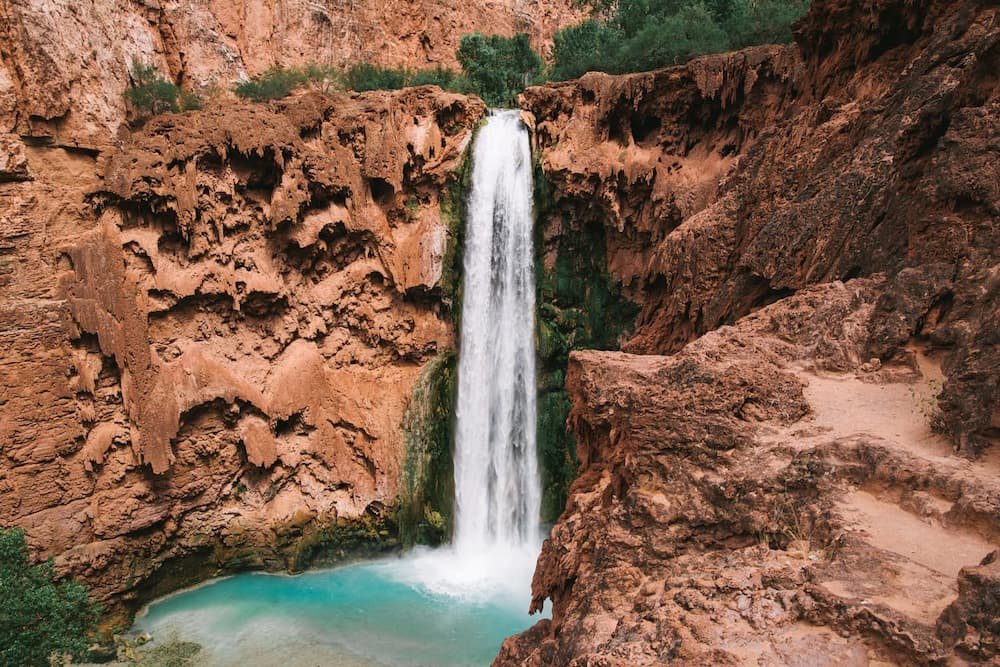 Havasu Falls is a paradise nestled within the Grand Canyon, where turquoise waters cascade over red rock formations. This destination is an absolute must-visit for any adventure enthusiast, with a challenging 10-mile hike through the arid landscape leading to the iconic falls.
As you traverse the trail, you'll witness breathtaking vistas of towering canyon walls, lush palm trees, and sparkling waterfalls. The hike is strenuous, but the rewards are well worth the effort. Havasu Falls is a popular destination, so we recommend that you plan your trip carefully. Permits are required, and reservations can fill up quickly.
Once you reach Havasu Falls, don't forget to plunge into its refreshing pools and revel in the beauty of this desert oasis. You can also explore the surrounding area, home to other waterfalls, hiking trails, and Native American ruins.
Off-Roading in the Sonoran Desert
Are you craving an adrenaline rush? Then, off-roading in the Sonoran Desert is your next thrilling escapade. Strap into a rugged 4x4 vehicle and explore the undulating dunes that stretch as far as the eye can see.
This Arizona desert is home to challenging trails that cater to all levels of off-roading expertise. Be prepared for a bumpy ride, but so as breathtaking views of saguaro cacti, towering rock formations, and vibrant wildflowers.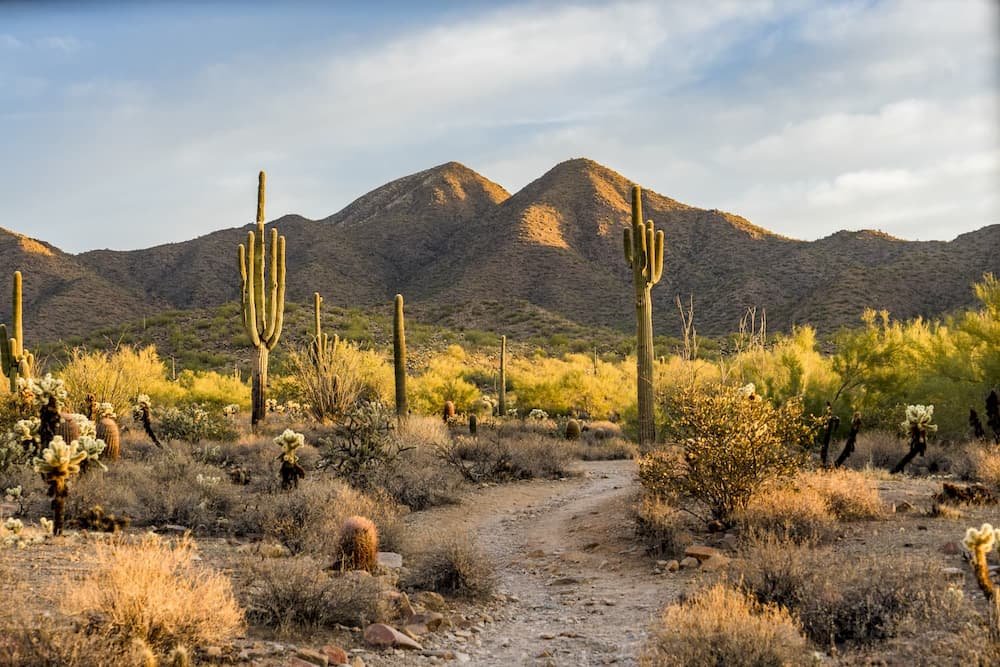 The off-road in the Sonoran Desert is a unique way to experience the raw beauty of the desert landscape. It's also a great way to test your driving skills and courage.
Tips for planning your off-roading adventure:
Choose a reputable off-roading tour company.
Make sure your vehicle is in good condition and equipped for off-roading.
Wear comfortable clothing and footwear.
Drive carefully and respect the environment.
Rock Climbing at Queen Creek Canyon
Queen Creek, Arizona, is a rock climber's paradise, offering a range of routes to challenge and inspire climbers of all levels. From beginner-friendly ascents to jaw-dropping, multi-pitch challenges, Queen Creek has something for everyone.
The unique geological formations in this area, including soaring spires and towering volcanic cliffs, make for an unforgettable climb. As you ascend the rock face, you'll feel the adrenaline rush through your veins as you grapple with challenging holds and scale sheer walls.
Queen Creek is also known for its stunning scenery. The red rock formations, lush cacti, and jagged mountains create a breathtaking backdrop for your adventure. It is the perfect place to push your limits and experience the thrill of rock climbing.
White-Knuckle Rafting at The Salt River
The Salt River is every white-water rafting enthusiast's dream, offering a thrilling ride through the heart of the Sonoran Desert. This untamed river cuts through towering canyon walls, creating a series of rapids that will leave your heart pounding.
Whether you're a novice or a seasoned rafter, the Salt River has something for you. You can choose from a variety of trips, ranging from calm floats to turbulent rides through Class III and Class IV rapids.
Skydiving Over the Grand Canyon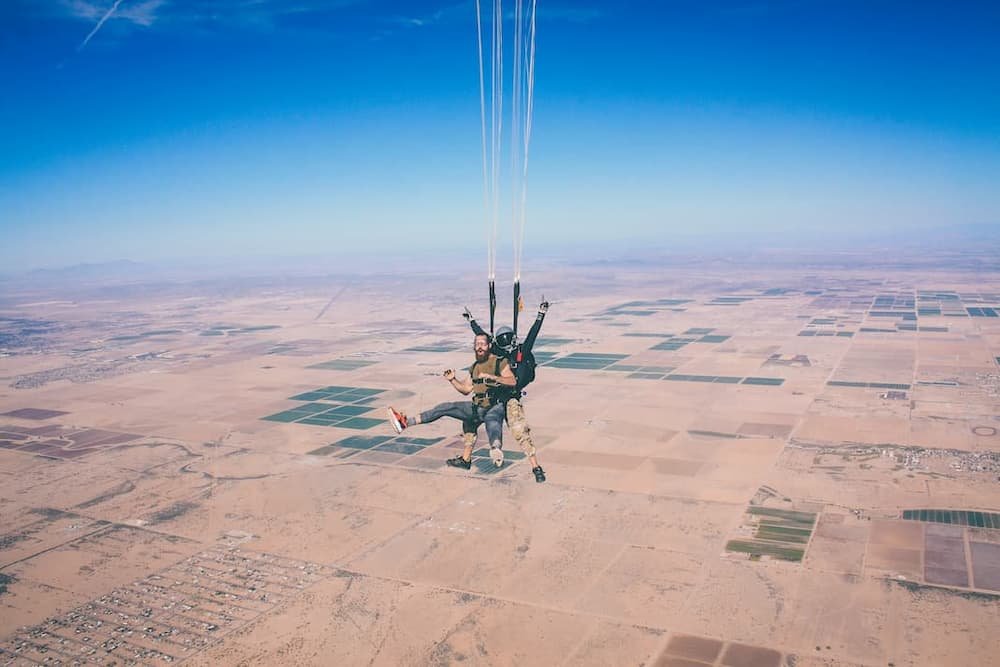 Imagine the sheer adrenaline as you leap from a plane at 15,000 feet, free-falling with the iconic Grand Canyon sprawling beneath you. Skydiving over the Grand Canyon is a truly extreme adventure, offering an unparalleled rush and an unmatched bird's-eye view of one of the world's wonders.
As you plummet towards the earth, you'll feel the wind whipping through your hair and the sun on your face. The Grand Canyon will loom larger and larger, its vastness and beauty taking your breath away.
After a few seconds of freefall, your experienced tandem instructor will deploy the parachute, and you'll gently float down to earth, savoring the memories of this incredible experience.
Tips for planning your skydiving adventure over the Grand Canyon:
Choose a reputable skydiving company.
Make sure you are in good physical condition and able to meet the height and weight requirements.
Wear appropriate clothing and footwear.
Be prepared for hot weather and sun exposure.
Cave Diving in Lake Pleasant
Beneath the tranquil waters of Lake Pleasant, just north of Phoenix, Arizona lies a hidden world of submerged caves and tunnels.
The caves are illuminated only by your diving lights, creating an eerie and atmospheric atmosphere. You'll swim through narrow passages, past towering stalagmites and stalactites, and into vast chambers filled with crystal-clear water. It's like exploring a national forest, only underwater.
Mountain Biking in Sedona
Sedona is a mountain with red rock terrain and an intricate network of trails offering something for adventurous riders of all skill levels.
The towering rock formations and vibrant greenery create a breathtaking backdrop for your adventure. But for a truly extreme experience, try the Hangover Trail, one of Sedona's most challenging and technical trails.
Or, if you're looking for a more scenic ride, try the Broken Arrow Trail, which winds through red rock formations and offers stunning views of the surrounding desert landscape.
Unearth the Unknown of Antelope Canyon
Antelope Canyon, located within the Navajo Nation, is a sandstone slot canyon that beckons explorers to its otherworldly depths. This iconic Arizona landmark is a photographer's paradise, with its play of light and shadow on the curvaceous sandstone walls creating a breathtaking sight.
To truly appreciate the beauty of Antelope Canyon, consider a guided tour to explore the narrow passageways and capture the ethereal essence of this natural wonder.
Conclusion
Arizona, with its diverse landscapes and natural wonders, offers a playground for thrill-seekers and travelers that is second to none. Whether you're into hiking, off-roading, climbing, water sports, or adrenaline-pumping experiences, this state has it all. These premier adventures will challenge your limits and provide you with unforgettable memories of the American Southwest.
So gear up, pack your sense of adventure, and head to Arizona to experience the most extreme adventures it offers!