Have you ever been to a place that you consider paradise? A place that is so breathtakingly beautiful that you have to think twice about sharing it with anyone else, lest it be overrun with tourists next time you go?
For me, paradise is summer weather all year round, cloudless blue skies, crystal clear waters, and lazing upon shimmering white sand in an idyllic tropical setting. And I stumbled upon it in Gili Trawangan, without even planning to.
Gili Trawangan is one of three other "Gili" (gili means "small island") islands northeast of Bali. The largest of the three islands (the other two are, Gili Air and Gili Meno), it is known as a bit of a party hub, although this is relative to the serenity of its neighboring sister islands.
Getting There
To get to Gili, you can take either a slow boat (takes about 10 hours) or a fast boat (2.5 hours) from Bali. We chose Gili Getaway, which got us quickly and easily to and from Gili and does numerous trips to and fro each day. The company is run by Tony – a native Englishman who has lived on the island for three years, he has had a varied and interesting business career and has an affable, chatty nature to boot.
While the trip is speedy, I recommend taking seasick tablets before embarking on the fast boat, even if you have sturdy sea legs – the Lombok Strait's waters are one of the deepest in the world which means that you feel like you're on a never-ending rollercoaster for almost the entire trip. The waves lift the little speedboat (it takes about 20 people) so high that it slams violently back into the water, crashing so loudly that it's a wonder the boat doesn't irreparably damage itself on each trip.
No Cars?
Arriving in Gili, we jumped off the boat onto white sand and refreshing water that swam around our knees. Odi met us at the 'wharf' and promptly led us to our bungalow. Another striking feature of Gili is that there are no motorized vehicles on the island whatsoever (your choices are walking, cycling or by horse-drawn cart), adding to the relaxed atmosphere of the place. In fact, over lunch we realized that the island was so laidback that service over lunch took forever – luckily we felt just as lethargic as the waiters and weren't starving either, so we could wait.
Religion
Compared to Bali (and more similar to the rest of Indonesia), Gili is deeply and predominantly Muslim. Being there during the month of Ramadan meant that not only did we get the call to prayer five times a day (including at 3 am and 5 am), we also heard the entire prayer over the loudspeaker from the mosque which was a block away. In the evenings when Muslims could break their fast, prayer lasted for over four hours, finishing at about 10.30 pm.
Visitors should also be mindful of such cultural and religious differences – for example, there are signs on the outskirts of the beach that request that tourists be respectful and cover up (i.e. not wear bikinis, go shirtless) outside of the beach.
Not that everyone did this unfortunately – I couldn't help but cringe when I saw a guy strolling around in nothing but tiny swimming trunks (not a good look on anyone anyway) or a lady casually wandering around or cycling with a bikini top and shorts on.
A Cheap Place To Stay
We had first heard about Gili from a friend of ours who had spent a week in this tropical utopia and were convinced to go when we chatted with Chris, a Canadian who owns and runs the Palm Bay Bungalows, budget accommodation within minutes from the beach with comfortable beds, clean rooms (it's custom to remove your shoes before entering), hammocks swinging outside your door and ceiling fans.
Despite the heat, if you're the type of person that likes to sleep with sheets, you will need to bring this (or a sleeping bag to throw over the bed) with you if you stay here. We were upgraded while we were there to an air-conditioned room and an en-suite bathroom – in short, the bungalows were bliss. Odi, who looked after the place, was incredibly laid back and also arranged bike hire for us on our last day.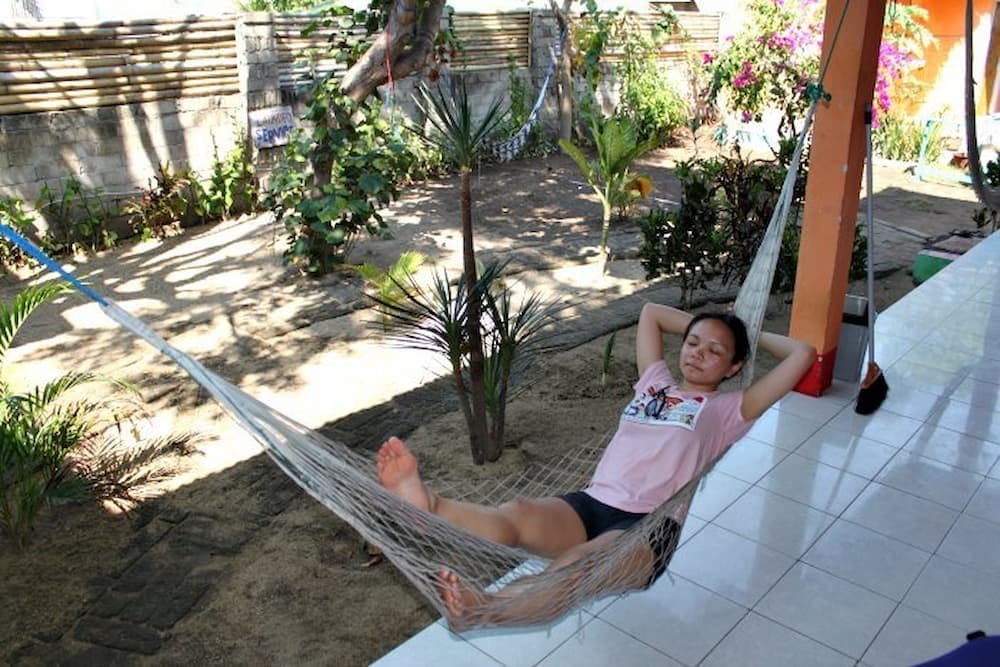 What To Do?
Besides chilling out on the beach, snorkeling, and scuba diving during the day, be sure to also hire a bike and ride around the island. At eight kilometers wide and two kilometers across, the ride takes an easy 1.5-2 hours to complete – it would be less if you didn't have to push your bike across some of the sandy and less populated parts of the island.
For those who want a bit more isolation and relaxation, there are a few villas and private beaches to the north of the island where you can have what feels like your own slice of tropical paradise, with the only sound coming from the waves gliding along the shore.
Dining and Nightlife
At night, the island wakes up, offering dinner specialties of barbecued seafood (choose your fresh fish or other seafood along with your choice of sauce, they weigh and cook it for you) along with unlimited salads. There are other options available such as pizzas and pasta, but it's virtually impossible not to be drawn to the look, smell, and sizzle of the seafood and continue living blissfully, eating dinner in a little hut overlooking the beach.
As the night matures, DJ's spin tunes in the bars and restaurants along the main road, enticing people to drink, dance and be merry.
If eating in a hut wasn't enough for you, there is also a row of huts facing the beach that all have little TVs inside them. You can choose from a vast selection of recent and classical movies in a range of languages and then simply relax, eat popcorn and watch the film.
Across from this little enterprise is a 'cinema' that plays two movies each night. Sitting on cushions or on high chairs at the back, the 50-odd patrons only need to buy a drink in order to watch the movie of the night.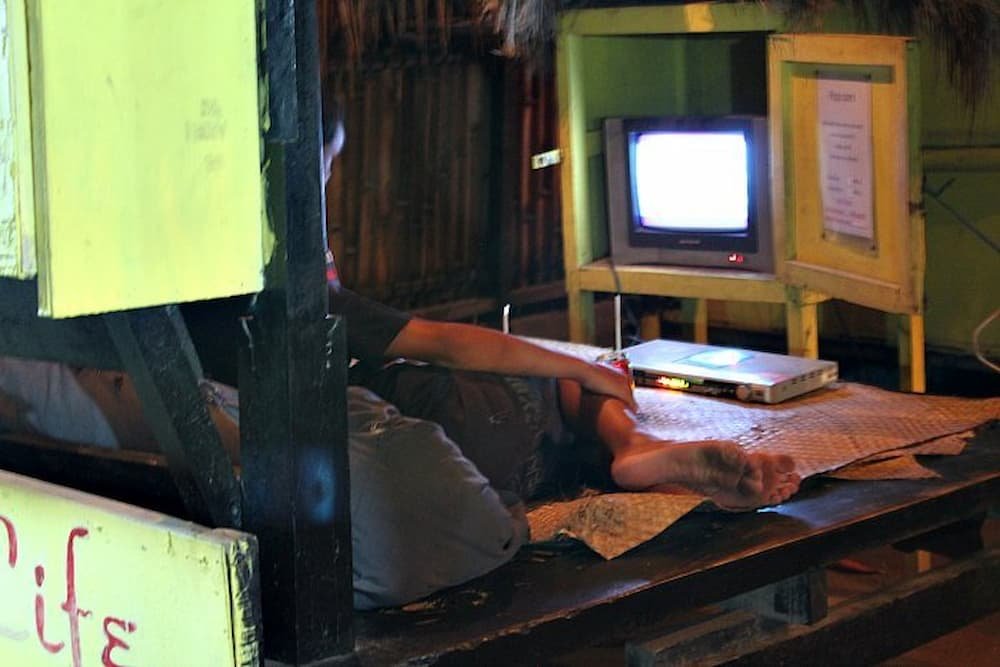 Of course, if you are looking for something a little more on the crazy side the island is famous for its magic mushrooms. While not legal, you will find them advertised all over the island.
Just like this.
Before Michael and I arrived in Gili, we had already planned to stay there for two nights. But with the laidback vibe, the enviable weather, and the heavenly setting, if we could have stayed longer, we would have done this in an instant.
A big thanks to Tony (Island Getaway) and especially Chris (Palm Bay Bungalows) for making our stay both enjoyable and memorable.