After playing tiger hide and seek at Ranthambore, our next stop was Jaipur. Known as the "Pink City", it's the capital and largest city in the state of Rajasthan. The city was founded by royalty (Maharaja Sawai Jai Singh) in the 18th century, with the royal family still living there today.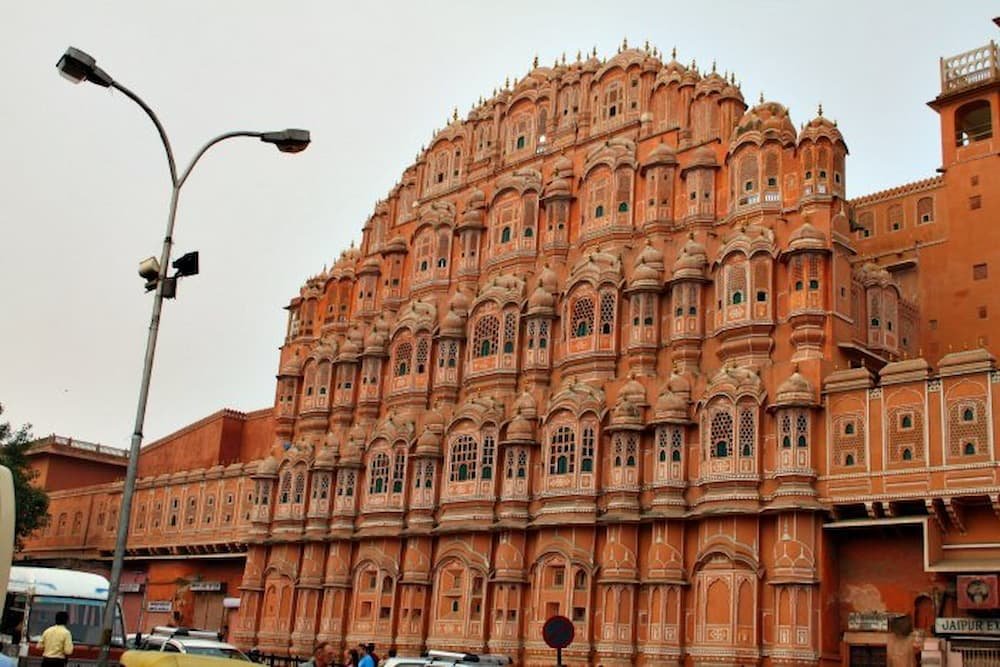 The day started by taking a photo of the iconic facade of the Hama Mahal (Palace of the Winds) and from looking at it, it is clear why Jaipur got its nickname as the Pink City. Sprinting across traffic to take some snaps, we also managed to spot (much to our delight) a couple of snake charmers across the road from the Palace the first time we'd seen any on our trip.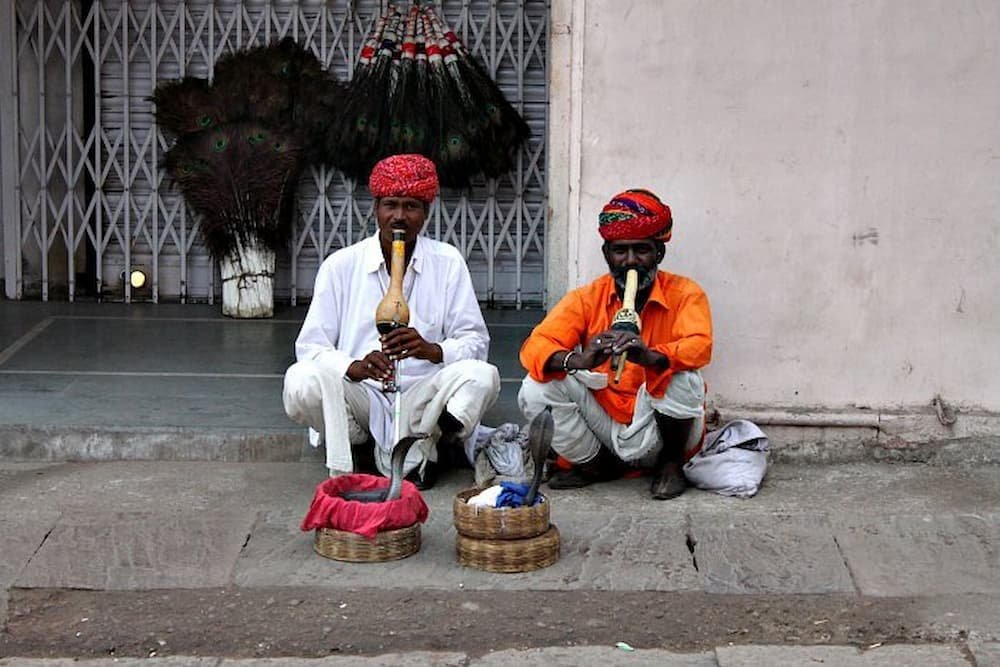 Amber Fort
We then sped over to Amber Fort for our elephant ride to get there. We rushed over there to avoid the queues, however, while the line seemed quite long we did get to the front fairly quickly. There are about 120 elephants that make the trek each morning to bring tourists to the top of the hill these elephants need to make five trips up and down in the morning and then their day's work is done, so if you get there in the afternoon you will miss out on the elephant ride (as a result, our queue was packed with foreign tourists – Indians tend to drive/walk up the slope instead).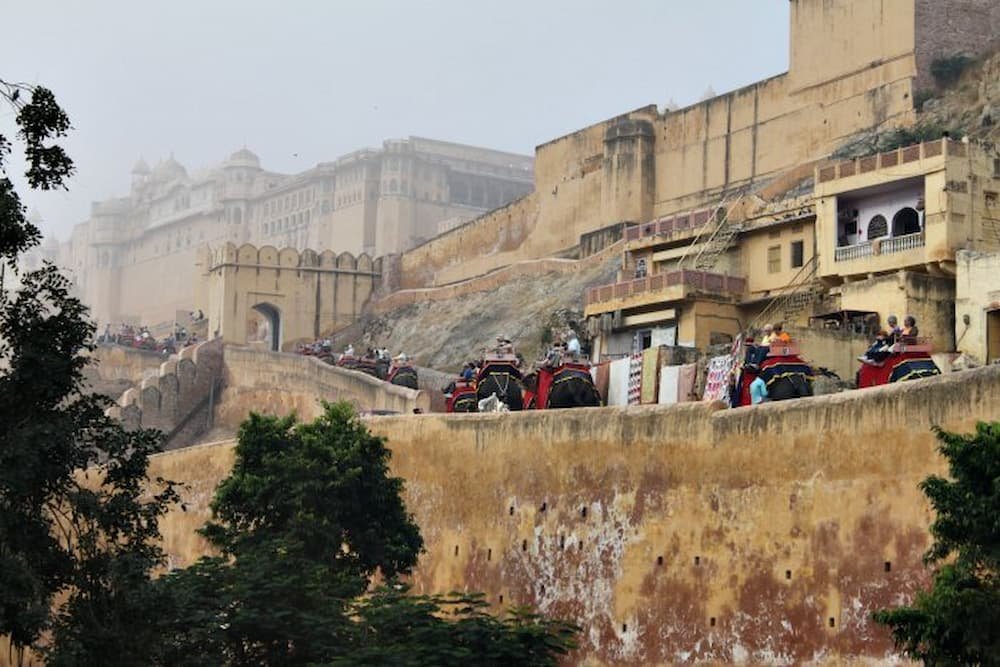 While waiting, we were confronted with at least a dozen hawkers who were peddling everything from camera memory cards and snake charmer-style hats to wooden statues of Ganesha and t-shirts printed with Indian tourist attractions.
If you're absolutely not interested in buying don't entertain these guys as they will pester you incessantly, but if you're thinking of making a purchase you can bargain hard for a better deal.
Finally making it to the front of the line, we clambered onto our elephant, up the slope towards the Fort. It's definitely a fun (if not rocky) experience and takes about 10-15 minutes in total.
Once we disembarked there was a sign that clearly said in big letters "no tipping", however, our elephant driver actually hung around at the top looking for us until we passed him up a tip, despite the fact that Amber Fort churns through as many elephant rides in the morning as possible. As soon as we passed him the tip though, he couldn't leave fast enough!
The Fort itself was breathtakingly beautiful. From just behind the entrance, the ladies of the harem could see out from inside, however, people standing outside couldn't see them. One of the Mughal emperors who lived in Amber Fort had 12 wives and a harem of 364 women – when he arrived back at the Fort from a trip, there was a gap through the screens where his ladies could throw rose petals at him.
Inside, the Fort had lots of intricate designs on the walls and ceilings, including colored carvings inlaid with semi-precious stones such as rubies and emeralds (just like the Taj Mahal), as well as paintings of camels, tigers and scenes from the Kama Sutra.
There was also a winter and summer palace that faced each other with gorgeous gardens in between and a stream in between to keep people cool on steamy summer days. Other amazing features were the Turkish baths, a serenely white Hindu temple, as well as the Hall of Mirrors, which is exactly what it sounds like – hundreds of mirrors on the ceiling and walls that had silver frames around them.
After leaving the Fort and taking some photos of the Palace on the Lake, we headed over to Jantar Mantar – basically a big outdoor astronomy center, which houses over half a dozen devices that were built in the last several centuries to measure time, celestial bodies like the sun, as well as Zodiac signs.
The main attractions were two massive contraptions – one sundial which could tell time accurately to within twenty seconds, as well as a bigger version that was precise to two seconds. Standing under the hot midday sun, we cooled off afterward by buying milky Indian ice cream (kulfi)from a street vendor just outside Jantar Mantar.
City Palace and Museum
Next was the City Palace and Museum, which gave us a glimpse into the history and lives of the Maharajas over the centuries. Here you could see the Maharaja and Rani's (his wife's) outfits, check out the hall where the royal family met with foreign dignitaries, as well as spot the two largest silver objects in the world (they're in the Guinness Book of Records).
These are two large silver urns that weigh 364 kilograms, in which one Maharaja used to fill with water from the Ganges River when he was traveling, to ensure that he could bathe and drink this holy water even while he was away.
The royal family lives just behind the Museum – the current Maharaja is 70 years old and has three grandchildren, with his daughter's eldest son next in line for the throne. Two flags upon their home indicate that the family is at home, while one means that they are out.
No photography is allowed inside the royal family's house, however, if you are interested in looking inside the Palace, no photography is allowed and it costs Indian Rupee 2,500 to try and arrange a visit.
Our final stop on the tour was a handicraft/textile store to see how materials are dyed. Jaipur is well known for its thriving textile industry, and it was amazing to see a demonstration of how the process worked.
A man showed us a plain white cotton cloth and had four stamps which he stamped one after the other in different colors, to create a picture of a bejeweled Indian elephant. As soon as this was done the cloth was submerged in water – and magically, the colors didn't wash out at all.
Driving through Old Jaipur again afterward, we passed dozens of stores selling fruit/vegetables and piles of textiles, as well as, of course (it wasn't so strange anymore to see this), numerous cows and camels hanging around and strolling through the streets.
Starving, we decided to have lunch at Mcdonalds. Yes, you read right – while I don't really eat it back home, we were curious to see what would be on the menu given that cows would not be an option. The substitute for the Big Mac was the Chicken Maharaja burger – it had two slices of chicken patty with lettuce, tomato, and cheese, as well as a spicy, yummy sauce.
Walking back to our hotel, the walk was a mere 15 minutes long but traffic was so noisy and chaotic that you wouldn't want to walk around for more than 30, as it's quite deafening.
Stay tuned for our next (and final) post on Jaipur at night – including the heart-stopping taxi ride the evening before, doing business in India and partying it up with the best of Indian culture – think banquet feasts, Bollywood-style dancing, elephant rides, and henna!