The capital of Thailand is a fascinating place to visit with lots of cool places you can visit. There are also some rather unusual things but you tend to find plenty of strange things when you travel abroad. This lively city seems to never go to sleep so you can expect a very fun and dynamic nightlife. And with such a huge population and can rest assured that there are people of all types of all financial means, and this city is equipped to suit them all.
When I first visited this vibrant city
I was pretty hyped when I first visited here. Even though I didn't plan for it and just visited wherever but the trip was surprisingly really fun. Of course, I visited again a few times to see everything I had missed out on before. In fact, if you'd like to check out this awesome city then visit this website for tickets!
Visit the Grand Palace
If there is one place in all of Bangkok that you just have to visit, it's definitely this place. It was built in 1782 and has been home to the Thai king, the royal court, and the administrative government for the past 150 years. Within the palace complex, there are several cool things you can see, including visiting the Emerald Buddha Temple. The palace may not be used as a residence anymore but important ceremonies are still held here. No trip to Bangkok is complete without visiting this iconic Palace.
Shop around in Chatuchak Market
If you like shopping then visit this extremely colorful market. With over 8000 stalls this is one of the biggest markets in the world. However, it is open only on Saturday and Sunday and attracts a very huge crowd. With a size this big, you can be sure to find pretty much anything here. Plus there are some really cool vintage items that you can get at a very reasonable price. In fact, everything here is at local prices rather than those expensive tourist prices. Get your bargaining skills ready to buy cool souvenirs at a fair price.
Go on a boat trip around Chao Phraya River
Thanks to this river and the little canals branching off from it, Bangkok is sometimes called "Venice of the East". Since this river is very important and many people go off to work via the many ferries that go up and down the river. A boat trip is very fascinating on this beautiful river as on one side you'll see high-rise buildings and fancy hotels while on the other side you'll see wooden shacks. A stark contrast of simple and fancy if u ask me. In fact, it can be a great way to explore the city since you can get off on one of the many stops the ferry would make and explore that part of Bangkok.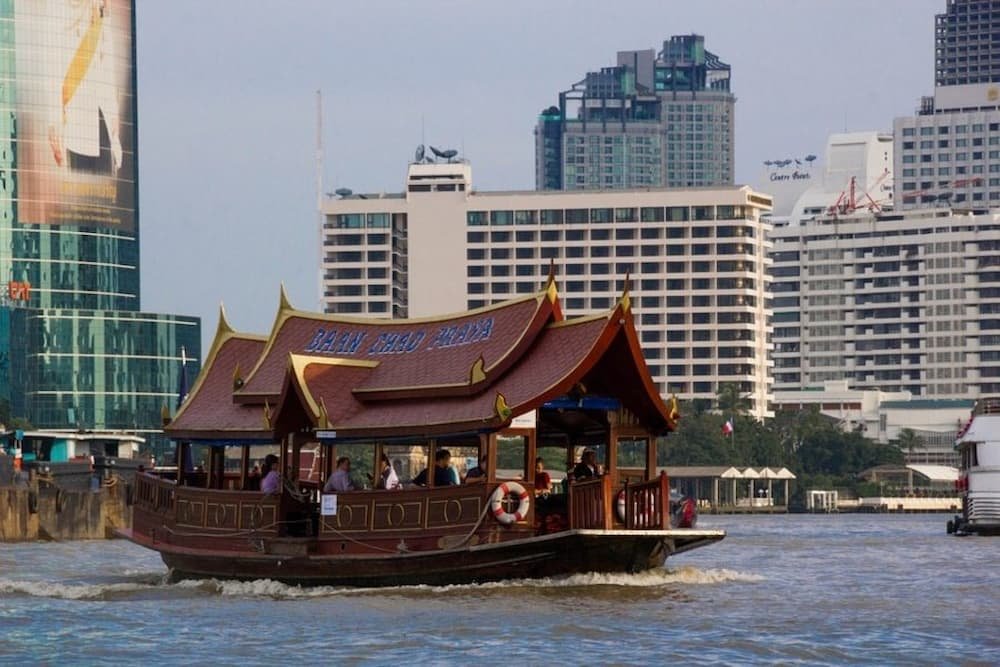 Check out the Bangkok National Museum
Home to the biggest collection of Thai art and artifacts in all of Thailand, it is a great place to learn more about Thai culture. This museum was established by King Rama V so he could show off the gifts his father gave him so it wasn't exactly built as a place for knowledge. But now there are many cool exhibits you can view here, like Chinese weapons, Khon masks, precious stones, and even vintage puppets. In fact, for a better understanding, I suggest you visit here on Thursday so you can take the English tour.
Pamper yourself at a fancy spa
Thailand is known for its relaxing Thai massage and there are many places in Bangkok for you to enjoy it. Not only is it really healthy for you but the yoga-like stretch involved in it will make you feel lighter, making all that tension drain away. Bangkok is home to some of the most luxurious spa that offers a number of different body treatments, including of course Thai massage. But if you don't have that kind of budget, there are many affordable places as well. Just make sure that you are dealing with qualified and professional people.
Enjoy delicious food at Chinatown
The bustling lively atmosphere in Chinatown and the traditional Chinese shop-front décor really sets the mood right. For some mouthwatering Chinese food head here. In fact, to enter here you get to go through a traditional Chinese gate. From countless restaurants and stalls here, you'll have a hard time deciding on what and where to eat. It is also said that this is a suitable place if you want to buy gold. But admit it, that delicious dim-sum is the real reason you'll go there.
Enjoy a puppet show in Bangkok
This is a must for every tourist visiting here. Normally, the puppeteers are hidden in puppet shows but that's not the case here. The puppeteers are also a part of the show and it takes at least three of them to control one puppet. The puppets will tell you a classic folk tale while the orchestra will bring the whole artistic performance to life. The craftsmanship and design of the whole set really make you appreciate all the effort that went into it.